Top 15 Women in Hip-Hop 2023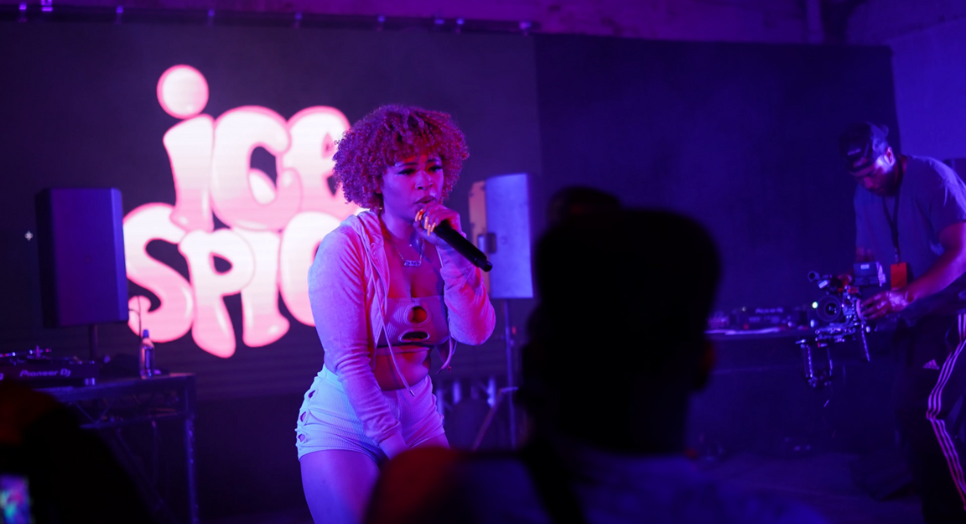 2023 marks the year that hip-hop celebrates 50 years of beats, rhymes, and an ever-evolving culture. On our live video series, Inside Music Curation, we've recalled some of the history of hip-hop and explored a few of the regional movements that have shaped the genre. When we sat down to talk about hip-hop at 50 and the state of hip-hop in 2023 there was one theme that stood above the rest; the women in hip-hop are owning the stage right now.
The Feed Media Group curators put together this playlist featuring our take on the top 15 women in hip-hop in 2023:
Top 15 Women in Hip Hop 2023
Lakeyah
Lakeyah turned viral success into collabs with City Girls and Latto and continues to build off the success of 2022's "Mind Yo Business" with hard-hitting bars and clever lyricism.
Saweetie
Saweetie is a San Francisco Bay Area native and USC grad, whose career took off after her freestyles over older tracks captured the attention of rap fans on Instagram. Songs like "Tap In" and "Best Friend" landed her a musical guest spot on SNL in 2021.
Ice Spice
Bronx native Ice Spice has been named "rap's new princess" with a meteoric rise from her collaboration with Taylor Swift on "Karma" and on "Princess Diana" with Nicki Minaj.
Doechii
Doechii also built her career on the internet - from Soundcloud drops to a viral song on TikTok, her animated delivery and quirky narratives quickly made her a rapper to watch.
Coi Leray
Coi Leray started to gain recognition as a feature artist on tracks with Ski Mask the Slump God, Trippie Red, and Fetty Wap before her 2022 song "Players" broke into the top 10 of the Billboard Hot 100.
NCognita
LA native NCognita was picked up on Issa Rae's Raedio roster while continuing her education in Loyola University's Urban Electronic Music Production program in New Orleans.
Flyana Boss
Flyana Boss is a classically trained duo made for the TikTok era - from their catchy bars to outlandish style, they tap into both the audio and visual appeal of Gen Z.
Latto
Latto first entered the scene through Jermaine Dupri's reality television series "The Rap Game" in 2016. She won the show but waited until 2022 for mainstream success with her song "Big Energy."
Kaliii
Kaliii is Atlanta's newest export and has a huge hit with "Area Codes". Interpolating Ludacris song with the same name Kaliii rhymes bounce on the tracks. Flipping this classic tune to a female forward braggadocious slapper.
BIA
BIA got her start on Oxygen reality television series Sisterhood of Hip Hop. She signed to Pharrell's I Am Other record label, in partnership with RCA Records in 2014. Since then she has grown as an artist and professional leaving RCA for Sony and finally gaining well deserved recognition on the billboard charts.
GloRilla
GloRilla rose to prominence after releasing her 2022 song "F.N.F. (Let's Go)" (with Hitkidd), which was nominated for Best Rap Performance at 65th Annual Grammy Awards. Her single "Tomorrow 2" (with Cardi B) reached the top ten on the Billboard Hot 100.
Dess Dior
Dess Dior is a rapper from Miami, FL who is most known for her hit singles ""Facts"" and ""Lemonade"". She has also collaborated with other artists, including Lil Yachty, Ty Dolla Sign, and Tory Lanez.
Omerettá The Great
In 2019 Omerettá The Great was reposted by Nicki Minaj for her submission of the #MegatronChallenge in a now-deleted post with the caption, "reasons she deserves to sign to the Queen: mad pretty, dope accent, pen game strong." Her hit single My Way flows harder then most of the male counterparts in the scene.
Rahrah Gabor
Rahrah Gabor's style is channeling Lil Kim and Jadakiss though she isn't a revivalist. After self-releasing two EPs she has played Slay TV's inaugural SlayFest at Brooklyn Academy of Music, the MOCADA, and the DICE Festival in Berlin.
TiaCorine
TIA CORINE is Billboard Rookie of the Month in April of 2023. Her single "Lotto" went viral in the early days of TikTok which landed her a deal with SCMG. Her hit single FreakyT which features Latto is a US Top 40 hit.
It's refreshing and inspiring to see so many women in hip-hop rising to the top right now. They are breaking any past assumptions that there can only be one queen of hip-hop at a time, these ladies are not concerned with sharing the spotlight and they are often found collaborating on each other's new tracks.
Shoutouts to all the women in hip-hop that paved the way for today's stars. We can't wait to see what the next 50 years of hip-hop will bring.
Watch Inside Music Curation | Hip-Hop at 50:
Photo Credit: Ice Spice performing at Soundcloud Next Wav Brooklyn. Photographed and filmed by Keinoflo. CC 4.0, via Wikimedia Commons