Festival Picks for Grown Folks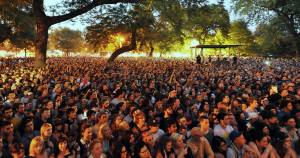 As music festival season approaches, we are confronted by several choices. For us family-types, going to a festival involves a series of complex decisions: negotiating who will watch the kids, location, travel time, price, logistics, other friends that also scored hall passes, and oh yes, the artists that will be performing. As a single guy, I cared about only 3 things: who was performing, who I was going with, and price. Oh, how have times changed…
Back in the old days, I relied primarily on word-of-mouth, radio, and various 'zines like Paste and Spin. However, by and large I relied primarily on the curation capabilities of the festival organizers to pick artist lineup – some well known and others that I pretended to know about but secretly had never heard of. For fear of being exposed, I would descend upon my local record store (back then, the Tower Records on Columbus and Bay) and try to get educated before my friends found out that I knew absolutely nothing about a third of the bands at the event.
Nowadays, there are a myriad of sources: email newsletters, marketing, social playlists, radio (both terrestrial and internet) blog posts, and even curators of blog posts to name a few – all of which link to free on-demand music at YouTube, SoundCloud, or the usual streaming suspects of Spotify and Rdio. Festival apps are good once you have an idea of the festival you want to attend but it still surprises me that many of these apps fail to provide the one thing I want to do: listen to the artists that are performing while I browse the app… sheesh. (Full disclosure: we're trying to change that here at Feed.fm by powering radio in festival apps).
As a family man, gone are the days of getting on planes or doing long road trips to attend festivals in far off locations. However, fortunately, there are some great events in the upcoming months right in our backyard here in the San Francisco Bay Area. Here are three that I plan to attend – Mom: can you watch the kids???
BottleRock
The Napa Valley based festival first launched in 2013 with an all-star lineup of artists including The Flaming Lips, The Black Keys, and Cake. They went through some initial growing pains that eventually ended in a change of ownership. The festival is now spearheaded by our friends at Latitude 38 Entertainment and will run from May 29-31 this year. Some of my favorite artists will be performing including well-known names like Imagine Dragons, Brett Dennen, and Robert Plant as well as up-and-comers like the masterful loop queen Kawehi and our local electro-pop heroes The Frail. Please check out http://www.bottlerocknapavalley.com/ for more info and the Official Feed.fm powered festival radio at http://feed.fm/play/bottlerock/.
Huichica
Another local (and awesome) festival just over the hill from Bottle Rock in the Sonama Valley is Huichica (pronounced "Weee-Cheek-Ah") run by our friends at the amazing winery Gunlach Bundschu. OK, not that everything needs to be difficult to pronounce, but Gunlach Bundschu is pronounced GUN-LOCK-BUN-SHOE. Music fan extraordinaire and owner Jeff Bundschu has organized this event since 2010 on the beautiful winery property. Jeff has managed to bring in some incredible local and nationally touring bands. This year the two-day event will run on June 12th and 13th.
On a personal note, the hospitality is simply awesome. Last year, I ruptured my Achilles tendon and was hobbling around with my kids in tow. Jeff personally came up to me helped me find a seat, watched my kids for a few minutes while I got a drink, and let me park within feet of the entrance. He even has a special area for kids to play while the adults rock out and enjoy some of their world-class wines. For more info, please check out http://huichica.com/.
Outside Lands Music and Arts Festival
Drumroll please… Yes, we've all been waiting for it. Outside Lands will be cranking tunes from our very own Golden Gate Park here in San Francisco from August 7-9. Brace yourself for the masses of humanity for the event averages around 60,000 music fans per day. Bathroom and beer lines can be brutal, but the lineup will be awesome this year. The main act will likely be Elton John's performance on Sunday, but be prepared to expect some great performances by Kendrick Lamar, Tame Impala, Wilco, and Toro Y Moi. I'm also thrilled that former Feed.fm Session alumnus and acoustic folk duo First Aid Kit will be performing on Friday. For more info, check out http://www.sfoutsidelands.com/.
Hope to see you this summer at one of these events!
- Jeff Yasuda