Hooray, it's a Holi-holiday Mixtape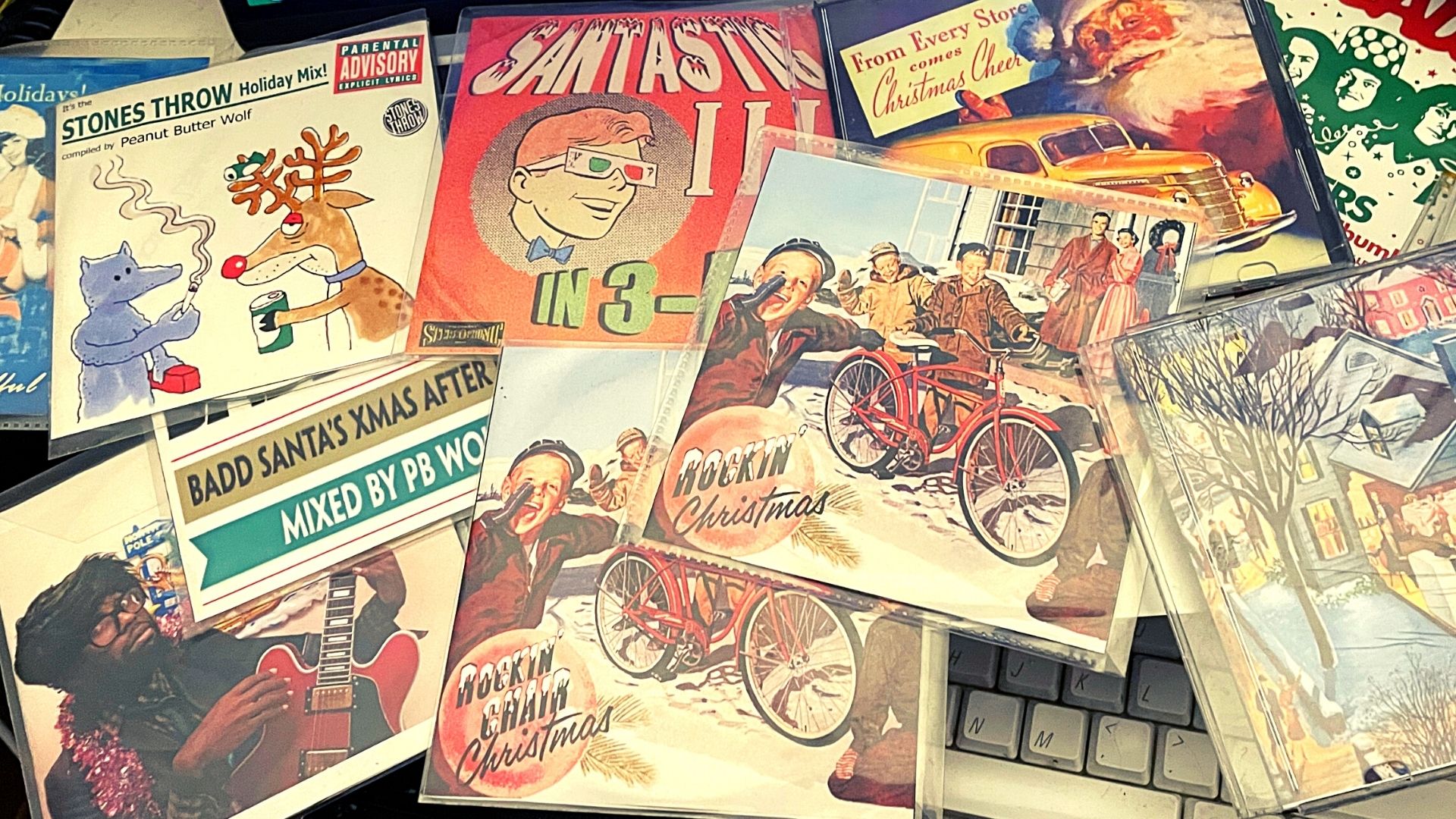 Looking for something fresh? Ready to veer from the usual 'themed' holiday mix? Try this eclectic collection of new and old, serious and tongue in cheek, traditional and leftfield tracks spanning a wide range of genres and sure to get you in the holiday spirit.
Hooray , it's a Holi-holiday Mixtape.
It's here again: the minute we finish working through those yummy Thanksgiving leftovers, the holiday season is upon us. Time to get cozy and warm, time to decorate our house and maybe get a nice tree, and definitely time to put a couple of holiday playlists together. I can help with that.
Growing up in Spain, I always enjoyed Christmas music because of the feelings it evoked, but I didn't realize back then that the variety of songs available to me were quite limited – everyone had the same kind of faceless children's choir renditions of classic carols, sweet but frankly monotonous, or variations on the local folk group interpreting religious songs in the regional canon. Bo-ring!
The other easily available option, Top 40 Pop, was never my thing — holiday music or otherwise. It was my American friend, Seth Gordon (of power pop band The Mockers), that first introduced me to cool holiday-themed oldies, mostly soul and rock'n'roll with a healthy dose of novelty tunes thrown in for good measure ("Mamacita, donde esta Santa Claus" anyone?). With my passion for music and a void to fill, I was the perfect guinea pig — the seed was planted.
On the current music front, my favorite music magazines kept me updated with seasonal compilations that included more indie tracks. Peanut Butter Wolf, head of independent record label Stones Throw, circulated a few of his holiday mixes. Even Dev Hynes (Test Icicles/Lightspeed Champion/Blood Orange) put together a Xmas EP.
Then I moved to America and a supernova exploded. Thrift stores made it easy (and cheap!) to find favorite classic LPs by Nat King Cole or Phil Spector, and even obscure gems like the racy "I Know What He Wants for Christmas (But I Don't Know How to Wrap It)" by Kay Martin & Her Body Guards. And my friend kept sending these amazing CDs, some compiled by himself, others from the aptly titled Santastic collection. Xmas mashups? I'm in!
I soon had enough songs that I could burn separate CDRs (the preferred medium for custom compilations between the cassette era mixtape and today's playlist) with different themes for different moods. I still have the first couple I made: I burnt the up-tempo numbers onto a disc labeled "Rockin' Christmas," while the mellower tunes went into its companion, "Rockin' Chair Xmas".
Not only was I having a blast putting these together and sharing with my friends, but now I had an excuse to lighten the tone of the evening whenever we grew tired of the carols and religious classical music albums on the family stereo. That was my salvation because, although I did say I enjoy Christmas music, there's something I dig even more, and that is playing something fun, irreverent, and unexpected.
It was a few years until streaming came along. Nowadays I don't burn CDs anymore, but I have a number of playlists lying around. And hey, the good thing about a holiday playlist is that it doesn't become obsolete with time, you can add a couple of new tracks and reuse it next year.
Spotify and Pandora are my platforms of choice, but those are definitely not the only options. For those fond of vintage sounds and veering off the beaten path, I do recommend investigating the S.S. Kresge Co. (aka Kmart) collection of in-store background music: hours of free streaming for the perfect oddball dinner ambience. (Thank you Internet Archive for the endless fun!)
But for more conventional playlists, your streaming service of choice has a plethora of options for all tastes: pop, hip-hop, indie rock, classic rock, soul, jazz, you name it — there is a holiday playlist to be made for almost any genre. You just have to know where to look and have the patience to piece it together.
One shortcut I use constantly is to start with a small playlist and then look into the recommendations; there's always something useful there. Another cool trick is to start a 'radio station' based on your playlist to bring new fun discoveries out of the woods. Combine both tricks to quickly add a breadth of tracks.
Lastly, don't forget to include "Auld Lang Syne" for New Year's Eve at midnight. And if you're into '80s hair metal bands, Europe's "The Final Countdown" just before that.
Whatever you do, don't forget to surround yourself with your loved ones and plenty of eggnog.
And as the Spinal Tap quote goes, have a good time – all the time.
Good night and Happy Holidays!

Pepe Verde
Content Operations Manager
Feed Media Group
I put this holiday mixtape together for you, featuring Kaskade, Neon Trees, Paul McCartney, and more. Listen here.
Image credit: picture of CDs is by the author.