Kanye, Donda & the G.O.A.T.'s Best Deep Cuts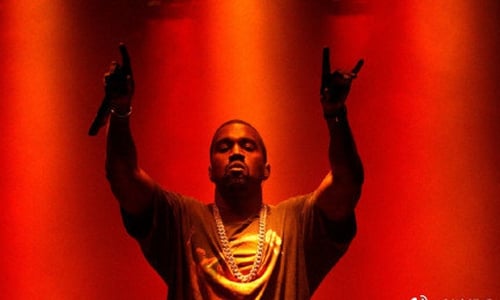 Kanye West is a big deal. He'll be the first to tell you so. My favorite Kanye lyric—"Damn, Ye, it'd be stupid to diss you, Even your superficial raps is super-official"—was served up as playful punnery within Late Registration's "Gone" (2005). These boastful words have proven to be surprisingly prophetic.

Kanye West is the G.O.A.T. (Greatest Of All Time) rapper-slash-hip-hop producer: he can do it all. Frequent collaborator/rhyme partner Jay-Z gets our vote for G.O.A.T. rapper, and we'll postpone debating the G.O.A.T. hip-hop producer (Dr. Dre, The Neptunes, Timbaland?) for another day.

While Kanye continues to tease the release of his 10th album Donda, we've picked his 20 Best Deep Cuts, focusing on tracks he produced AND rapped on that were not singles. Taken together, these overlooked gems trace the arc of one of today's most consistently inventive, compelling musicians. From Kanye's richly soulful early-career (2004-07) to his chillier, Auto-Tuned mid-career (2008-15) to the experimental gospel stylings of right now (2016-present), it's been a thrilling ride.
Haters out there? We know that the confidence, fearlessness (and also, misogyny) Kanye brings to his music—plus antics ranging from *Grammy interruptions to presidential campaigns—have turned some against him. Or you might just dislike his musical style and flow. For those still reading, our modest listicle won't likely change your opinion...but it may restore some appreciation of how large his creative influence looms in today's pop music.
Listen to the full YouTube playlist here:

Kanye, Donda & the G.O.A.T.'s Best Deep Cuts
The College Dropout (2004)
"Never Let Me Down"
Though not the first time Kanye and Jay-Z traded verses—that would be "The Bounce" (2002) off Hov's 7th album—their second teamup is a celebratory highlight from Ye's debut. It's a joy to hear peak-period Jay taking the lead alongside a clearly amped Kanye, and a spoken word section by poet J. Ivy elevates the song. You read that right: Kanye got the G.O.A.T. MC to guest on his debut and thought cool, now let's see if I can also fit a poem in here somewhere.
"Get Em High"
"I'm tryna catch the beat...My flow is in the pocket like wallets." Straight out the gate, he tells you that rhythm defines this headbanger. Kanye and famously cerebral guest MCs Talib Kweli and Common deliver clever lyrics, but it's mostly a game of hide-and-seek within Ye's spare production. The nimble-tongued rappers dart in and out, accentuating the syncopation and introducing musical silence to great effect, as when Common ends each of his first lines precisely when the beat drops out.

"Family Business"
Kanye's only solo production from Dropout is a wistful, introspective, and visually detailed story of family life. It's also highly relatable, helping define Ye's original "everyman" persona. Well, most of the track is relatable: he also casually predicts being surrounded for a family Grammy picture. Quintessential Kanye.

John Legend's Get Lifted (2004)
**"Number One"
It's pretty damn glib for a song about infidelity, but Legend sings the hell out of this two-timing anthem, strutting all over Kanye's uptempo sample of The Staple Singers' "Let's Do It Again." Ye also contributes a cheeky verse, stating on behalf of his penis that "I know he love you he told me you was his favorite."

Late Registration (2005)

"Hey Mama"
It's quite possible that you either love or hate this song. That said, it merits inclusion as one of the sincerest, least self-conscious of his creations. Even within the slightly cheesy musical arrangement (those "ahhhh-ow!" screams almost comically underwhelming), this heartfelt ode to his mother Donda West is moving. It has nowhere near the gravitas of 2Pac's 1995 classic "Dear Mama," but Ye had a middle-class, easier upbringing than Pac. Props for keeping it real in "Hey Mama."
"Gone"
As a vessel for capturing Ye's sheer joy of rapping, this Otis Redding-driven epic is rivaled only by megahit "Gold Digger" and "Otis," natch. After Kanye's kickoff verse, Cam'ron and A Tribe Called Quest affiliate Consequence each spit memorable verses atop the ebullient production. At which point, Kanye starts stunting. Instead of ending the song as expected, we're treated first to an expertly paced, cinematic music transition and then to his inspired, highly quotable 2nd verse.

Graduation (2007)
"Barry Bonds"
By his third album, Kanye had earned elite status as a mainstream hitmaker who was also critically acclaimed. That he walked this tightrope while manning both the musical decks and the mic is doubly impressive. For anyone else, a duet with emerging global superstar Lil Wayne would have been lead single material, but Ye had 5 other songs that were "Stronger" candidates.

808s & Heartbreak (2008)
For an album viewed at the time as a curious, almost parenthetical sidestep, 808s & Heartbreak had a seismic impact on pop music. From Drake to The Weeknd to Billie Eilish to the lethargic style of trap that defines much of today's hip-hop: the minimalist, detached, Auto-Tuned sound of Ye's 4th album spawned countless progeny.

"Say You Will"
This stark album opener is a distillation of Kanye's sleekly reimagined aesthetic. Gone are the warm soul samples and rapped lyrics, replaced with chilly synths, hollowed-out beats, and shyly crooned vocals. While he'd done introspection in the past, this song finds Ye retreating deeper into himself over the persistent bleep-bloop of a heart on life support.

"Street Lights"
As a die-hard fan of The Sopranos, I have an unproven theory that Kanye was influenced by the iconic role "Don't Stop Believin'" played in the show's finale, which premiered a year before this album. Whether I'm right or not, and whether Ye was consciously channeling that anthem's "streetlights, people" chorus, this song is an urgently optimistic bright spot midway through 808s.

My Beautiful Dark Twisted Fantasy (2010)
"Dark Fantasy"
The first track of Ye's magnum opus doubles as a mission statement for this musical psychodrama. Starting with Nicki Minaj's spoken introduction; continuing with a Greek Chorus-style commentary (whose repeated vocals "Oh, oh, oh" dispel the myth that we can get much higher); and into the minor key groove constructed alongside co-producer/Wu-Tang Clan audio architect The RZA...it's immediately evident his fantasy will be highly theatrical.

"Hell of a Life"
Truth in advertising. Kanye's id goes on a wild bender, glutting himself on all the sinful, carnal pleasures life has to offer. The delirious, synthetic production is interrupted at regular intervals by percussive gunshots, whose warning he only momentarily heeds each chorus with "No more drugs for me, pussy and religion is all I need."

"Blame Game"
Greatest song candidate ***"Runaway" explores similar themes of romantic regret, but Kanye was wise to double-down with this revealing ode to self-sabotage. The crystalline piano accompaniment and angelic voice of John Legend provide the perfect counterpoint to the murky, soul-searching of Ye's lyrics...which he musically fractures using a variety of voice-editing techniques to mirror the song's conflicted, raw emotions. Chris Rock's spoken epilogue functions as a darkly witty exclamation point.

Watch the Throne (2011)

"That's My Bitch"
The reasons eclipse the scope of this article, but Kanye is the living link between the 30 years of hip-hop preceding his arrival and the past 20. Older heads hear it immediately on bangers like this, which hitches the CLASSIC, endlessly-sampled "Apache" record to a Public Enemy sample, over which Ye and legendary co-producer Q-Tip work their own magic. You can hear the glee in Jay-Z and Kanye's voices as they trade verses over the resulting boom-bap.

Yeezus (2013)
"New Slaves"
Kanye returns to the minimalist production of 808s & Heartbreak, with an album that's aptly been dubbed industrial for its hard edges and aggression. With lyrics like "I'd rather be a dick than a swallower," this song is a subtlety-be-damned rallying cry against the institutionalized racism that afflicts African-Americans regardless of the wealth they manage to accumulate.

"Blood on the Leaves"
In 2016, Vox produced a 9-minute video entitled "Kanye, deconstructed: The human voice as the ultimate instrument," brilliantly illustrating how Ye uses voice as the foundation of his music production. While not mentioned in the video, this song's juxtaposition of a Nina Simone sample with Kanye's manipulated vocals—all over a bombastic, almost impossibly incongruent electronic sample—exemplifies this love of vocals.

The Life of Pablo (2016)
"Ultralight Beam"
Given his passion for the human voice and outspoken Christian faith, from "Jesus Walks" to the present, Kanye's pivot to gospel was an inspired if audacious decision. This leisurely song is the pinnacle achievement of his gospel exploration thus far, thanks to spacious music production and the decision to cede most vocals to gospel and R&B singers, Chance the Rapper's stirringly spiritual verse, and a 10-piece choir.

"Real Friends"
An example of Kanye's stellar ear for sampling, this song's DNA was taken from an excellent though obscure instrumental, prolonging the original's melancholy mood while transforming it into something entirely new. His disarmingly candid lyrics about the struggles of success, aging, and friendships cast a quiet spell…Far from the intrusive light bulbs of paparazzi, Ye proves yet again that he's an artist capable of delivering musical intimacy and broad emotional range.

Pusha T's Daytona (2018)
**"What Would Meek Do?"
From the outset of their collaboration (aforementioned juggernaut "Runaway"), Kanye and Pusha T have developed an outstanding partnership, with the former providing a musical platform for T's emergence as "an MC's MC," and King Push inspiring Ye's lyrical growth and development. Invoking the spiritual presence of 2Pac through sampled and verbal references, here's present-day Kanye continuing to deliver on hip-hop's "beats, rhymes, and life" brand proposition.

Ye (2018)
"Ghost Town"
This 8th album's highlight packs an emotional wallop. Wow, the voices on this one: Ye's one-time Kids See Ghosts partner Kid Cudi lends a memorable hook, Kanye underscores vulnerable lyrics by singing without his trademark Auto-Tune, and PartyNextDoor contributes his distinctive croon. With bases loaded, newcomer 070 Shake knocks it out of the park with her emphatic, gender-neutral vocal performance. The alternately uplifting/downer song— "I put my hand on a stove, to see if I still bleed"—has been heard as an expression of Kanye's recently diagnosed bipolar disorder.
Jesus is King (2019)
"Use This Gospel"
Guess which 2021 breakout pop star loved the "door ajar" door chime that starts this song? Kanye's expert less-is-more instincts shape this meditative prayer for forgiveness, with just this car chime providing most of the song's percussion. After a brief and beautifully restrained appearance by smooth jazz icon Kenny G, Ye rewards our delayed gratification by dropping the beat. With a quietly uplifting martial rhythm in the vein of "Jesus Walks" serving as a benediction.

...As for Kanye West's 10th album, we love that he's highlighting the act of musical creation at ****listening parties, cleverly reframing albums as art in an era of music as a commodity. We "donda" know when it's dropping any better than anyone else, but we're confident the latest installment of his multi-faceted, always evolving music career will be worth the wait.
Kanye, Donda & the G.O.A.T.'s Best Deep Cuts.
*Wu-Tang Clan's late, great Ol' Dirty Bastard did it first.
**Observant fans will note that we cheated by including these singles in our Deep Cuts list. Our excuse? One's an early hit, and one's a late hit that didn't chart as well as it deserved.
***An epically long pop song masquerading as hip-hop...in which an ahead-of-the-curve Kanye misuses the decade's beloved Auto-Tune to distort his voice (in the song's second half) almost beyond recognition. "Runaway" finds the G.O.A.T. at the peak of his powers, making enough brilliantly unconventional choices to merit its own separate article.
****
#blacklivesmatter
Thanks to: Juan Hernandez-Cruz, Dario Slavazza, Claire McConnell & Ryan Sajewski for their invaluable contributions to this article
Image Credit: Sina Weibo