Musical passion knows no bounds: Bob Beamon & Stix Bones interview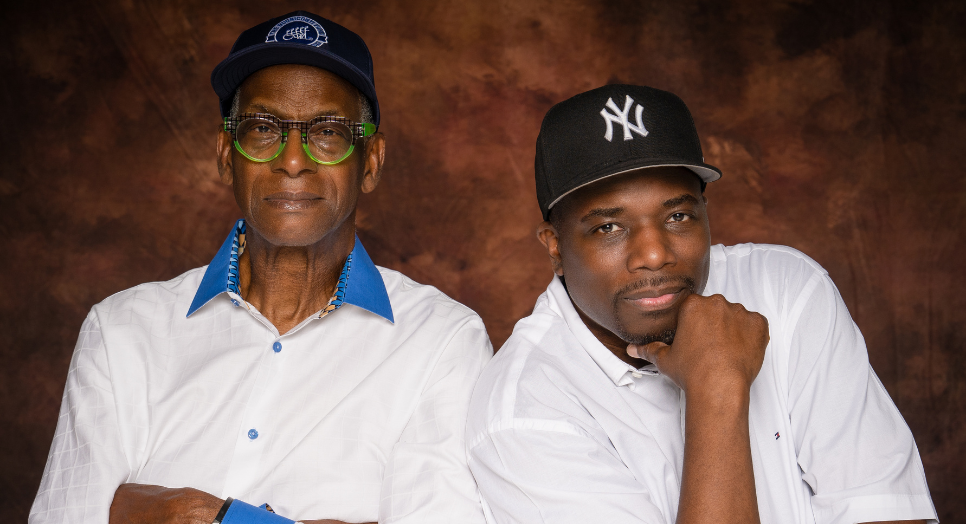 At Feed.fm, we are inspired by the power of music, and we work to amplify the musicians that move us. I had the honor of talking with Feed Originals artist Stix Bones and musician and Olympic gold medalist Bob Beamon to learn more about their unique musical journeys and their (some might say unlikely) collaboration on a new jazz-inspired album, Olimpik Soul.
Passion and potential
In the mid-1950s, in South Jamaica, Queens, the sounds of improvised Latin/Afro percussion caught the attention of eight-year-old Bob Beamon. "It was a sound that sometimes I can't explain because it was so good, it kind of filled my blood to a boiling point. There was so much energy, each person had the energy, and they had it with each other. The music was just unbelievable, I thought this is what I want to do."

Those musicians continued to be an influence and inspiration for Bob as he began playing percussion in local dance schools, where he met his wife. He was building his life around music before discovering his extraordinary athletic potential. As a teen, Bob made the choice to commit to sports, which took time away from his beloved music activities. It was a pivotal choice that led him to win a gold medal in the 1968 Summer Olympics. Bob Beamon's record-setting long jump measured a whopping 29' 2-1⁄4" (8.90 m).

Now, 55 years after his victorious jump, he's returning to his original passion for music. "Through years of traveling around the world—music was always there," said Beamon, who just released his first musical recording at the age of 77. "LEAP" is the debut single from his collaboration with accomplished jazz and hip-hop musician, Stix Bones.
How music brought Bob Beamon and Stix Bones together
Bob's cousin Albert Brisbane plays bass guitar and has worked with Stix for over 15 years. Albert told Stix that Bob had always wanted to perform with a band, and when the two met the idea of recording an album started to take shape.

"Bob had to make the decision at a young age to go into sports. He had a lot of friends that chose music, and now he's reuniting with some of those friends in the studio," said Stix about how music brings people together. "It's been rewarding to see them together again, and it's been a history lesson for me to learn about their earlier days in the New York music scene."

Stix Bones started his music career performing and touring with acclaimed hip-hop artists including Rahzel (The Roots), Jessica Care Moore (poet), and DJ Maseo (De La Soul). He launched his career as an artist with his chart-topping smooth jazz album, Groove Like This. Stix's hip-hop tracks landed sync placements in TV and film, such as The Real Housewives of Miami and the movie soundtrack of Saint Judy featuring Michelle Monaghan and Common.

Today, Stix's unique blend of hip-hop and jazz is earning a place in the spotlight as his latest album Breaks from the Soul, Vol. 2, is up for consideration by the Recording Academy for Best Contemporary Instrumental Album. Stix Bones is also a Feed Originals artist contributing compositions for placement in apps for fitness, wellness, and other functional applications.
Stix is currently putting the finishing touches on his new album, Olimpik Soul, featuring Bob Beamon on percussion. "Stix can bring out the best in performers," says Bob. "He is a super supporter—elevating my game. Making music with Stix has been very rewarding."
Blending old and new to create fresh sounds
Bob's favorite time signature is the slightly off-kilter 5/4, immortalized in Dave Brubeck's "Take Five." He credits this to Tony Williams, who started playing with Miles Davis when he was just 16 and went on to play straight jazz, funk, hard rock, and acid rock. Bob can relate to Williams' experimental and exploratory approach to percussion, "It's like hey, I like that sound—let me see how this develops."

Working with Stix on the Olimpik Soul album has provided the perfect outlet for Bob's creativity and affinity for eclectic genre-blending sounds. "Stix is knowledgeable about the different worlds of music," added Bob. "The way he looks at it…he's experienced many different genres as a drummer, and I think he can be an asset to the new sounds of our times in the way he creates and designs his music."

Stix has worked with gospel, R&B, jazz, and hip-hop artists, so I was curious why jazz played such a strong role in this release. "There's not a lot of bands behind rappers, with the exception of The Roots," Stix noted. "Jazz is American classical music and our schools train us for it. Also, as a drummer, it's easy to gravitate to certain styles, and outside of Latin genres it's jazz…That said, 'Apache,' as covered by The Incredible Bongo Band, was a big inspiration for 'LEAP' and the rhythms Bob played for the recording."
Connections in rhythm and athletics
Rhythm is very important in athletics. "When I was training other athletes, I trained them through sound and rhythm," recalled Bob. "I could hear how someone was running, or how they made the approach to the board to take off—and I knew what that should sound like."

Bob went on to say, "Sound and how you use it is so important in life. When the heart stops pumpin', you're in trouble." At 77 years old, he's coming back to music and finding opportunities to inspire older generations to keep moving in retirement. "We have to find things, we may never get that chance, get off your butt, and let's get down, let's do something special. We're trying to get more people involved in physical fitness. When I go to the fitness center, I get out of there feeling like I could start training for the 2024 Olympics."
Olimpik Soul
Back in 1968, Bob was in a state of disbelief when he learned the measured distance of his famous long jump, and he experienced a somewhat similar feeling the first time he heard his percussion performance on the "LEAP" recording. "When I listened to the results, I was really taken aback, is that really me? I can be a superstar now." Bob's accomplishing something he had to walk away from over 50 years ago, and working with Stix and the BONE Squad has brought him a lot of joy. "When people meet me through music, they say are you the same guy that was in the Olympics? It just blows them away."

The pair is releasing a follow-up single, "Be Thankful," just in time for the holidays, and are kicking off the New Year with the launch of their full-length album Olimpik Soul on January 12th, 2024.
Feed Originals Artist Spotlight

Stix Bones

Producer, drummer, and contemporary Jazz artist who has collaborated with Rahzel (The Roots), Jessica Care Moore (poet), and DJ Maseo (De La Soul).
Feed Originals is a premium music catalog offered by Feed.fm. In addition to an array of top-shelf pop, dance, and hip-hop songs, unique soundscapes and science-backed music for focus, fitness, meditation, and sleep are created by world-class musicians in consultation with music research experts.

Feed.fm makes it easy, fast, and legal for businesses to stream major-label, indie, and functional music to improve customer engagement and retention.