On Demand Webinar - Driving Retention in Digital Fitness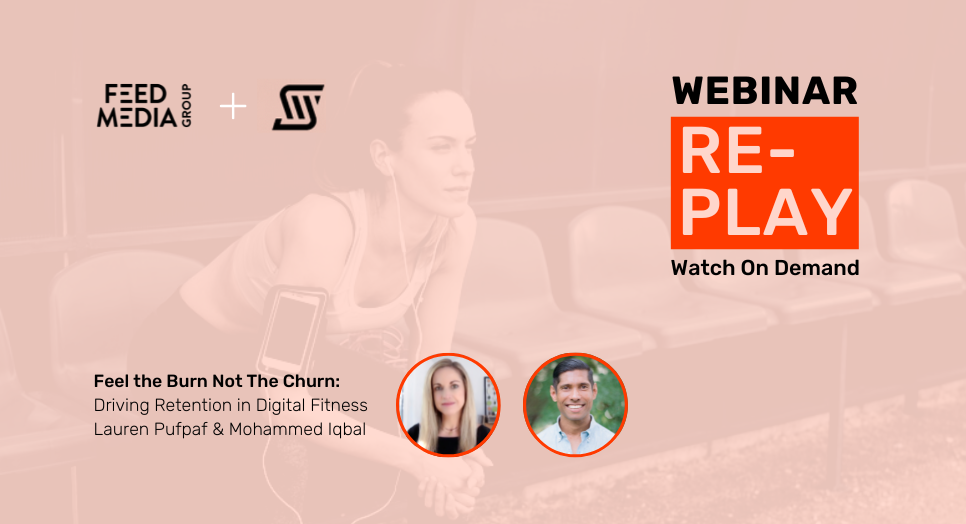 ICYMI. Lauren PufPaf, COO of Feed Media Group and Mohammed Iqbal, CEO of SweatWorks presented a webinar discussing trends, resources and best practices for digital fitness companies. Whether you offer a standalone app or an integrated hardware/software solution, there are helpful tips for every business and key advice for companies preparing to launch new fitness products.
The COVID Effect
While there was a 53% growth in app revenue from 2019 to 2020, there were $20b in losses for the gym/studio industry. The consumer has evolved during the pandemic and accelerated the adoption of digital tech by 5-7 years. The fitness industry suffered, and connected brands saw an opportunity. The evolved consumer has more knowledge about their own wellness, has invested in wearables or hardware, and is ready to move forward in the new hybrid model.
The Four Pillars of Success in Digital Fitness
Creating emotional impact and thoughtful experiences with connected hardware.
Integrating wearable technology to provide tracking which helps drive motivation.
Planning your music licensing and video production strategies 6-12 months in advance. Don't underestimate the complexity and costs that can be associated with quality production and popular music rights.
Create opportunities for both personalization and community within your digital experiences.
Music Drives Real Business Results
FMG Customer Analytics show users spend 4.5x more time on site/in-app with integrated music.
Licensing isn't just about if you can use a track, it's also about how and when you can stream it, and whether you can track it to properly report and remit payments to multiple rightsholders.
The art of music curation is not just about making playlists, it's important to analyze and optimize as you go, to refresh music selections and make workouts more personalized.
Don't wait for the music to become a problem. Start your music industry relationship on the right foot and look for partners that offer indemnification.
Legal problems aren't reserved for music use infringements, when it comes to intellectual property (IP) for connected devices and other technologies, always seek out professional counsel.
Tune in to learn the one metric that doesn't matter, as well as a few critical data points that companies often overlook.
Watch the reply to hear directly from Mo and Lauren about:
The hottest wearable trends
The latest connected fitness vertical that is making waves
What omnichannel really means
And, the keys to success when creating a holistic fitness solution.
On Demand Webinar - Driving Retention in Digital Fitness




Learn more about SweatWorks & Feed Media Group.