The right music for the right workout at the right time.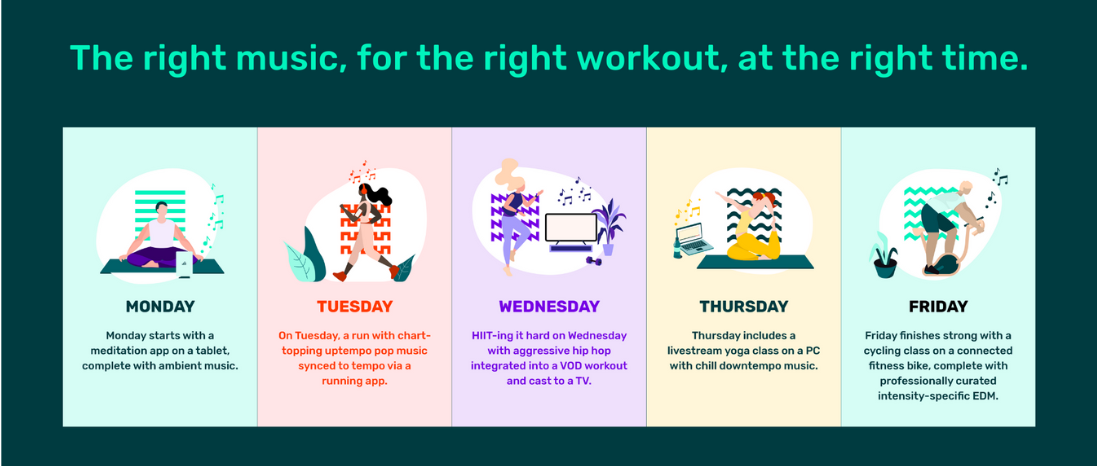 Now, more than ever, digital fitness solutions must offer robust technology to meet their users wherever they are.
As millions of people tap into technology--smartphones, tablets, PCs, televisions, etc.--to meet their fitness needs, the breadth of available digital content continues to expand. Fitness innovators are releasing new content at lightning speed and the options for consumers to interact are endless. From connected devices and apps to web-based and OTT streaming platforms, users can sweat it out anywhere at any time.
We conducted a recent consumer survey and found that convenience is the top reason people work out from home, with 40% of respondents saying they are mixing up their workouts based on how they feel that day. It's become increasingly important for fitness apps to offer a wide range of workouts and to make those sessions accessible, no matter where the end user wants to exercise.
Now that your customers are engaging in many different ways throughout their week, how is your fitness brand keeping up with the new distributed workout model?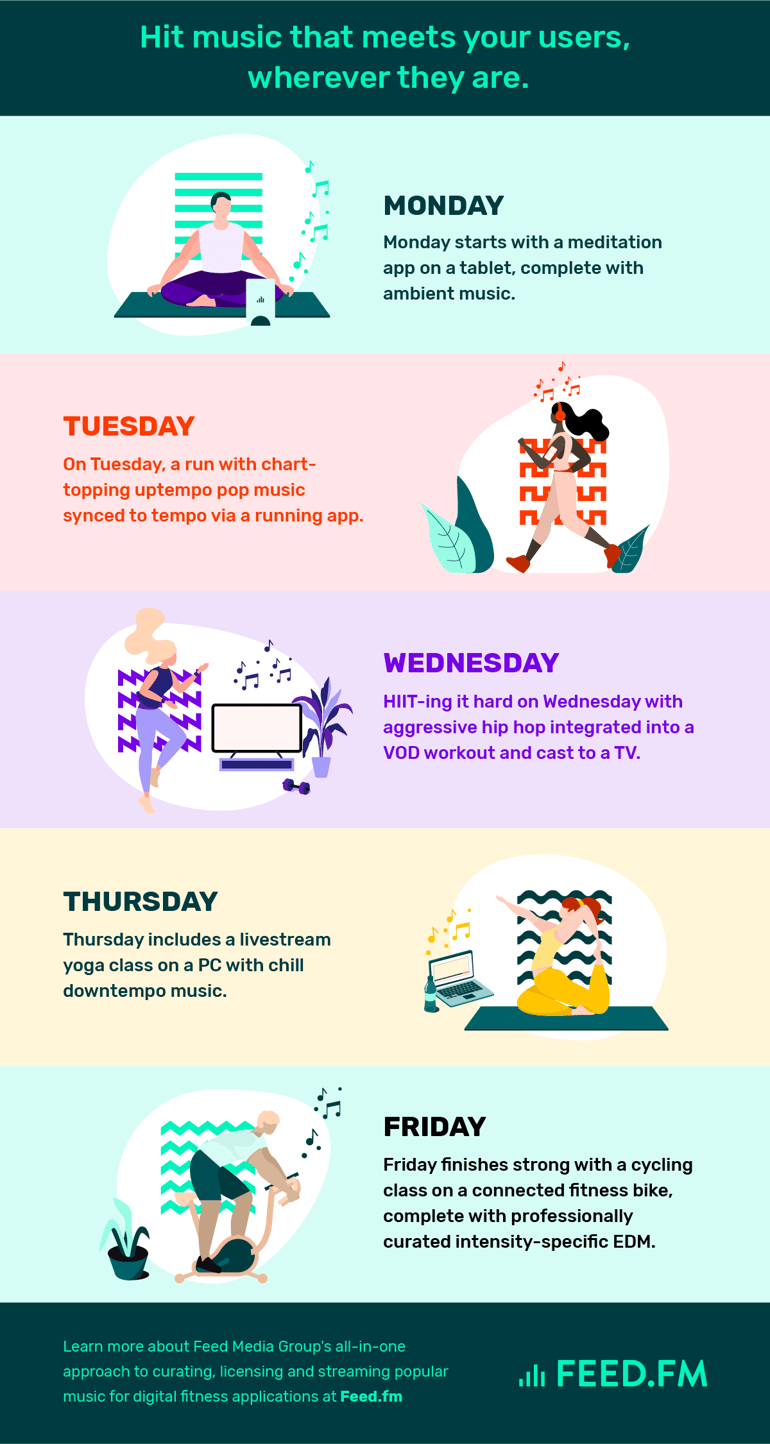 The right music for the right workout at the right time.
Whether it's a yoga session in the backyard using a tablet, or a cardio class in the living room cast to the family TV, fitness companies must provide flexible digital experiences to meet the user wherever they are. What are you doing to earn your app a coveted space on the end users home screen?
Feed.fm can help you power it all with popular music.
Feed Media Group's (FMG) B2B music integration platform, Feed.fm, powers music for the world's leading brands including Mirror, Nautilus, and Tonal.
We developed a set of proprietary music APIs and SDK integrations to ensure everyone gets to experience the power of music while making sure artists get paid and providing our partners with full legal indemnification.
The engineering team at FMG is dedicated to making these products compatible with the latest tech innovations, and a lot of recent work has been done to support OTT platforms like Roku, Chromecast, and AirPlay.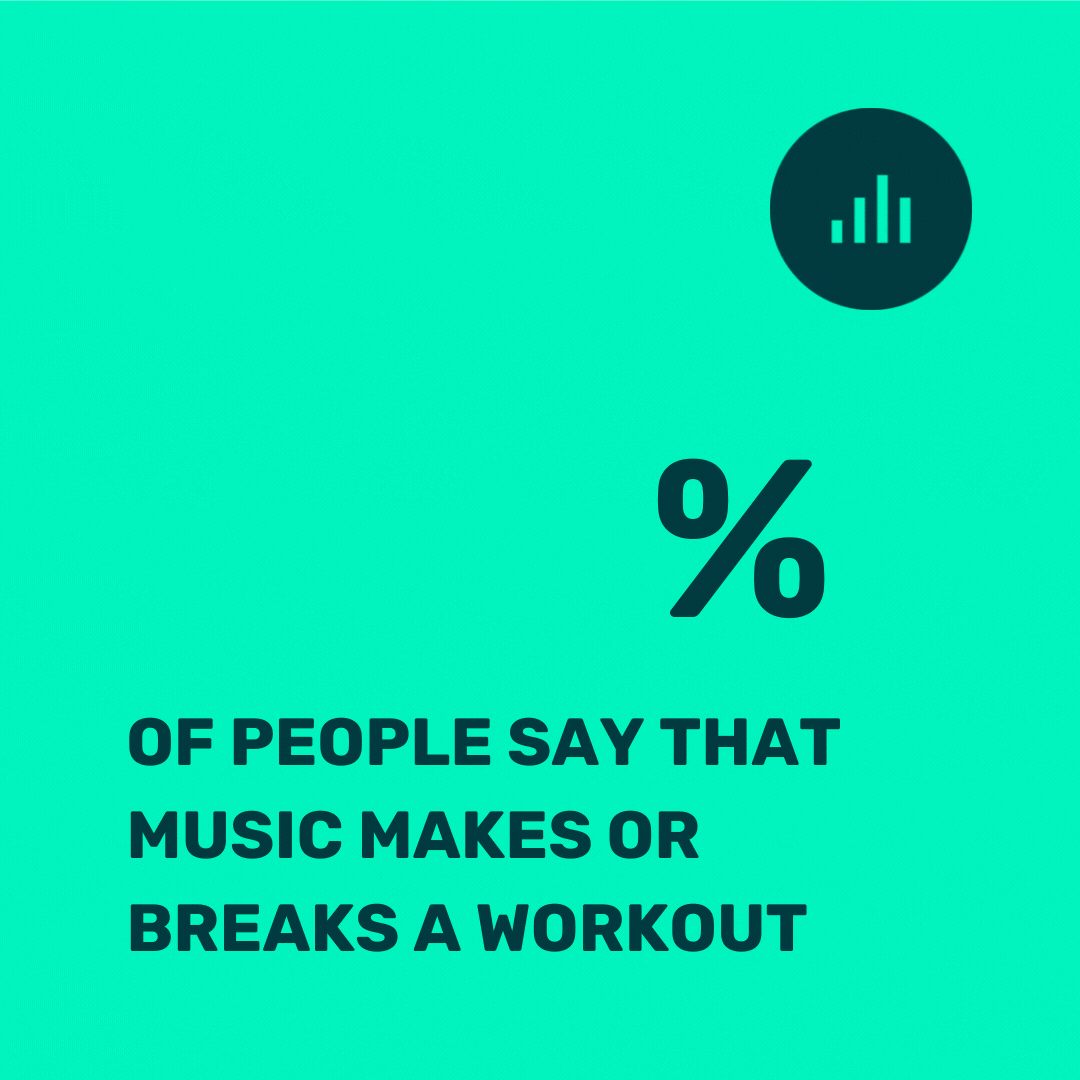 - Feed.fm Consumer Survey June 2021
Our team of professional music curators work behind the scenes, expertly pairing music styles with fitness modalities and intensities. We collaborate with many of today's leading digital fitness companies as well as individual instructors, and together we utilize user data and Feed.fm analytics to continually optimize and refresh these musically enhanced experiences using chart-topping hits and new releases from up-and-coming artists.
If you are a digital fitness company interested in adding popular music to your dynamic workouts, we'd love to hear from you.