Tips for Developing a Strong Fitness Coaching App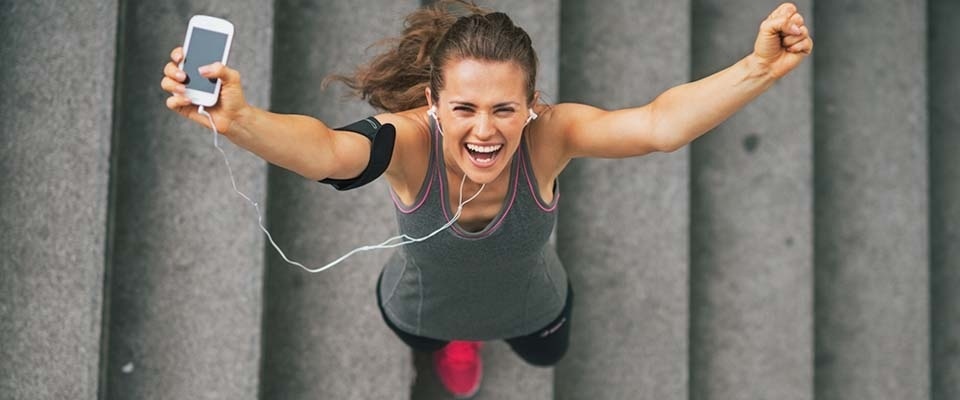 It's no secret that fitness apps have become a popular tool for anyone looking to stay in shape. For $5-10 a month, consumers can get personalized coaching, goal setting and the flexibility to work out anywhere. Compare this to the average $60 a month that U.S. consumers spend on a gym membership, and it's clear that a high quality fitness app can provide significant value.
In 2017, the Health & Fitness app category jumped into the global Top 10 based on revenues (both for iOS and Android platform), according to App Annie. This category is highly dynamic, particularly as the global demand for wearables continues to explode. CCS Insight forecasts that 411 million smart wearables worth $34 billion will be sold in 2020. As entrepreneurs continue innovating in the Health & Fitness category, it makes sense to step back and evaluate the features that can make an app stand out in an increasingly crowded field.
There are three main types of fitness apps that we come across regularly at Feed.fm: Trackers, Diet/Nutrition, and Coaching apps. Coaching apps are the partners we work with most, so we'll focus there for the sake of this article. It's worth noting that Trackers are quickly merging with Coaching, and we anticipate this distinction will continue blurring.
Whether creating a new fitness coaching app or working to optimize engagement in an existing app, we find the following basic features are table stakes:
User account – With the focus on personalized programs in fitness apps, account creation is the best way to understand each individual's needs and preferences. And it's important to give users the option to sign up via email or social platforms.
Connecting to other services – The walled garden approach doesn't make much sense for fitness apps, given that 59% of users adopt more than one fitness app and 36% pair apps with a device. As a starting point, HealthKit and Google Fit APIs are great tools for accessing health information gathered by iPhones/Apple Watches and Android gadgets.
Geolocation & location services – Even for apps that are not aimed solely at tracking activity, geolocation and location services can add utility to your feature set. For example, an audio coaching app could also recommend convenient places to run outdoors or healthy eating establishments.
Social functionality – When it comes to fitness, accountability has been proven to make apps more useful in achieving fitness goals. Giving users the ability to challenge each other and share progress updates can be a powerful motivating factor.
Coaching – The quality of the audio and/or video instruction is clearly the pivotal component for any content-based app.
Once you've launched, the question becomes - How do you keep users engaged? The following are surefire techniques for driving sustained app engagement.
1. Building Community – Community is a must-have feature that will keep many of your users coming back regularly. Partnering with a company like Charity Miles can take the idea one step further, by doing good while staying healthy. Many successful apps are also leveraging the idea of a "pool" to allow users to make bets on their ability to achieve a goal.
2. Gamification – From Fitbit to RunKeeper to lesser-known apps, gamification is an important component of many fitness apps' strategies. Integration of this feature ranges from sophisticated to simple, such as Progress Bars that track one's status towards a goal. Gamification expert Yu-Kai Chou recently published a roundup of some of the best examples in fitness apps.
3. Music – Music has tested positively as performance-enhancing when paired with fitness. While there is plenty of compelling data to back this claim, music integration remains an under-utilized element of fitness coaching apps that can a) differentiate your product and b) deliver significant user results. Since music distracts from fatigue sensations, athletes need less oxygen to do the same work. And pairing music and workouts delivers even stronger results when movements are synchronized to the music's tempo.
Let's imagine for a moment that your fitness app is instead a burger joint. While coaching is clearly the beef in this metaphor, music is the special sauce. And if you want users to choose your business for regular, repeated consumption, you want to make sure your burger has great beef and excellent special sauce.
Too often, fitness apps deprioritize music integration for their coaching programs. Although music is tricky given the legal hurdles and specialized expertise required, it's a mistake to think users won't notice or care that your app doesn't feature an appealing, well-curated playlist.
When it comes to adding music to your app, there aren't that many options you need to consider. Put simply: you can use royalty-free music, work directly with labels, or let Feed.fm do the work for you.
Royalty free music is a cost-effective option, but the content you receive has serious limitations. Producers of this music pump out anonymous tracks based on genre or activity. While some of this music may sound like songs they've heard before, users will never actually hear any songs that they know and love. A big missed opportunity…you don't have to be a professional DJ to know that specific songs get people fired up the most.
Working directly with labels to license music is also an option, but it comes with significant hurdles. If you want to play popular, major label music alongside your coaching content, you'll need to acquire sync licenses, which can cost anywhere from $5,000 to $500,000 per song. Some content can be licensed globally but generally each country requires separate negotiations.
Not surprisingly, we think the most comprehensive, cost-effective route for music integration is working with Feed.fm. Our company has a strong track record powering popular music for users in a number of different ways, handling all the licensing on our end to ensure that everything is legal and above board. Some of our current fitness customers include Fitbit, Sworkit, Nautilus, MoveWith, and DailyBurn.
Feed.fm's curation team makes sure these playlists correspond to the appropriate tempo and intensity for each workout, and feature up-to-date tracks. We also have the ability to power dynamic soundtracks that map beats per minute and track intensity to coaching cues so that music playlists can be synchronized more fully to your apps' workouts.
With 2018 fast approaching and so many consumers seeking mobile fitness solutions, now is an ideal time to refine and scale your fitness app. While the basic feature set is clear for content apps, the real opportunity lies in differentiating your user experience through building community, gamification and the special sauce that is music.

Image Credits: Holmes Place, Muscle & Fitness