2015 - A year of change in the business of music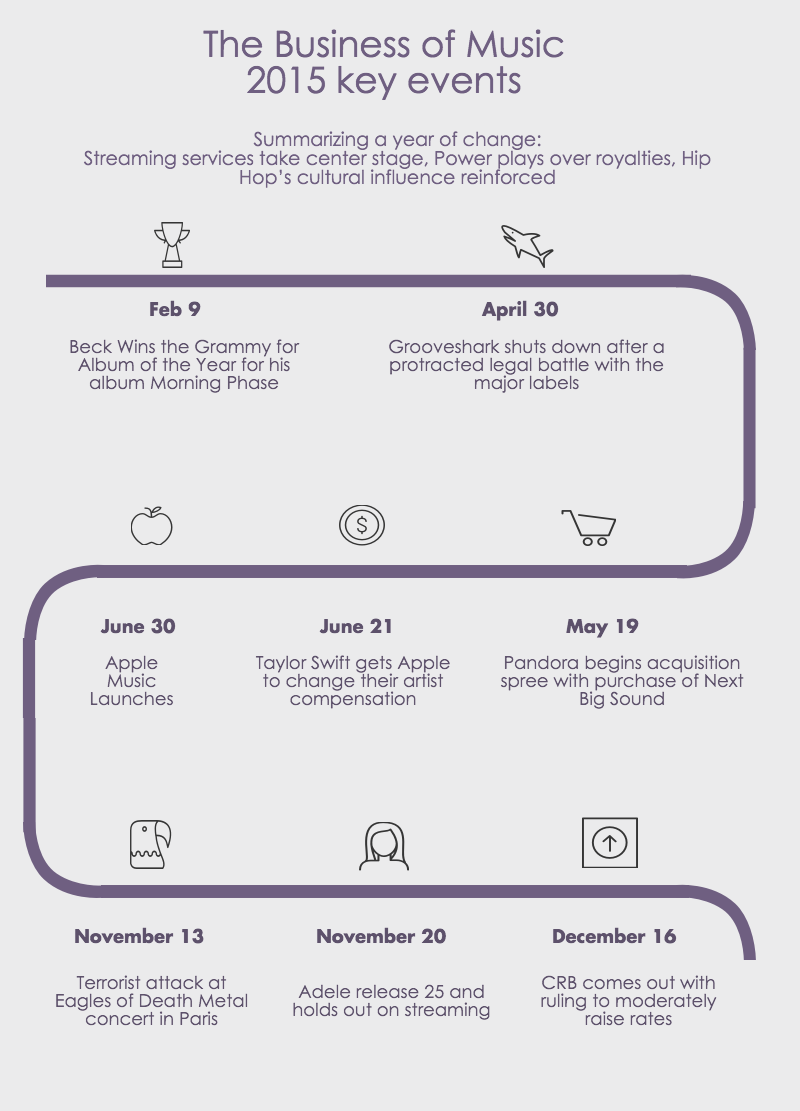 2015 has come and gone in a flash and it was an exciting year in music on many fronts. Apart from the senseless tweet squabbles between various artists for publicity stunts and Kanye's announcement that he's running for President in 2020, there were several moments that will shape the music ecosystem for years to come. The industry is still scrambling to catch up with the massive changes in listening habits and the fallout has been painful to watch at times. More than anything else, last year was about the changing of the guard. Old institutions becoming less relevant, streaming services wielding more power (and battling it out amongst themselves), and top-selling artists flexing their own muscles in answer.
Below is a chronological list of the top of events that highlight this ongoing saga as the music industry slowly figures out how to create a formula that benefits labels, listeners, artists, and the technology platforms.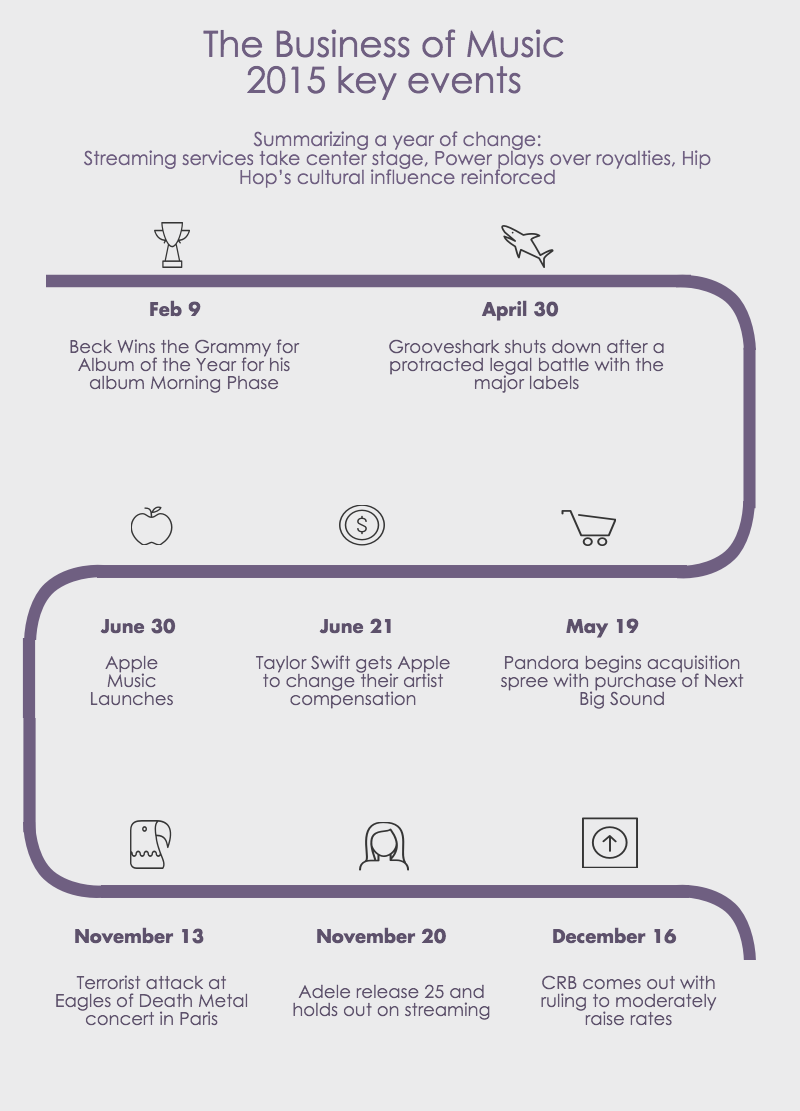 February 9, 2015 – Beck Wins the Grammy for Album of the Year for his album Morning Phase
Beck moved on from irony and chunky beats with two albums ago, and, with Morning Phase, continues to embrace beauty in a messed up world. There are many derivative moments throughout the album, but it is a lovely collection of tunes meant to inspire us through dark times. That said, the win for Album of the Year was a huge upset, and not just to Kanye. The nominees were as follows:
Beck, Morning Phase
Beyonce, Beyonce
Ed Sheeran, x
Sam Smith, In the Lonely Hour
Pharrell Williams, Girl
Why it's important- A once vaunted institution widely blasted as outdated
In the days that followed, the blogosphere exploded with questions around the voting process, the politicking, and the fact that the ballot itself created a split vote – Beyonce v. Sam Smith in pop, Beyonce v. Pharrell in R&B, and even Ed Sheeran v. Sam Smith who are both from England. It made people question whether the winners accurately represented what the masses believe or was more of a reflection of an outdated process.
Ultimately, the truth behind what happened probably doesn't matter, but I'm sure it was a close vote. Controversy often brings exposure, which is good for the artists.
Good coverage here
April 30, 2015 - Grooveshark shuts down after a protracted legal battle with the major labels
Grooveshark, which launched in 2007, was sued for a whopping $17 billion in damages. At its peak, Grooveshark grew to over 50MM monthly uniques through its on demand streaming service. Users were able to upload music to the Grooveshark servers and those songs were made available to all for listening and sharing purposes.
Why it's important – The end of an era
Grooveshark was one of the last holdouts of startups that have lived by the "infringe, get big, then ask for forgiveness from the labels" strategy. This has never been a winning strategy as evidenced by familiar names like Napster, Imeem, and Project Playlist (btw – there's a new Playlist that is going live soon that is doing cool stuff).
The aftermath was also terrible when Josh Greenburg, its CTO and co-founder was found dead in his apartment just a few weeks later. No evidence of foul play or suicide was ever found. I considered Josh to be a friend and spoke to him from time to time about technical solutions to streaming challenges. Josh was 28. May his soul rest in peace.
Good coverage here
May 19, 2015 - Pandora begins acquisition spree with purchase of Next Big Sound
Next Big Sound, founded in 2008 by Alex White, provided comprehensive analytics on the popularity of artists and their music across social media and various streaming services.
Why it's important- The battle for streaming supremacy heats up
A senior company executive said the strategy was to bring on the team via an "acqui-hire" to help Pandora with its data strategy. Pandora's service is ultimately based on data – both demographic and behavioral – from their 250m + users, so this acquisition makes a ton of sense.
Pandora's first and only previous acquisition was a terrestrial radio station on June 11, 2013. The company continued with additional acquisitions of TicketFly on October 7, 2015 and Rdio on November 16, 2015. Pandora is clearly embarking on a "buy v. build" strategy as it looks to augment its product portfolio. Let's look to see what other acquisitions take place in 2016.
Good coverage here
June 21, 2015 - Taylor Swift gets Apple to change their artist compensation policy within hours of writing a heartfelt letter to the company.
The key issue was that prior to the launch of its new streaming music product, Apple announced that artists would not be paid during the 3-month trial period that new subscribers could sample the service. Swift's message to Apple was polite, but also painted them as a giant that is ridiculously out of touch with artists.
Why it's important- A small shift in the balance of power
This is the first time that I remember an individual artist single-handedly forcing the hand of a multi-billion dollar company.
Taylor threatened to remove her album "1989" from Apple Music. Within hours, Eddy Cue, Apple's SVP of Software and Services tweeted, ""#AppleMusic will pay artist for streaming, even during customer's free trial period." He then followed that up with "We hear you @taylorswift13 and indie artists. Love, Apple."
One lens by which to view the exchange – Jimmy Iovine's old school label tactics clashing harshly with Jobs' legacy. Iovine led the negotiations with the labels that required them to give up their music for free. Interestingly missing in this whole exchange? The labels. This conversation was between Apple and Taylor Swift – artist and platform. The good news for artists is that this may signal a shift of power away from those that invest in music to those that make it.
Good coverage here
June 30, 2015 - Apple Music launches
I remember reading this impressive post on TheNextWeb about Apple Music.
I, along with the rest of the world, couldn't have been more excited for the launch. In reality, though, the user experience is not intuitive and the internet grumbled loudly about the disappointment. Apple Music is completely serviceable, but we were promised amazing. So, how have they grown? With so many consumers already locked into the Apple ecosystem, many of us have acquiesced while we wait for improvements.
Why it's important- The battle for streaming supremacy heats up, part 2
Apple Music was largely panned until CEO Tim Cook revealed in October that it had amassed more that 6.5MM paying users with an additional 8.5MM in the trial phase after a few months. This was in contrast to the market leader Spotify who claimed to have over 20MM paying subscribers across the globe, amassed over many years.
Eddy Cue claims that Apple is in it for the long haul. With a cash balance of over $200 Billion, I think it's fair to say that Apple has some flexibility to take its time to figure out how to convert the massive global iphone user base to the service. It will happen, but it's just a matter of time… unless they simply acquire Spotify or Deezer.
Good coverage here
August 14, 2015 – Straight Outta Compton Debuts
If you were a fan of N.W.A. back in the day, you will absolutely LOVE this period piece set in the late 80s. The biographic drama, which borrows its title from the debut album and title track released in 1988, depicts the early days of one of the first and seminal gangsta rap groups.
Why it's important- Winners write history and hip hop's cultural influence confirmed again
In just 3 weeks after it was released, it became THE highest grossing music biographical movie having sold $134.1 million ticket receipts in the U.S. and Canada. Walk The Line, about Johnny and June Carter Cash, another great flick in my opinion, had peaked at $119 million.
Go see this movie! Good coverage here
November 13, 2015 – Terrorist attack at Eagles of Death Metal concert in Paris
We are all aware of the tragic and horrific coordinated terrorist attacks across Paris in mid-November that shocked the world. One of the attacks took place at the Bataclan Theater at a performance by the California rock band The Eagles of Death Metal. 89 people died.
Why it's important – First direct target placed on music fans
U2 also cancelled its tour through Paris that was scheduled only two days after the attacks. Since then, U2 rescheduled for December and the Eagles of Death Metal will be returning in February. The Eagles of Death Metal have been grateful for the level of support from the Parisian and global community after the tragic events.
Thee band has asked musicians across the globe to cover their song, "I Love You All the Time." Every dollar from the sale of the song will go towards the families and victims from the attack via The Sweet Stuff Foundation. It is the first time the music community has mobilized against terrorism. We expect to see more mobilization in 2016.
Good coverage here
November 20, 2015 – Adele releases '25' and rejects streaming platforms, including Spotify
With fans waiting over 3 years for the album, anticipation for '25' was at a fever pitch by the time it released in November. On the eve of the release Adele penned a heartfelt note to her fans that included "i am so overwhelmed and grateful to be able to even put out another album, and put it out how i want." Adele is said to have been personally involved in the decision to hold back on streaming, although many decried it as a foolish move initially.
Why it's important – Another point on the boards for the artists
At the time, famously cranky critic Bob Lefsetz called Adele "dumb and uneducated" for holding the album back from streaming. Post-game analysis paints a very different picture. Music Business Worldwide estimates that the album has taken around $115m in retail, which is conservative. They also did the math to figure out how many streams on Spotify it would have taken at the current royalty rates to reach that number. The album would have to have been streamed 16 BILLION times to generate that same amount of cash, which is impossible. Don't get me wrong, I still think streaming is the future, but this case just illustrates that the industry has yet to figure out the right formula to map usage to revenue.
December 16, 2015 - CRB comes out with ruling to moderately raise rates; Pandora's shares are up 20% in aftermarket trading
The Copyright Royalty Board, which regulates royalty rates to be paid to labels for music streaming via internet radio, recently announced the new rates through 2020. This affects companies that stream music under the compulsory statutory license for internet radio such as Pandora, iHeart Radio, 8Tracks, and Feed.fm.
Why it's important – Streaming services handed a small win as they become the leading music consumption platforms
This ruling was highly litigated and involved numerous expert witnesses from the industry. It represented a compromise between streaming services and the copyright holders and will govern rates for the next 5 years. Streaming services will pay .17 cents for every time a user listens to a song.
Pandora had argued for a rate plan of .11 cents per listen. SoundExchange, which handles royalties on behalf of the labels and recording artists asked for a rate between .25 and .29 cents per listen. The market reacted positively to the news and shares traded up more than 20% once the news broke and erased any uncertainty that had previously depressed the stock price.
Since Pandora is the industry bellwether for music streaming, and the fact that many investors look to the company as a proxy for how the music streaming services are doing, it was a closely watched announcement.
Good coverage here
There were many more examples of tumult that is shaking out as the tectonic plates collide in the industry, but these examples were standouts. It's not a zero sum game and we're hoping that labels, artists, and technology companies can find ways to deliver music to the consumer in a way that all parties can live with.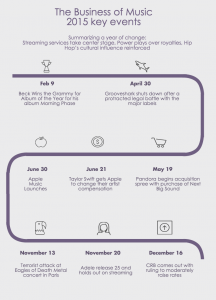 Jeff Yasuda