Business Benefits of Music for Sleep and App Engagement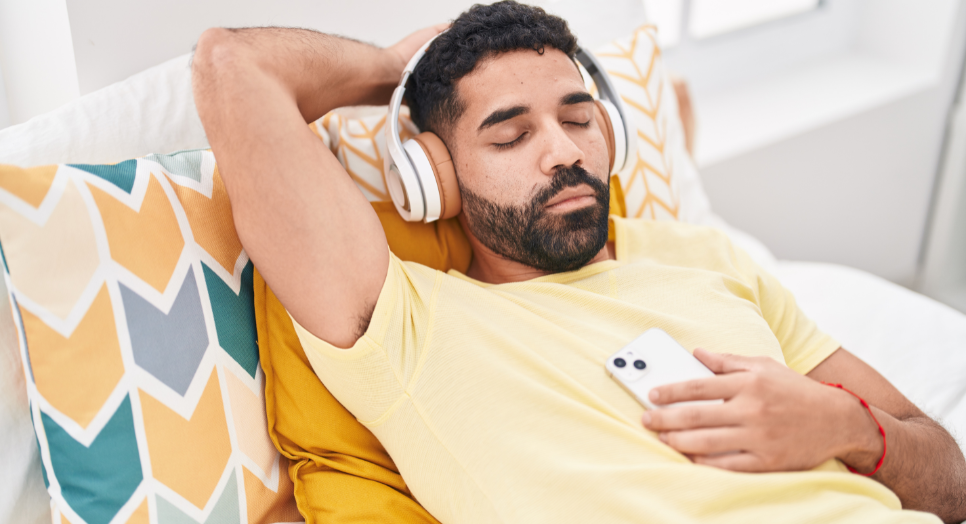 Businesses in the health and wellness sphere are realizing that supporting clients, patients, and customers in getting a good night's sleep is not only helpful for the app users, it's good business sense, and the business of sleep is booming. Sleep is a universal need, and in a time of heightened anxiety and stress, it has become a precious commodity. Music for sleep is a cost-effective way for your app to contribute to the well-being of its users, gaining their loyalty and making your app an integral part of their daily lives.

Creating Relaxing Rituals
The business benefits of music for sleeping are rooted in the universality of sleep. Because sleeping is a part of everyone's lives every day, providing sleep music is an opportunity to offer a valuable feature that is used on a daily basis. Most people have a routine around winding down and getting ready for bed, and if your app engagement strategy keys into that bedtime ritual, your app will become indispensable for its users.
Of all the many approaches to improving sleep, sleeping music is among the most effective lifestyle hacks, and is somewhat unique in that it can truly be used by everyone. It doesn't involve a medical appointment or clearance from a doctor, it doesn't require a prescription or medical devices, and there is no risk of potentially harmful side effects.
Music for sleep is an important component of many different types of apps: dedicated sleep apps, of course, but also apps that focus on tracking fitness and health, as well as apps for yoga, meditation, and wellness. Sleeping music can be a useful component for people using apps in spaces such as hospitals and clinics, spas, massage and Reiki studios, hotels—wherever there is an intention to create a restful and relaxing environment.
Partner With an Expert
One of the biggest hurdles for apps looking to add music to their product is obtaining the necessary licenses to use copyrighted music legally and fairly. This is where having a partner like Feed.fm comes in handy. Feed.fm takes care of all the music licensing, saving your company the expensive and time-consuming headache of researching ownership and negotiating usage for every track used. Feed.fm also provides streaming technology, data tracking for payments to rights holders, and full indemnification for your company.

Another useful aspect of Feed.fm's service is the access to user analytics, which can help your business better understand its customers and their sleep music needs. You'll know which tracks and genres are most popular and when they are used, helping to guide your company's decision-making.
The Right Music at the Right Time
One of Feed.fm's unique strengths is the knowledge and talent of its music curation team. Well-schooled in the theory and practice of music, Feed.fm's music curators are in touch with the latest research, technology, and trends. No matter what type of vibe you're envisioning for your app, Feed.fm's expert curators can help you select the best sleep music for your customers.

In general, we've found that the best sleep music for apps blends glacial synth-generated soundscapes, soft acoustic pieces, nature sounds, and Eastern influences under the broader umbrella of "relaxing ambient." But there is a lot of room for experimentation to find the ideal mix for your brand.

Personalization is the gold standard when it comes to optimizing the effectiveness of sleep music. The "iso principle" is the idea that music should match the user's current mood to start with, and then gradually change to take the listener to the desired state. The Feed.fm platform can be used to provide varying degrees of personalization to your customers' experiences, with music selected to meet the user where they're at and gently guide them into a more relaxed state.

Most importantly, the music curators at Feed.fm will continue to optimize your sleep stations in response to user data and your company's needs. Always seeking out new artists and new tracks, the curation team will update your music stations on an ongoing basis so they're always fresh.
Explore What Feed.fm Can Do for Your App
Whatever the overarching purpose of your app, when your customers are well-rested and feeling good they'll be better able to make use of it and will get better results. Sleep music that works will have your app users coming back day after day, and night after night.

Get in touch with us to learn more about how Feed.fm can help with the sleep music of your dreams.

You're invited to investigate the many ways that wellness music can figure into your company's business plan on our Music for Wellness page.