Feed.fm Sessions - Messages in the studio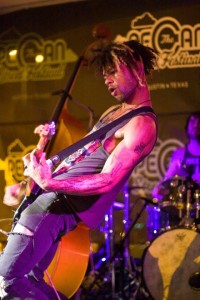 We had a great show with indie rock band Messages in the studio at our new digs at Bespoke Coworking! Keep your eye out for them - they're going to be big.
Fresh off performances at SXSW and touring with their newest single, "Sunshine," Messages is a 4-piece band from Austin, TX, composed of Jonathan Horstmann (guitar & vocals), Alejandra Cardenas (strings & vocals), Declan Murtagh (bass & vocals) and Chris Häusler (drums & vocals).
Here's a little more info from their press kit:
Stemming from different music backgrounds, the musicians in this ensemble come together by an insatiable need to create great music. Complete with vivid harmonies, ferocious energy, and a virtuosic command of their instruments, this 4 piece powerhouse is quickly making a name for itself in the indie music scene. Their sound has been described by KUTX's Laurie Gallardo as, "bubbling over with ebullience, invigorating orchestral indie rock that brings with it some rather inspired sing-along moments."
Watch their latest video:
https://youtu.be/Y8ClTXuUqF4
Check back soon for a link to the live stream.