Harry's House - First Listen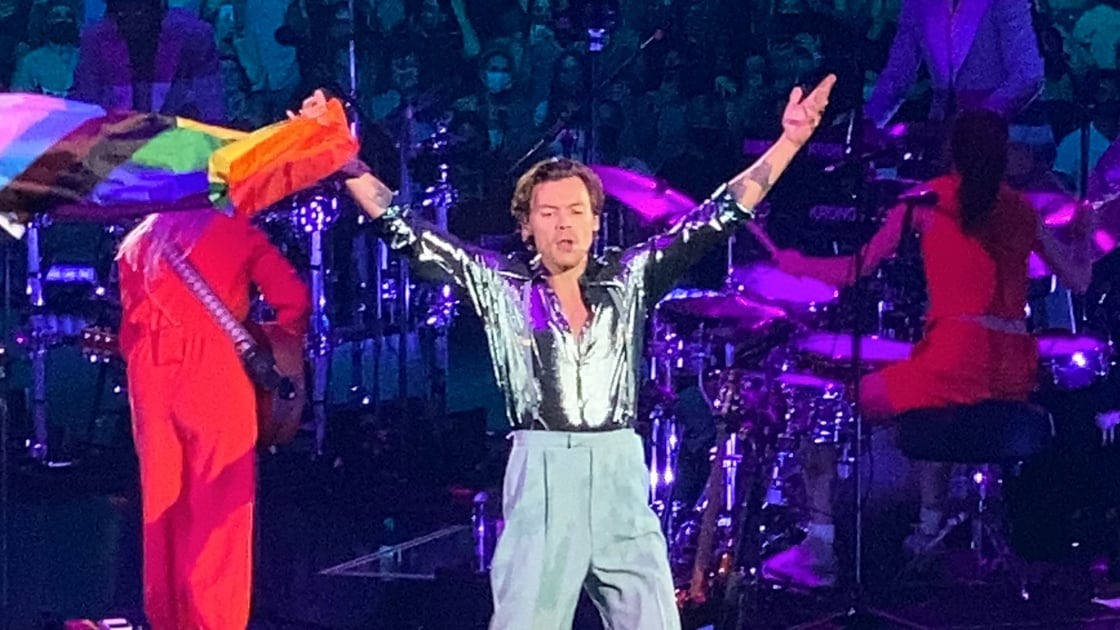 Building off the chart-topping success of 2019's Fine Line, the new album from Harry Styles, Harry's House, offers an intimate glimpse of a superstar finding his home sonically while capitalizing on an approachable charisma fans (and soon-to-be fans) have come to know and love.
Doubts will fly around any ex-boy band member's solo project, but Styles shook off any labels of unoriginal, commercially driven music with his debut album. Since then, he has been able to ride the wave of pop criticism and forge his own path, caring more about winning over live audiences and their connection to the music he is making. Sure, he started with a built-in teenage fan base coming into young adulthood that would follow him to the ends of the Earth, but it's Harry's ability to win over their parents with sophisticated rock grooves that make him a global star.
Multi-generational appeal aside, the 13 tracks on Harry's House are well-suited to both enjoyable passive listening and deeper listening, revealing a multi-layered approach to pop songwriting. Sonically, this album easily aligns with the pop star's gender blending fashion sense and bold 70's-inspired flair, with disco and funk influences intermixed with acoustic sincerity.
Here are 6 essential tracks for getting to know the next chapter in Styles's sonic evolution:
The opening track on Harry's House sets the tone for what's to come with celebratory horns and a funky bass line that undoubtedly gets the party started. Styles goes big on this song and it's easy to imagine it bringing the house down on the upcoming tour. Food references have been a consistent motif on at least one song on each of the last two albums ("Kiwi" and "Watermelon Sugar"), and Styles gets creative with lots of fun imagery including the opening line: "Green eyes, fried rice, I could cook an egg on you."
Groovy and sing-along friendly, "Late Night Talking" takes on a few different sonic textures from a deep bass backing vocal and 80's style syncopated synths that give it a fun, upbeat feel. Smart speakers across the globe are soon to be hearing frequent play requests from all family members for this one.
A lead single always sets the tone and builds excitement for an upcoming album, but a lead single ahead of a headlining performance at Coachella is an even bigger deal, and "As It Was" delivers. It's a perfect portrait of life moving on from the height of the pandemic while also showing listeners the evolution to expect from the previous album. The track is simultaneously sunny and nostalgic, Styles himself described the song as "bittersweet, devastating," but it sure brought everyone through the front door of Harry's house.
Sitting halfway through the album, "Matilda" provides a stripped-down and acoustic reprieve from the bigger and bolder tracks on the album. Styles is at his best songwriting-wise here, with poignant storytelling and beautiful harmonies. Heart-wrenchingly referencing Roald Dahl's character he croons, "You can throw a party full of everyone you know / And not invite your family 'cause they never showed you love / You don't have to be sorry for leaving and growing up."
You can't deny the funk of a Brothers Johnson interpolation, and "Daydreaming" goes big on horns and vocals from Styles to make a retro sound feel new for 2022. It builds into a soulful reverie, and you can see the kaleidoscope of '70s inspiration take hold.
"Boyfriends" winds down the album with fully acoustic accompaniment from Ben Harper and supremely tight harmonies. Styles premiered the song at Coachella, building on a cheeky yet sincere man-hating motif after dueting with Shania Twain who "told [him] that men are trash." He demonstrates a distinct insight into the female perspective, telling Zane Lowe the song stemmed from his observations of the tumultuous relationships he's seen the women in his life fall into.

Styles' new album is bound to be one of the most memorable of the year, with a unique point of view and genuine commitment to evolving his sound as a songwriter and performer. More fans are sure to find something to love about Harry's House.
Feed Media Group is for businesses that need licensed popular music to create the most engaging customer experiences. Unlike navigating complex, time-consuming negotiations with music labels and publishers, Feed Media Group's proprietary streaming platform and SDKs deliver pre-cleared music—compiled by the industry's best curators—complete with user analytics, payments to rightsholders, and legal indemnification for our customers.
Feed.fm powers music for the world's leading brands including American Eagle Outfitters, Mayo Clinic, Mirror, Nautilus, and Tonal; and up-and-coming startups use Adaptr to create unique music-based experiences. Our music partners include Warner, BMG, and Merlin.
Photo Credit: erintheredmc |Creative Commons Attribution 2.0 Generic