How 3 Months of Lockdown Changed Our Approach to Working Out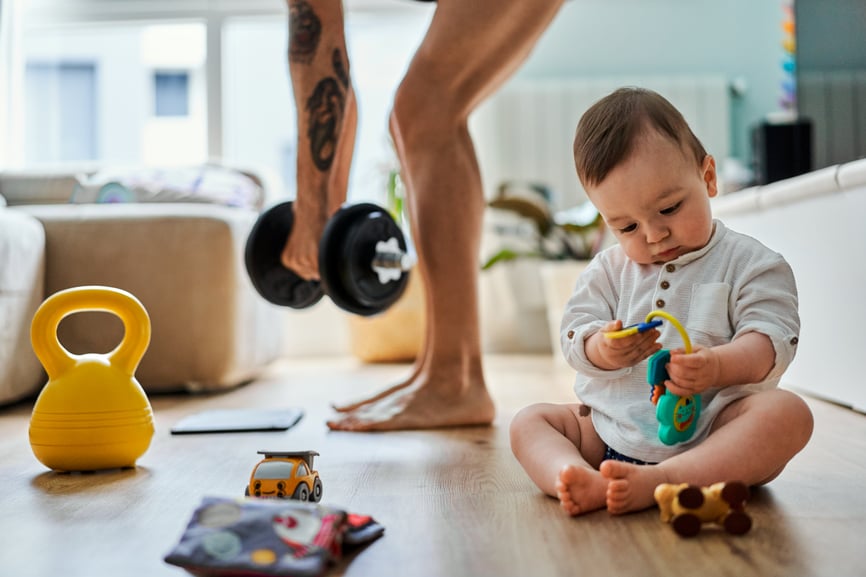 Throughout the COVID-19 pandemic, we've seen a number of changes in peoples' fitness regimens, including some unexpected ones. In order to get first hand accounts of how people are pivoting, we conducted our own survey on a group of 400 men and women in the US, ages 18-54, that have exercised at home or outside in the last 30 days. Despite the media telling you otherwise, it seems as though, from the results of our survey, people have actually improved their fitness throughout this stressful time.
"Quarantine 15"
We've heard a lot about people building unhealthy habits during quarantine, but this may not be the case.
-70% of survey respondents said that they are working out more now than ever before.
People are actually using this time to form healthier habits and participate in forms of outdoor exercise. People across all walks of life are walking more, particularly since it was the only safe outlet for outdoor time for many weeks. At Feed.fm, we saw massive usage spikes for all of our at-home fitness app customers throughout April and May. Not only were people working out more frequently, but also working out for longer periods of time.
Gym Versus Home
Obviously, people haven't had access to gyms and fitness classes as they used to, thus have had to get creative. But people still seem to be enjoying their workouts at home–– maybe even more than they expected. There is the convenience factor to consider, and the time savings realized by walking to the other room vs. driving across town. But, one thing many didn't consider at the outset - it's likely you have other people in the room while you're getting your heart rate up. 43% of exercisers said they are typically in the living room, which is the highest traffic room in the house for many.
-71% of people say that, whether they like it or not, there are others present in the room while they work out.
-18% of those people find it embarrassing to work out in the presence of others.
Contrast this experience with gym workouts, which usually includes others exercising anonymously in the same room. Almost 1/5th of respondents would like that anonymity, but that's just not happening with kids, spouses or roommates on top of each other in the house!
Equipment
Though most don't have a fully-stocked gym/studio in their homes, it hasn't seemed to affect exercisers particularly negatively.
-47% of people are using what they have on hand versus ordering new equipment.
- Of those that did order new equipment, they were most likely to have ordered weights (15%) or a yoga mat and blocks (15%).
So despite gym closures, many people are still completing successful workouts with equipment they already have at home. Some of this may be driven by necessity, as it's never been more challenging to get your hands on dumbbells or kettlebells.
Music
One thing that hasn't changed is the necessity of quality music for motivating people to get started and push harder. Whether it's in a studio or at home, a good soundtrack is key.
-83% of people say that music makes or breaks a workout.
-51% said that they "couldn't live without" their workout music.
There is a huge body of research confirming music's positive impact on our workouts both mentally and physically. It's also something we feel intuitively - the right music at the right time can get us to push harder, relax deeper, and train longer.
At Feed.fm, we curate soundtracks for some of the most popular at-home health and fitness companies. We've seen music usage and customer engagement skyrocket since March, and we're hoping to see people continue to focus on health as restrictions continue loosening. While only a small percentage of respondents (12%) said they would return to the gym or studio exclusively when they could, 34% said they look forward to mixing in-person classes with their home workouts. Given the major transition to digital and at-home workouts, we're working closely with gyms and boutiques of all sizes to build out a legal music strategy.
The COVID-19 pandemic has likely had a permanent impact on exercise habits. People have realized they can successfully work out at home, using an array of apps that they enjoy and, equally importantly, listening to music that motivates them to complete their workouts. Offering members a mix of great studio classes to build community, in addition to quality live and on demand videos is the key to thriving in the midst of all these changes.
---
UPDATE: We conducted a second survey in July 2021. Read the results here: Feed.fm Announces New Data, Pointing Toward Hybrid Model of Fitness
---