How the Music Industry Is Creating a New Breed of Entrepreneur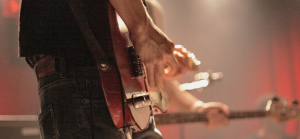 Check out Jeff's thoughts on the intersection of music and startups on Inc.com here or read below!
My network is an interesting mix of two worlds that have traditionally been very different -- musicians and startups. While you wouldn't think there would be much overlap, the changing tides in music distribution have upended the old business models forever.
Increasingly, I get calls from musicians looking for ways to create new revenue streams and figure out how to be their own Chief of Everything. It's not enough to be an amazing artist, now you have to understand business development, social media, and how to negotiate with big brands (for starters). Musicians are looking for ways to test ideas quickly, fail fast, and are increasingly comfortable with commercial deals as a core part of their revenue models. In short, they're providing a useful example for entrepreneurs in any industry.
However, there's a key question unique to bands that most entrepreneurs would never think of: does going commercial mean that my band is "selling out"?
In 1988, Neil Young wrote a song called "This Note's for You." It goes like this:
"Don't want no cash
Don't need no money
Ain't got no stash
This note's for you.

Ain't singin' for Pepsi
Ain't singin' for Coke
I don't sing for nobody
Makes me look like a joke
This note's for you."
The song chastised artists who "sold out" by allowing their songs to be used in commercials or advertising. Many artists in the music industry including Neil Young, Pearl Jam, Radiohead and Bruce Springsteen have never allowed their music to be used for commercial purposes as they felt that it cheapened their art. However, many well-known acts likeLed Zeppelin, the Rolling Stones, and The Who realized that they would benefit not only financially, but also from the additional exposure that commercial sponsorship provided.
In the past, artists relied upon record labels for marketing resources and to cover band expenses. In many ways, labels acted like banks providing an up-front advance to cover living expenses in exchange for a larger share of future revenues derived from album sales. The movies often glamourized artists who received their initial payday advance and would proceed to throw lavish parties and squander their money on absurd purchases.
But the truth is that getting label deals for most bands rarely become a reality. Many bands realize that to make money they need to get on the road and generate revenues through performance fees and selling merchandise. But going on tour is grueling and often involves traveling in a stinky van, staying at cheap hotels, and getting little sleep.
But times are changing.
Joe Barham, a former DJ on the Bay Area's biggest rock station 107.7 The Bone, manages a fantastic band called the Stone Foxes in San Francisco. They live at the intersection of technology start-ups and music industry artists who want to build a lifelong career sharing their art. In fact, some of the members of the band have been in start-ups before and Joe is working on a few businesses himself.
The Stone Foxes play an eclectic mix of southern rock, bluegrass, and folk, which falls jaggedly within the Americana genre. Whatever the description, the band has seen a level of financial success by working to get their songs into Levi's, BMW and Jack Daniels commercials as well as numerous television and film spots. You can read more about it in this recent Forbes post.
Interestingly, the band decided to forego getting a label in order to focus on its commercial success working with brands and television shows.
I asked Barham how this decision to work with brands came about.
"Initially, I wish we could say it was a planned strategy, but in reality, we were on the way to SXSW and we got a call from an ad agency who asked us to spec a song for them to cover a Slim Harpo tune."
He explained, "We knew about brands and placements, but the turning point for me was seeing the Vampire Weekend and Black Keys interview on the Colbert Report when the bands had a competition of who was in more placements that year."
In 2011, Stephen Colbert invited Ezra Koenig of Vampire Weekend and Dan Auerbach and Patrick Carney of the Black Keys to help him cast his ballot for Best Alternative Music Album. Both bands had a significant amount of exposure in commercials and television that year. It was described as a "Sell-Out Off" and the winner of Colbert's vote would be the band that had the most commercials. "You have both equally whored out your music," Colbert screamed. The winner? -- Check it out here.
Barham remarked, "It was really amazing to see how many commercials both bands had been a part of. Both bands were totally OK poking fun at themselves, but a primary goal for a manager is to sure that the band's music gets out to as many people as possible in any format."
Close to half of the band's revenues come from placements – the other half is from touring. When asked about revenues from music, Barham explained, "We break even on music sales after production and distribution costs so it's critical for us to find other sources of revenue."
These new revenue sources do raise a lot of questions, though: Where do you draw the line and are there brands that are show stoppers?
"Yes, of course you need to be aware of certain brands. For every brand that approaches us, there is a discussion about whether it works for the band. But the band fully supports being in commercials and doesn't view it as a sell out."
When asked more about the concept of "selling out" he riffed with me about whether the term should actually be "selling in."
"I think 'Selling In' is great if you can find a brand that aligns with the band. Then it's an important part of every band's business model and a great way to get marketing exposure. In a world of so much noise, it's a great way to find new fans and get paid in the process. There have been numerous fans that found out about us through the commercials."
There is no doubt brand alignment is a growing trend as artists work to find revenue streams in an increasingly crowded market. When asked about what's next for the band he went on to explain:
"It's not just about making money all of the time. We have causes that we support and feel strongly about promoting them. As the Stone Foxes profile increases you can expect our music to be used in commercials supporting not-for-profits and causes that are important to us and to the world."
It adds up to smart entrepreneurial thinking in a rapidly changing environment. When combined with the ability to support passion projects and make a living, brand and band alignment add up to a solid business model.