It's a Trap! Celebrating the Trap DNA in Pop Music around the World
When we look at the last 20+ years of music, to say that hip hop has become a pillar of popular music would be an understatement.
The same could be said for trap music and, although we often use the beat and hi-hat as identifiers of the sound, it's also differentiated by vocalization, composition, and lyrical tropes. This allows trap as a genre to be more absorbable and easier to mix, therefore the spectrum of influence is wide.
In this mix, you'll hear artists from all over the globe using different interpretations of the genre they call Trap.
Highlights from the mix include "Amor Tumbado" and "Soy El Diablo" by Nathaniel Cano, a Mexican Corridos artist that is using modern trap vocalizations and rhyme patterns over a contrasting gallop of stringed instruments. Cano is spearheading a style called Corridos Tumbado, an emerging sub-genre in Mexico and the U.S.
The song "Sinner" by Small God, Headie One and O'Kenneth, is another standout. It displays the fusion of ATM (African Trap Movement) and British Drill in a flow that blends different rhyme styles and vocal inflection.
Ameere's "LEAVE ME ALONE" fuses Afro-Pop and trappy blippy beats with nimble airy rhymes. Mustafa, a poet and artist from Canada, appears with his song "Air Forces," using the atmosphere of chill acoustic indie to tell a story about living in the inner city of Toronto with the authenticity of artists like T.I. and Kodak Black. Although most would say that's a stretch, that's what I love about music. It's about how far we can take different sounds until the composition becomes something new entirely.
I love how musical genres influence each other. And, there is no better recent example of genre blending than the current and emerging trap-influenced artists. From Trap & B to Corridos Tumbados, the influence of modern trap on sub-genres is truly exhilarating. Hope you enjoy this mix - it is a showcase of my favorites from the current diaspora.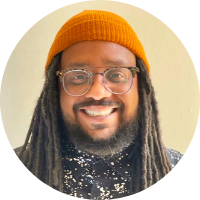 Juan Hernandez-Cruz, Curator at Feed Media Group:
A creative and administrative professional with over a decade of experience working in music, digital media, healthcare, education, sales, and more. He previously worked at Colonize Media where he handled various aspects of digital distribution for music and video assets. Juan is also a musician and has been playing guitar for most of his life.