Location, Location, Location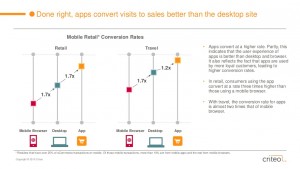 Retailers who have lived and died by this mantra for decades are still clinging to it, but for a different reason.
When I was a kid, we all hung out at the mall. These days, teen shoppers can be found online, mostly. And the smart retailers are putting their brands front and center on each social platform in order to be front-of-mind.
But how and when people use mobile to shop is still evolving and there are some key tenets to keep in mind as we all navigate these new waters.
Consumers are using their smartphone to shop in many different contexts.
Teen shoppers don't just pick up their phones and buy things. They sign in to eCommerce sites and retail apps at home, on the go and even inside the retailer's brick-and-mortar store. Context is key — according to Forrester, "retailers need to be aware of the context of their consumers' mobile moments and tailor the mobile experience to the context and moment of need of consumers." So know if your user is at home, just browsing for inspiration for the next school day's outfit. Or if she's with her friends and looking at Instagram, where your brand might affect the newest fetch look. Or if she's in-store, and wants to know if there are other color choices for a particular item.
Google calls these "micro-moments" — the:
I-want-to-know (66% of smartphone users turn to their phones to look up something they saw in a TV commercial)
I-want-to-go (82% of smartphone users use a search engine when looking for a local business)
I-want-to-do (91% of smartphone users turn to their phones for ideas while doing a task)
and
I-want-to-buy (82% of smartphone users consult their phones while in a store deciding what to buy)
moments.
Being keyed in to your users' habits and needs is the first step to creating a winning mobile retail strategy.
Consumers are selective about the retailer apps they will download and use.
60% of consumers who use a smartphone to shop online have fewer than two retailer-specific apps, and 21% don't have any at all. Retailers must understand that shoppers are extremely picky about the retailer apps they use, demanding convenience, speed and a personalized experience from their favorite brands. Apps that don't meet live up to the hype are deleted without a second thought. And don't even bother with cheap acquisition fixes — 70% of the mobile users you acquire through CPI programs will have a lifetime value under $10. But don't be fooled, either — well-executed apps are invaluable for retailers. Retail app users convert at a rate 3 times higher than those using a mobile browser.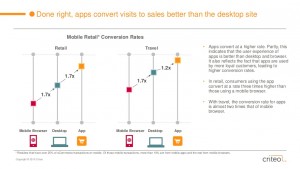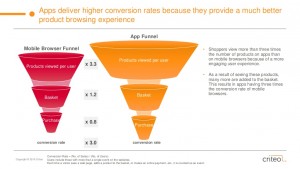 But don't expect all your users to convert — according to Localytics, the top apps see a 50/50 split in returning users and churned users after the first month.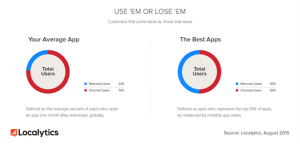 So, spend time with your product team. Pour over user reviews in the app store. And de-bug as quickly as you can. You can't afford a bug that keeps your shopping cart from working!
51% of consumers prefer shopping on the mobile web vs. using a smartphone app, but that's only because most of the apps out there fall short of users' expectations. Also keep in mind — while a mobile app and a mobile-optimized eCommerce site may seem similar in function on a basic level, they operate in different areas of the sales process. Mobile websites will best serve consumer searches for products, while a mobile app will derive value in the ability to inspire customers into becoming return clients (according to GPShopper, an app is for your most loyal customer — it's for the 20 to 30 percent of your customers that are driving 80 percent of sales). For retailers that are looking to maximize their potential revenue and develop loyal clientele, obtaining a responsive eCommerce website and a mobile app may be the best way to gain both.
Here are the results of a study by Applause Analytics (hint: an average score above 60 is considered "good")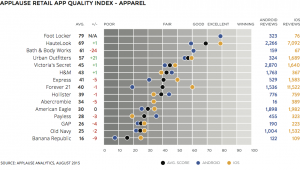 Consumers are hesitant to share key information with retailers.
Only about a third of consumers are willing to share location data and enable push notifications in retailer apps, because they question the value of doing both. Retailers need to be aware of consumers' anxieties and make sure features offer clear consumer value, or they will not be enabled. But the war's not over just because the battle is won. See #2, above… Just because your user enables push notifications doesn't mean you should serve up the same coupon codes every day of the week. Remember — context is king — so know where your shopper is and push notify them accordingly.
Partners can expand a retailer's mobile presence and reach.
Retailers can attract new customers by leveraging platform partners. Partners can provide retailers with valuable data on where their customers are going on the web, their purchasing behaviors, location-based data and more. But make sure the data you share back and forth is relevant and actionable. When you partner with another business, it's important to have KPIs aligned ahead of launch, so you're tracking the right metrics.
For examples of successful partnerships, check out Puma and Demandware, and Optimizely and Trunk Club.