Which mobile music streaming app is #1?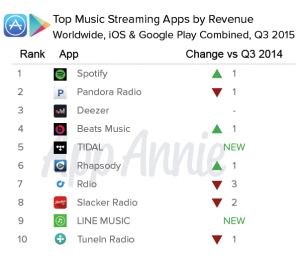 Pandora still leads music streaming in the US, but Spotify took over the top global spot.
App Annie just released a comprehensive look at the global music streaming landscape. While there aren't a ton of huge surprises (streaming is growing, younger users stream more), there are some interesting nuggets that help add color to this evolving space.
Here's the tl:dr version to save you some time:
Digital downloads are down and music streaming is growing, with much of that growth led by Spotify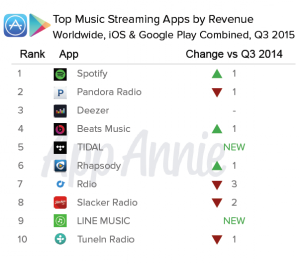 Spinrilla and MyMixtapez jump into the top 10 list for iOS and Android app downloads. This is interesting on a number of levels, including the fact that they are both genre specific.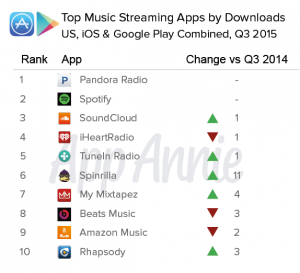 Pandora leads in US, Deezer is #1 in France, and QQ Music takes China. Spotify gets all the rest.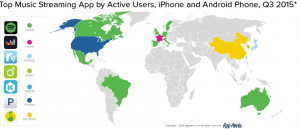 With all this in mind, what's next for music streaming?
Apple Music is likely to play a bigger role moving forward
Soundcloud is stepping up with on demand libraries
Youtube looks to convert free music listeners to Google Play paying customers
Everyone is looking for supplementary services to maximize revenue streams (Pandora's $450m acquisition of Ticketfly, e.g.)