Modern Songs of Dissent: 10 Black Lives Matter Anthems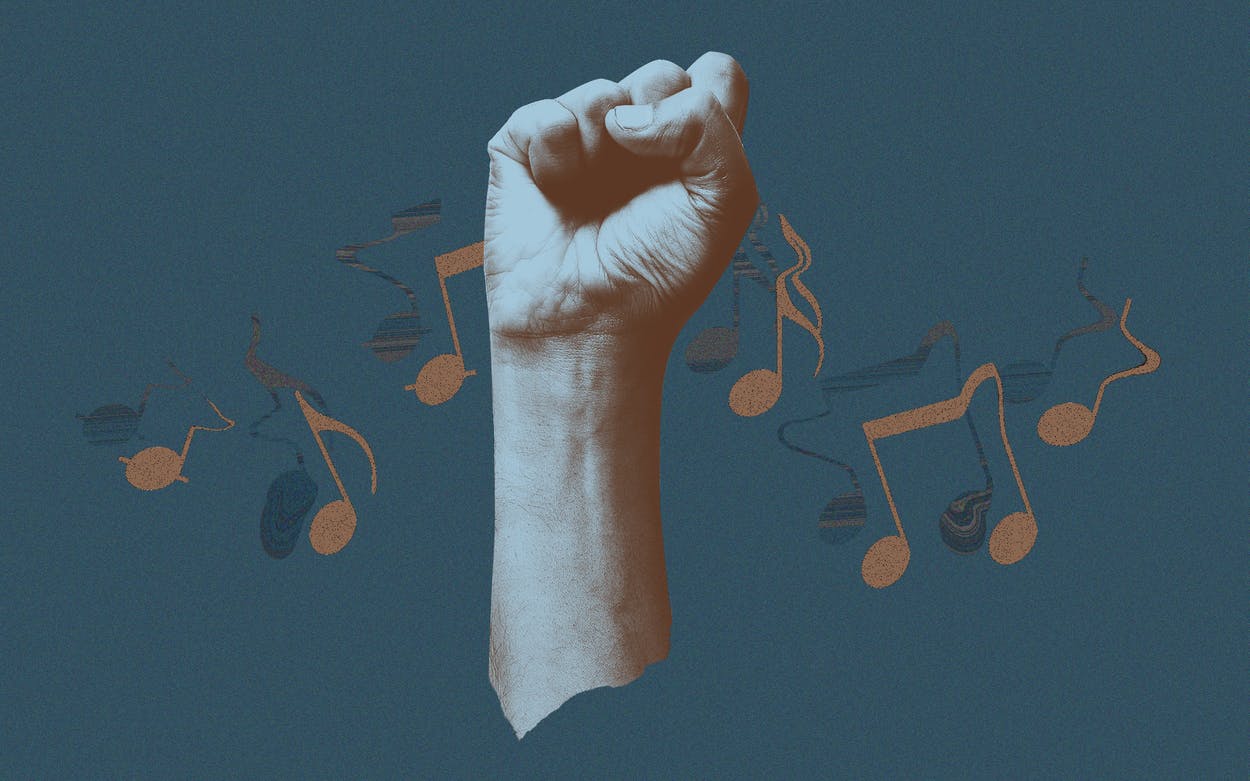 The past two months have seen a significant renewed interest in protest songs. Music streaming of these songs has increased, and countless musicians have recorded new ones in support of Black Lives Matter. As this movement continues to demand racial justice, we've been reflecting on protest songs from the last century, from the timeless "This Land is Your Land" by Woody Guthrie (1944) continuing through such Civil Rights anthems as "The Times They Are a-Changin'" by Bob Dylan (1964), "A Change is Gonna Come" by Sam Cooke (1964), and "Respect" by Aretha Franklin (1967).

America has a rich history of dissenting through music, which can be traced from these early songs to late-20th century classics like "Fight the Power" by Public Enemy (1989) and "Killing in the Name" by Rage Against the Machine (1992), to those of today. We've picked 10 Black Lives Matter songs that speak truth to power in profound ways.
The contemporary protest songs below have all benefited from a much larger, global, and more immediate platform than their predecessors had, driven by big media and today's dominant listening format of music streaming. These songs also have the benefit of multimedia reinforcement, often accompanied by music videos and viral social media.

"Alright" by Kendrick Lamar (2015) -- Similar to the greatest musicians of the '60s, it's hard to select just one song for the Pulitzer Prize-winning Kendrick Lamar, the last decade's best rapper and boldest social critic. "Alright" shares an optimistic spirit and soulful sound with the Civil Rights classics we mentioned, but it also bluntly expresses rage about entrenched racism. It was quickly adopted as a Black Rights Matter anthem, with youth-led protests against police brutality chanting its emphatic chorus.

"Freedom" by Beyonce feat. Kendrick Lamar (2016) -- More than any other artist on this list, Beyonce amplifies the impact of her music with forceful imagery. (Just today she unveiled her third visual album Black Is King.) In the case of this emphatic, spiritual juggernaut--which shows a debt to the late Franklin--there was Lemonade's visual album and a prominent placement in her acclaimed performances at 2018 Coachella. It's also notable that Beyonce has used her platform to support the current protests, demanding justice for Breonna Taylor.

"Black America Again" by Common feat. Stevie Wonder (2016) -- Though not as famous as his protest song "Glory" with John Legend, this career highlight for the socially outspoken Common deserves to be better known. This song references the Civil Rights movement in subtle ways by using a recurring James Brown vocal sample and a late-entering chorus by Wonder...all over an insistent musical track with some of his most incisive lyrics. Common begins by inverting the joyful old-school chant "here we go," followed immediately by "here we go again, Trayvon I'll never get to be an older man." In "Black America Again," Common balances righteous anger with an impassioned appeal for change.

"We the People…" by A Tribe Called Quest (2016) -- Released two days after Trump was elected president, the apex of Tribe's final album is a forceful repudiation of the man's divisive politics. Q-Tip singsongs the satirical chorus, tongue firmly lodged in cheek, which is bookended by a brilliant verse from him and one from the late, great Phife Dawg. All powered by a thundering boom-bap beat.

"This Land" by Gary Clark Jr. (2019) -- Clark had already established himself as a great guitarist and performer when he delivered this game-changing blues rock song. "This Land" shrewdly references Guthrie's "This Land is Your Land," with Clark's bitingly assertive lyrics about the experience of being a black man delivered over a raucous, insistent groove. The song is simultaneously inspiring and outraging.

There have been so many protest songs from this year alone it's difficult to pick any that are definitive. Instead, we've picked a handful that show similarities to the 1940s-60s songs above: most of these songs feature beautiful, memorable melodies, addressing today's issues with the same candid directness of Guthrie and Dylan. A key difference? The stylistic range represented by these five songs, which encompass different popular music genres.

"2020 Riots: How Many Times" by Trey Songz (2020) -- This R&B song has a slow tempo that reinforces the downcast lyrical content, and there's a soulful weariness to Songz' delivery similar to Cooke's singing in "A Change is Gonna Come." With electric organ and gospel call-and-response, Songz takes us to church for this mournful prayer.

"The Bigger Picture" by Lil Baby (2020) -- This song, which charted at #3 on the Billboard Hot 100, is notable for coinciding with Lil Baby's commercial peak. We admire the rap star's timely contribution to the Black Lives Matter movement, in a song well-suited to his understated trap flow.

"Black Like Me" by Mickey Guyton (2020) -- This song disarms from the moment we realize Guyton is an African-American country singer, immediately confronting us with our own biases. Much of its power lies in the juxtaposition of a quintessential country ballad--using the same homey, sentimental language of traditionally white songs--to describe the childhood of a black girl. It's quietly heartbreaking.

"Don't Shoot" by Shea Diamond (2019) -- Another hymn-like R&B song, with transgender activist Diamond stunning us out of the gate: "Not your business but I've seen some s***, Got snatched up by my mom when I was six, I can still smell the smoke as the bullet missed, That's a lot for a kid." As with Franklin's blunt "Respect," Diamond's powerful alto delivers this song as an irrefutable demand.

"Walking in the Snow" by Run the Jewels (2020) -- The 21st century's greatest rap duo represent the angry, aggressive breed of protest song that hip hop has perfected over the years. Several essential rap songs by YG, Pharoahe Monch, J. Cole, and others speak to the current protests. RTJ's exploration of the "walking in the snow" metaphor (existing in a white world) culminates in lines like Killer Mike's that "you watch the cops choke out a man like me, And 'til my voice goes from a shriek to whisper, 'I can't breathe.'"

The creators of these 10 Black Lives Matter songs and their peers understand the unique visceral power that music has to change attitudes and behaviors. Like their celebrated 20th century predecessors, they ring the alarm loudly that we must work towards a more just world.

Want more challenging and inspiring protest songs that speak to the present moment? Check out our Songs for Change Mixtape (1989-Present).

#blacklivesmatter
Image Credit: CunaPlus_M.Faba/Getty/Tania Bondar