Tips for Recording Crisp Workout Audio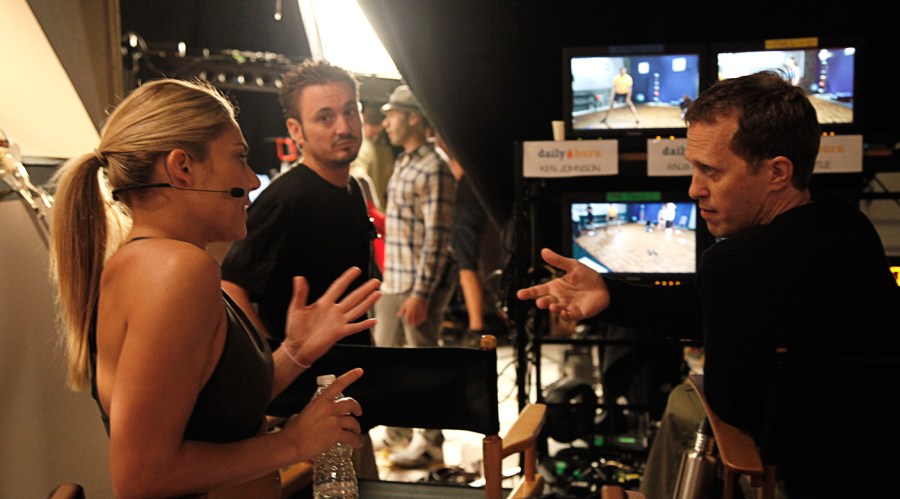 How to Improve Audio Recording Quality
With more and more people migrating from the gym to digital fitness programs, there's an impressive quantity, quality, and variety of fitness classes available on demand. As the fit tech boom continues, we're frequently asked to provide input on both the legal side of music integration and the technical aspect of audio recording. The diagram below simplifies the decision process and summarizes the advice our Head of Curation (and Sound Engineer) typically shares.

Perhaps it's intuitive that audio quality and music are as important as the image, lighting, and visual elements of your finished product. If not, here's some advice from professional sports photographer and videographer David Bracetty, who makes a living based on how things look: "…I can't recall a single comment on video quality, [but] I do recall commenting on sound and being able to hear, so get a good mic."
First, some general production tips to ensure audio quality and clarity. These are applicable to all types of fitness recordings:
Carefully consider mic selection and placement
Minimize all extraneous sounds in the recording environment...you don't need a studio recording but background noises can potentially sabotage your finished product
Working from a script will enable easier dubbing and editing if changes need to be made in post-production
DECISION TREE DIAGRAM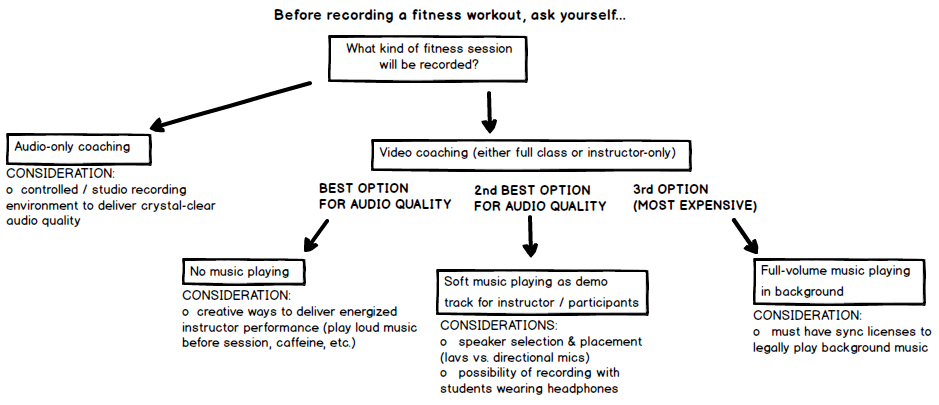 DIY OR OUTSOURCE FITNESS RECORDING?
Hopefully our diagram clarifies some of your next steps while prompting new questions. Specifically, you'll want to evaluate managing the production process directly or hiring a production/post-production company. If you choose to DIY, here are some pointers for successful music integration.
Recording class sessions with full-volume music may pose logistical and/or legal challenges during post-production: if your company doesn't have or obtain music sync licenses, you can be held liable for a significant amount of damages.

Consider royalty-free music to play during recording or post-production; while this is a cost-effective solution it delivers generic, anonymous tracks that may fail to inspire.

Feed.fm can support your live and digital efforts, leveraging its music-as-a-service product to legally integrate with popular, major label music.
Try to spread out the editing load throughout the production process versus leaving everything until the end, so you have time and money for course correction if needed.
If you decide to

hire

a production partner: 1) make sure the company understands music integration at least as well as you do; 2) determine an agreed-upon legal strategy for the music your product will use; and 3) verify that the company will manage the recording from pre-production through post-production (or determine a post-production solution).

As digital fitness continues to change the health landscape, Feed.fm is in the trenches with an impressive group of fit tech companies. This collaborative work is a constant reminder that recording crisp audio for workouts requires smart prep and a dash of good luck. And one parting thought, again based on first-hand experience: don't underestimate the time it may take to complete your final product!

Image Credit: Mega Mace Fitness Productions