Top 4 Takeaways from the 2015 Mobile App Report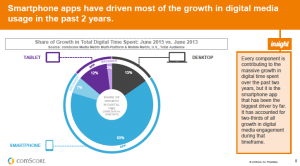 comScore just released its 2015 Mobile App Report and it's chock full of data that confirms all the trends we've been watching this year.
Here's the short story:
1. Mobile app usage continues to explode and is now the #1 means to consume digital media
2. It's still easier to build audience on mobile web and desktop, but app audiences are more loyal
3. The retailers that are winning with their apps are doing so leveraging in-store coupons
4. Push is key to usage, but it's easy to cross the line into the annoying zone
And here are all the chart-o-licious details.
1. There's plenty of pie for everyone.
Tablet, desktop, and smartphone are all seeing growth, but smartphones account for 2/3 of the growth.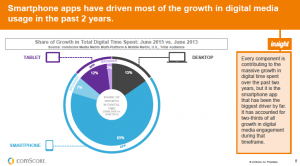 2. Despite growth of app usage, it's still easier to build audience on mobile web.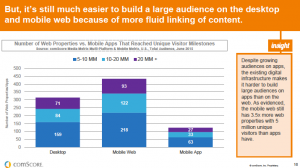 3. Home screen real estate is tough to come by, but some retailers are figuring it out.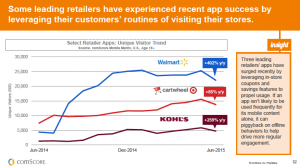 4. Users are as likely to allow Push as to reject it.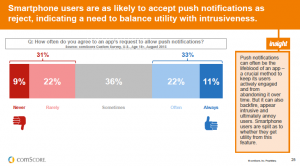 All the data continues to support our position that it makes sense to build an app when you're ready to invest the resources on amplifying the good habits of your best customers.