Two simple reasons why brands are focusing on music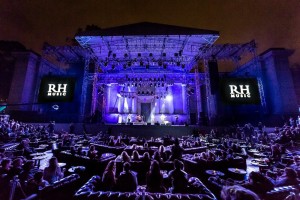 Whether pumping tunes through their brick-and-mortar storefront, licensing directly from artists or their labels for commercials, or sponsoring live performances, music has long been an important branding signature for many companies. Beyond those traditional integration steps, we're seeing more brands allocating marketing resources in production by recording and distributing music in a fashion similar to the record labels of yesteryear. We all know that record labels are a tricky business and there is little money to be made in the traditional model. So, why would a big retail brand focus so deeply on supporting music?
Let's take a look at Restoration Hardware. The well-loved furniture company started RH Music a few years ago to handpick and promote artists they love. Just like a traditional record label, RH Music is incurring production and recording costs, marketing and distribution. From the artist's perspective, the idea becomes even more compelling when you add in access the brand's existing base of loyal customers and the ability to leverage its powerful marketing infrastructure.
Music has always been an important element of the RH brand but the evolution in thinking was about prioritizing music as a content marketing opportunity. Every year, millions of people walk through a Restoration Hardware store and that existing foot traffic is a massive distribution opportunity. Brands like Victoria Secret and Pottery Barn have done this with success and have sold various new artists and compilation CDs at a profit. According to a 2001 NY Times article by Julie Flaherty, Victoria Secret sold 15 million CDs through its stores that year. The winning quote from the article: "Sales managers had only to slip the disc into the store player, and soon women were picking up bras, panties and Beethoven."
I spoke with Jeff Daniel, a former Rock River executive who helped create the compilation CD for Pottery Barn. "We curated a really fun CD back in the late 90s. We were met with initial skepticism. However, Pottery Barn sold between 500,000 and a million CDs every year."
Restoration Hardware also has sold CDs in their stores, but they have bigger plans including live events and in-store performances. Recently, the brand organized an event at the legendary Greek Theater in Berkeley showcasing 3 of their artists. It was a beautiful night of music and yes, furniture. High-end couches were scattered throughout the amphitheater for the attendees to sit on as they enjoyed the music.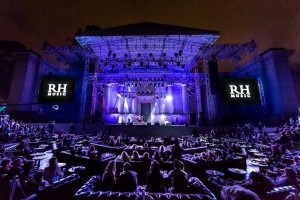 They showcased British hip-hop soul singer Edei, NYC retro-pop duo The Brixtons, and self-described "swampadelic soul" sisters Larkin Poe. Check out more here.
Larkin Poe hails from Atlanta and is fronted by sisters Rebecca and Megan Lovell. The band has a down home southern rock feel, but they add in indie elements and finesse it all with beautiful harmonies. While the sisters were classically trained, there are clear R&B and bluegrass influences in their tracks. Whether mandolin, electric, or lap steal, the sisters can shred and should not be missed if you have the chance to see them.
Rebecca (on lead vocals, guitar and mandolin) will often lay down inspired riff-based lines with dynamic and powerful husky vocals. Younger sister Megan provides silky slide guitar and delivers tight and highly complex background vocals. The band has received numerous awards, including Best Discovery of Glastonbury 2014. Elvis Costello and Conor Oberst of Bright Eyes fame also took a liking to the duo and have performed with them at various festivals.
A few months after the initial meeting, we were lucky enough to have the band into the Feed.fm Studios. They had an awesome performance and talked about their influences and approach to songwriting. Check it out here.
I think it's fair to say that most businesses have not taken music support to the level of what Restoration Hardware is doing with upcoming artists. The biggest question is - why are they willing to invest so heavily if there isn't a return on investment in the near term?
It strikes me that brands are in a constant battle to build trust with their customers and keep them coming back. We are seeing various lifestyle brands going beyond their core product to further integrate their brand into the daily lives and culture of their customers. Why? It's really about differentiating and finding a way to stand out from the crowd. Why buy the sofa from RH when you can get something similar from Amazon? Because you believe in the experience RH provides and want to support what they stand for.
Whether it's blog posts, videos, or music, , content is certainly king and marketers are investing time and money. A recent survey featured in Forbes by Smart Insights and JBH Marketing revealed that in 2015 Content Marketing is THE top marketing activity to drive commercial results in 2015.
And the goal? According to a study by the Content Marketing Institute in 2015, the top 2 goals for content marketing strategies are 1) building customer engagement and 2) building customer loyalty. Deeper customer engagement leads to longer session times. Increased customer loyalty leads to better retention. Ideally, this leads to higher conversions and most importantly, increased customer value. You can check out more here.
It all boils down to these 2 core principles: Authentic differentiation in an increasingly commoditized world of shopping and driving engagement through genuinely valuable content.
A quote from Restoration Hardware's CEO and Founder Gary Friedman sheds additional light on the matter:
"RH Music will offer music by emerging artists from around the world. We've chosen authentic musicians that we love, and we're giving them the opportunity to create the music they do best, original and compelling. They will be instrumental in their own journey and the path forward for RH Music itself. Our motto, going into 2014, is For the Artist, by the Artist."
It will be interesting to see how their strategy pans out in the upcoming years. In the meantime, there's a new way for artists to "get signed" and promote their music, and we all benefit from that.
Jeff Yasuda