June 27, 2015: Grateful Dead Show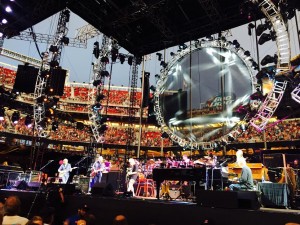 A Blast from the Past for the Very First Time: Thoughts from the Santa Clara Dead Show – Saturday June 27, 2015
I picked up guitar when I was thirteen and have been playing ever since. During my high school years, I fell in love with the virtuosity and beautiful lines embodied in Jerry Garcia's playing. In true guitar nerd style, I was generally able to sing Jerry's solos often before I could sing the lyrics of the songs themselves. The sounds he was able to create from his Doug Irwin custom known as "Tiger" in the 80s and later "Rosebud" in the 90s were light airy legato notes which went perfectly with the mellow vibe that has made the Dead so famous after 50 years of playing together.
This past Saturday night, I was lucky enough to experience a Dead show for the first time. Strangely, after years of collecting and trading numerous tapes from various shows, studying and transcribing Jerry's intricate solos, and covering many of their songs in bands over the years, I had never been to a show before. There was a palpable level of excitement in the air as people waited in anticipation for the band to start playing. For me, it would be a walk down my musical memory lane, but the first time experiencing the band in a live setting.
In addition to the original members (sans Jerry of course) of Bob Weir, Phil Lesh, Mickey Hart, and Bill Kreutzmann, the band was joined by an all-star cast of Trey Anastasio from Phish on lead guitar, Bruce Hornsby on grand piano, and long-time Furthur/Phil Lesh & Friends/Ratt Dog organist Jeff Chimenti on the Hammond B3.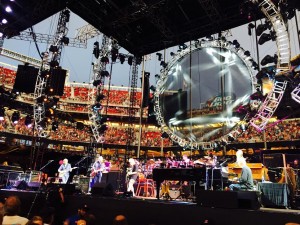 The band opened with "Truckin'" which got the crowd fired up. As I looked around me, some people were jumping up and down like little kids at a party. Others had tears of joy as they embraced their friends and complete strangers. Most were singing at the top of their lungs as they savored this incredibly unique moment. My favorite part of the song is the end of the chorus,
"Sometimes the light's all shinin' on me,
Other times I can barely see
Lately it occurs to me
What a long, strange trip it's been"
While the last line has become cliché in Deadhead circles, hearing it for the first time in a live setting was incredibly emotional for me. I must admit that I faked that I had something stuck in my eye.
Next up was another classic "Uncle John's Band" which was a blast to see.
Jerry Garcia is no longer with us but his spirit lives on. Trey worked hard to emulate Jerry's style and incorporated countless classic licks that made the Dead so famous. His playing sounded a bit restrained to be honest and didn't have the usual flow that I've grown accustomed to hear during his tenure as principal songwriter and lead guitarist for the cherished jam band Phish. I had a chance to talk to one of the organizers of the event who had worked with Bill Graham for years and had run the legendary Fillmore in San Francisco for a long stint. I asked if it was just me or whether he too felt Trey was "channeling" Jerry that night. His answer was fascinating.
"Trey has always played covers from numerous artists when he was with Phish. He often made sure that he emulated the style of the guitarist and even sometimes mimicked their solos. He was the ultimate chameleon but would throw in a few reminders that it was Trey playing. On this incredibly special evening, while he is restraining himself from his signature style, Trey is showing RESPECT – respect for the fans that so want to hear the classics as original as they once were, respect for the band who has stayed together for 50 years, and respect for the legacy that is and was Jerry Garcia."
Here's the full set list from Saturday night:
Santa Clara - Saturday
Set One: Jam -> Truckin', Uncle John's Band, Alligator -> Cumberland Blues, Born Cross-Eyed > Cream Puff War, Viola Lee Blues
Set Two: Cryptical Envelopment -> Dark Star -> St. Stephen -> The Eleven -> Turn On Your Love Light -> Drums/Space -> What's Become Of The Baby -> The Other One - > Morning Dew
Encore: Casey Jones
I had tickets to the Sunday show, but wasn't able to make it. Here's the set list that I missed.
Santa Clara - Sunday
Set One: Feel Like A Stranger, New Minglewood Blues, Brown-Eyed Women, Loose Lucy, Loser, Row Jimmy, Alabama Getaway, Black Peter, Hell In A Bucket
Set Two: Mississippi Half-Step Uptown Toodleloo -> Wharf Rat -> Eyes of the World -> He's Gone -> *Drums/Space -> I Need A Miracle -> Death Don't Have No Mercy -> Sugar Magnolia
Encore: Brokedown Palace
I was truly lucky to have made the event and it will be forever burned in my memory.
Here's a short clip of the end of St. Stephen, one of my favorites from the evening that I hope you enjoy.
Special thanks to John and Jay for inviting me to the wonderful event and for scoring the insane tickets.
- Jeff Yasuda