Top 10 Kendrick Lamar Workout Songs and Halftime Show Recap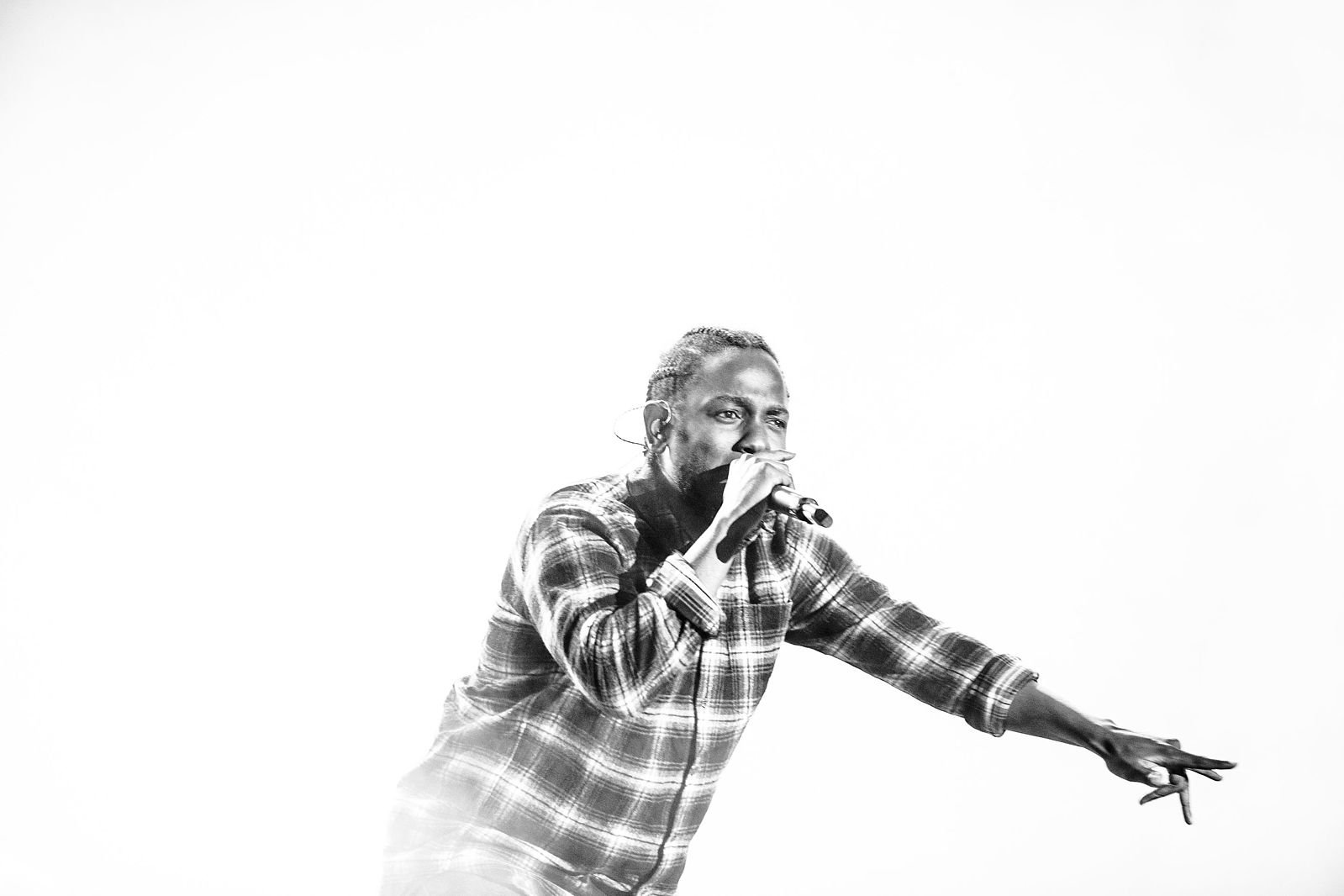 Kendrick Lamar's brief halftime show performance at last week's big game, was a vivid reminder of the MC's athletic, one-of-a-kind flow. Even sequenced beside famously ferocious spitter Eminem, Lamar earned our vote as the show's MVP. As hip hop fans and professional curators, it inspired us to revisit his musical catalog from a fitness angle.
Over the past decade, while Drake racked up insane streaming numbers, Kanye showed his genius isn't infallible, and rappers like Migos and Young Thug remade hip hop in trap's image, Lamar paved his own seismic path with music that absorbed these influences while remaining completely its own. Further, Lamar walked a narrow tightrope with commercially accessible and critically adored releases, earning the first non-classical, non-jazz Pulitzer Prize in Music. Ain't no thang but a chicken wang for the artist formerly known as K.Dot.
In purely musical terms, Kendrick Lamar's rhythmic virtuosity and verbal precision invite comparison to a master percussionist. His best songs combine top-shelf production, untouchable lyrics, and a hyperkinetic flow to dizzying effect. It's no coincidence elite athletes like LeBron James, Chris Paul, and the late Kobe Bryant have prioritized Lamar on their workout playlists. And his songs are perfect for fitness enthusiasts too, as we've discovered curating soundtracks for dozens of fitness companies like Mirror, Nautilus, and Tonal.
From his biggest hits to deep cuts to guest features, we're in the unique position of knowing which Kendrick Lamar songs perform best in fitness stations. Ranked top to bottom, here are *Feed.fm's top 10 Kendrick Lamar workout songs of all time.
Listen to the full

YouTube Playlist here:
Kendrick Lamar Top 10 Workout Songs
#1 - "Humble," Damn (2017)
Damn's 3rd single finds Lamar challenging the competition to get on his level with integrity. Using imagery from his personal life, he reveals that his secret is not bravado but groundedness. Mike Will Made-It's sparse, forceful beat has a martial quality and deep groove. Originally made for Gucci Mane, this grimy production pairs exceptionally with the lyrics' intensity. The double-time (75/150 bpm) "Humble'' works great with a wide range of workouts.
Key Moment: 2nd half of 2nd verse @1:50 - Lamar starts stunting with a repeated, staccato rhythmic pattern.
Ayy, this s*** way too crazy, ayy, you do not amaze me, ayy
I blew cool from AC, ayy, Obama just paged me, ayy
I don't fabricate it, ayy, most of y'all be fakin', ayy
I stay modest 'bout it, ayy, she elaborate it, ayy…
#2 - "
The Greatest
," (2016) - Sia feat. Kendrick Lamar
Purists may prefer Lamar's solo cuts or tracks rooted in hip hop, but he's also proven versatile in pop collaborations that never scream sellout. "The Greatest" was written in support of the LGBT community after the Pulse nightclub mass shooting. Against this tragic backdrop, Sia and Lamar created a 96 bpm "uplifting, poppy song with a subtle island vibe." Lamar's verse and presence lend gravitas to this survival anthem. Even without the context, lyrics like "Don't give up, I won't give up" and "running out of breath, but I Oh, I, I got stamina" provide ideal imagery for aerobic exercise.
Key Moment: 2nd half of 3rd verse @ 2:09 - The MC's effervescent flow captures the song's spirit while notching up the energy.
I transform with pressure, I'm hands-on with effort
I fell twice before, my bounce back was special
Letdowns 'll get you, and the critics 'll test you
But the strong 'll survive, another scar may bless you, ah…
#3 - "
DNA
,"
Damn
(2017)
"DNA" is a lyrical high point of Lamar's entire discography. He uses different viewpoints to analyze his black heritage and culture while delivering a master class in flow and rhyming. Songs like "DNA" display the sheer athleticism of Lamar's delivery. After the first verse was recorded, Lamar started rapping the second verse a cappella, requesting that producer Mike Will Made-It build the beat around the rap. Lamar proposed that the second half sound like "chaos" and that "he's battling the beat." Mission accomplished! Program this 140 bpm banger for the peak of your workout.
Key Moment: The entire 2nd verse @ 2:06 - It's easy to envision the boxing practitioner as Rocky punching a speedball while ducking and weaving through a musical montage.
You mothaf***as can't tell me nothin'
I'd rather die than to listen to you
My DNA not for imitation
Your DNA an abomination…
#4 - "Don't Wanna Know" (2016) - Maroon 5 feat. Kendrick Lamar
The lead single off Maroon 5's Red Pill Blues album is one of Lamar's most surprising collaborations to date. A breezy pop song about lost love finds the MC contributing a short verse that works–most would agree–surprisingly well with Adam Levine's distinctive croon. At 100 bpm, the gently upbeat "Don't Wanna Know" is equally good for aerobic workouts and vinyasa-style yoga.
Key Moment: 3rd verse @ 2:24 - Lamar splits the difference between braggadocio and regret, informing an ex that she's missing out while keeping the mood light.
No more hashtag boo'd up screenshots
No more tryin' to make me jealous on your birthday
You know just how I made you better on your birthday, oh…
#5 - "Pray for Me," Black Panther: The Album (2018) - The Weeknd & Kendrick Lamar
Our superstar collaborators reflect on loyalty, sacrifice and redemption from the POV of a crestfallen hero. The song mirrors Black Panther while also envisioning Lamar as the G.O.A.T who's responsible for saving hip hop. The detuned synth pad and stripped-down beat recall Kanye's dark Yeezus album, with the Weeknd's melodies providing textural glue that balances the heavy aggression. At 101 bpm, "Pray for Me" has a Knight Rider vibe that's great for cardio warm-up.
Key Moment: 2nd half of 2nd verse @ 1:30 - Lamar cascades a flow like Phil Collins' classic "In the Air Tonight" drum fill, asking if he has to be the sacrifice.
You need a hero, look in the mirror, there go your hero
Who on the front lines at ground zero? (Hero)
My heart don't skip a beat, even when hard times bumps the needle…
#6 - "I," To Pimp a Butterfly (2015)
Lamar has described this uplifting hit as one of the best songs he's written."I" tells a story about self-expression growing up in an environment where this isn't prioritized over day-to-day survival. While Lamar sometimes blasts off with the sole purpose of surpassing a beat, here his flow volleys opposite the music in sophisticated ways. The upbeat, Motown-inspired accompaniment features the legendary Ronald Isley, who helps throw a raucous backyard party. At 121 bpm with a consistent, driving rhythm, this song is terrific for mid to high-intensity cardio, or for powering through a fitness sliders session.
Key Moment: 3rd Verse @ 2:29 - The music streamlines and Lamar takes a pregnant pause before rapid firing with the "automatic weapon" that is his voice.
With an automatic weapon, don't nobody call a medic
I'ma do it 'til I get it right
I went to war last night (Night, night, night, night)
I've been dealing with depression ever since an adolescent…
#7 - "Alright," To Pimp a Butterfly (2015)
From the beats to the synth pad vocals to the masterful rhythm, this song was beautifully crafted by Pharrell Williams, but it's Lamar's lyrics and delivery that make "Alright" one of the 21st century's most critically-acclaimed songs. In the summer of 2017, "Alright" became an unofficial protest song for Black Lives Matter, and it was the focal point of his halftime show performance. The message of confronting and overcoming insurmountable odds is a heartfelt, powerful affirmation. At 110 bpm, the anthem is a must-have motivator for just about any workout you can imagine!
Key Moment: 2nd half of 2nd verse @ 1:55 - Lamar transforms the flow into a polyrhythmic pattern, with well-executed stops and flutters that sound like a drum pattern played by Buddy Rich. Jaw-dropping.
I can see the evil, I can tell it, I know it's illegal
I don't think about it, I deposit every other zero
Thinking of my partner, put the candy, paint it on the Regal
Digging in my pocket, ain't a profit big enough to feed you...
#8 - "All the Stars," Black Panther: The Album (2018) - Kendrick Lamar & SZA
Lamar approached these verses with an understated confidence, in a promise to keep it 100 even now that "all the stars are closer" to his reach. It's a victory lap of sorts after the near-perfect trifecta of Good Kid, M.A.A.D. City; To Pimp a Butterfly; and Damn, with SZA's effortless, earthy vocals helping keep him anchored. The minimal, spacey production glides at 97 bpm, making this a great track for low-intensity cardio like walking and rowing, as well as stretching/cool-down.
Key Moment: The whole song is entrancing, casting its own quiet spell without ever shouting for our attention.
#9 - "M.A.A.D. City" Good Kid, M.A.A.D. City (2012) - Kendrick Lamar feat. MC Eiht
Amazingly, the quasi-title track from Lamar's major-label release was not a single. Nevertheless, it blew up the charts alongside the album's bigger hits and became an early fixture in the fitness stations we curate. With its knowing evocation of Dr. Dre's The Chronic and 2001, "M.A.A.D. City" also paid homage to Lamar's Compton through the outsized presence of old schooler MC Eiht. Cinematic music underscores a socially-conscious, instantly classic Lamar song.
Key Moment: 1st verse @ :26 - Lamar leaps out the gate with urgency, his raspy voice breaking to emphasize the raw emotional memories
Brace yourself, I'll take you on a trip down memory lane
This is not a rap on how I'm slingin' crack or move cocaine
This is cul-de-sac and plenty Cognac and major pain
Not the drill sergeant, but the stress that weighin' on your brain…
#10 - "Bad Blood (Remix)" (2015) – Taylor Swift feat. Kendrick Lamar
Teaming with one of the world's biggest pop stars was a bold move, playing to Lamar's versatility while cementing his prestige in the broader culture beyond hip hop. His contributions to "Bad Blood (Remix)," were substantial, resulting in one of the biggest singles from Swift's album 1989. Over his two verses, Lamar stays on topic with an examination of bad blood that provides a striking contrast to her poppy, playful approach. While we're also fans of the original, this remix added layers both lyrically and musically. At an energized 85 bpm, the song works especially well for HIIT and weight training.
Key Moment: 2nd half of 1st verse @ :21 - Lamar employs a frantic, syncopated flow to convey the bruised emotions from a fractured relationship.
Now POV of you and me, similar Iraq
I don't hate you, but I hate to critique, overrate you
These beats of a dark heart, use basslines to replace you
Take time and erase you, love don't hear no more…
Whether you're warming-up with cardio or powering through a HIIT workout, Kendrick Lamar's wide-ranging music can be performance-enhancing. We hope you find this list helpful in curating your own fitness playlists.
Listen to the full

YouTube Playlist here:
*How this list was created
Feed.fm serves 550 million songs to 6 million unique users annually. Our Curation Team uses playback functionality including skips, likes, and dislikes to select the right song at the right time. For the fitness industry, we're able to aggregate data to glean valuable across-the-board insights and spot emerging trends.
Feed Media Group is not an official Sponsor of the NFL
Image Credit: Kendrick Lamar F.I.B (copyright 2016) by Batiste Safont CC BY-SA 4.0
The Licensor offers the Licensed Material as-is and as-available, and makes no representations or warranties of any kind concerning the Licensed Material, whether express, implied, statutory, or other.