Machine Gun Kelly & Pop Punk's New Class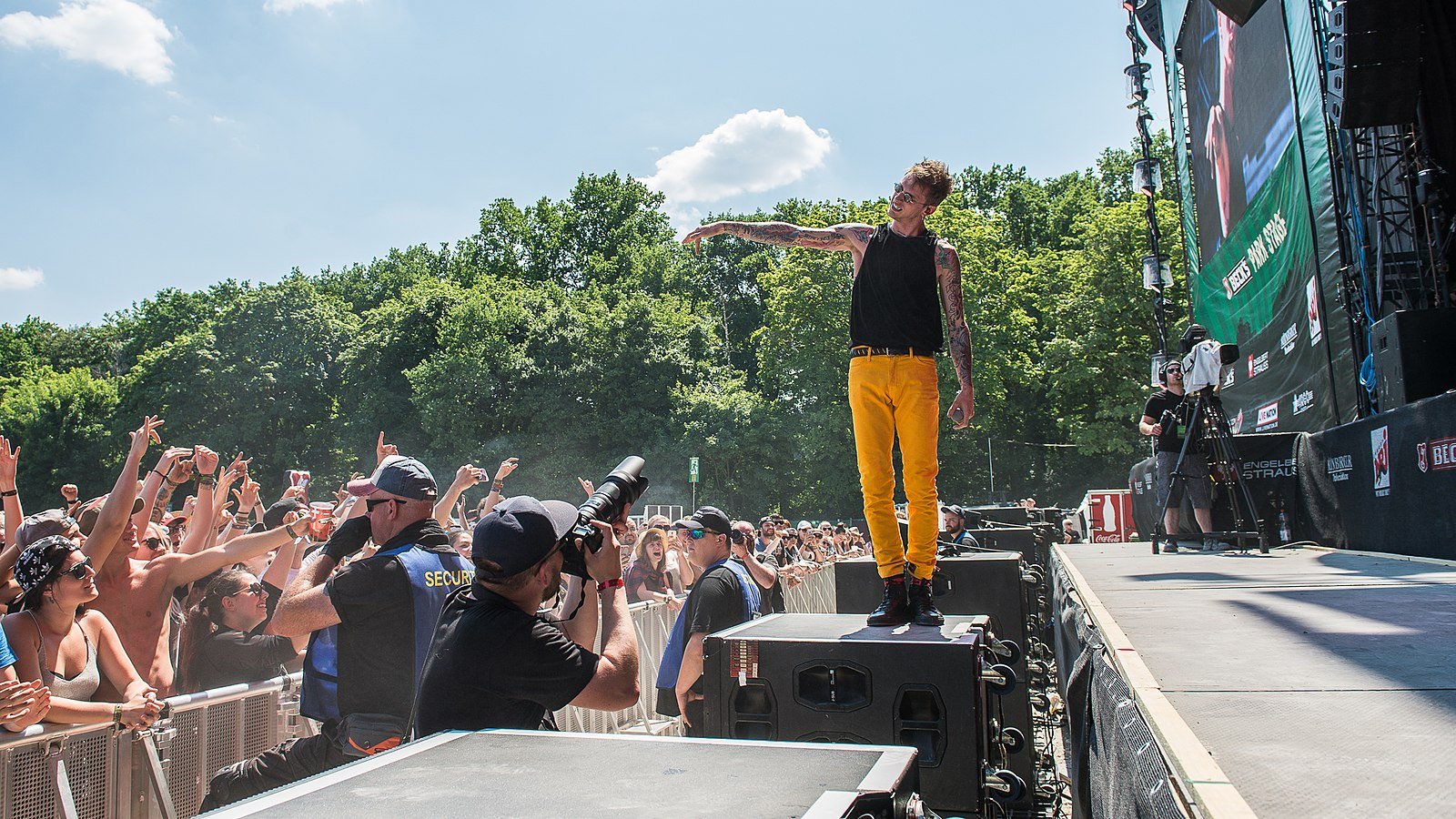 Machine Gun Kelly brought back pop punk in a big way with 2020's Tickets to My Downfall, and the commercial success and award recognition for that album has been paving the way for a new class of rockers. From new artist collabs with Blink-182's legendary drummer Travis Barker to the nostalgic line-up of '90s/'00s emo-rock heavyweights on the When We Were Young festival line-up, there's no denying pop punk's presence in the zeitgeist and its role in defining this new decade of music.

While MGK has been known as a rapper for the last decade, his roots in pop punk actually started on the iconic Vans Warped Tour, a traveling summer festival celebrating skate culture and punk bands, early in his career. Teaming up with Barker for one song ("bloody valentine") shaped the whole sound of what would become his first Billboard Album #1 and cemented the crossover relationship between hip-hop and punk rock. Newly released singles from his 2022 album, Mainstream Sellout, indicate there's no slowing down this pop punk wave with guest spots from WILLOW, Lil Wayne, and Bring Me The Horizon.
Pop overall has been sounding a little more punk these days. In addition to Barker, a few former emo & punk band members are now making waves as producers/collaborators for the likes of Taylor Swift (Jack Antonoff & Brendon Urie) and Olivia Rodrigo (Dan Nigro), and their stylings are filtering through new tracks from pop stars. The popularity of nostalgic pop punk tunes from My Chemical Romance, Paramore, and All Time Low on TikTok have also kept the genre relevant in this new era by finding today's angsty youth as their new audience.
It's also important to note the role emo rap artists like Lil Peep and Juice WRLD have played in melding the worlds of hip hop and punk. In addition to bringing emo and punk stylings to a more diverse audience, they also brought the sampling culture of hip-hop to the world of pop as well. These genre-blending influences have characterized the post-genre pop movement towards a popular sound that's difficult to pin to a singular genre. And not falling in line with the establishment? That's very punk rock.
MGK and Barker are ushering in this new era of pop punk with collabs galore, so it's easy to get a sense of the up-and-coming talent deemed ready to rock by genre veterans. Get versed on pop punk's new class with these hot tracks:
Listen to the full Youtube Playlist here:
Machine Gun Kelly - maybe (feat. Bring Me The Horizon)
Willow - t r a n s p a r e n t s o u l (feat. Travis Barker)
Sueco - Sober/Hungover (feat. Arizona Zervas)
jxdn - WANNA BE (feat. Machine Gun Kelly)
Nessa Barrett - i hope you're miserable until you're dead
MOD SUN - Rich Kids Ruin Everything
The Maine - Loved You A Little (feat. Taking Back Sunday & Charlotte Sands)
LØLØ x Maggie Lindemann - debbie downer
Jack Kays - SIDEWAYS (with Travis Barker)
Charlotte Sands - Want You Like That
Goody Grace - Hold Me in the Moonlight
Even better news about the resurgence of pop punk? New tunes that bring great energy and intensity to your workouts! Amp up your playlist with tracks that have the sing-a-along appeal of pop, the intensity of rock, and the swagger of hip hop for your best workout yet.
Listen to the full Youtube Playlist here:
–
Feed Media Group is for businesses that need licensed popular music to create the most engaging customer experiences in their digital apps and physical spaces. Unlike navigating complex, time-consuming negotiations with music labels and publishers, Feed Media Group's proprietary streaming platform and SDKs deliver pre-cleared music—compiled by the industry's best curators—complete with user analytics, payments to rightsholders, and legal indemnification for our customers.
Feed.fm powers music for the world's leading brands including American Eagle Outfitters, Mayo Clinic, Mirror, Nautilus and Tonal; and up-and-coming startups use Adaptr to create unique music-based experiences. Our music partners include Warner, BMG, and Merlin. Learn more at feedmediagroup.com.
Photo Credit: Stefan Brending | Creative Commons CC-BY-SA-3.0 de