Pop is Perking Up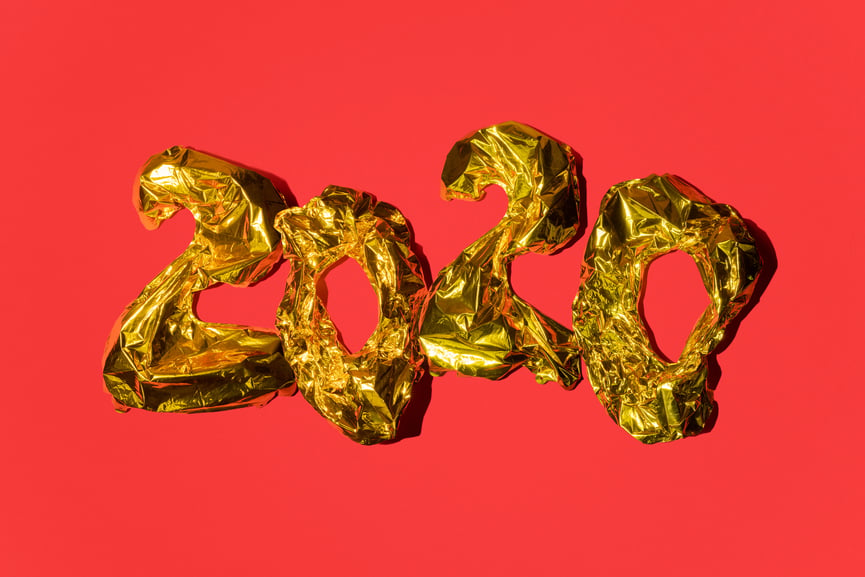 Last December, our curation team made a handful of Music Trends for 2020 predictions, including that "songs have been getting slower, that's going to change soon." While this year has been full of unpleasant experiences, this modest prediction has proven accurate—resulting in a welcome number of upbeat, energetic chart hits. While others are busy publishing their year-end lists (which we also love), we wanted to celebrate some of the biggest artists and songs behind this trend of musical acceleration.
Before revealing 8 superstars largely responsible for the fact that Pop is Perking Up, let's quickly rewind to the musically diverse but noticeably lethargic pop landscape of the 2010s. As professional music matchmakers for dozens of fitness companies, we experienced first-hand that lots of chart-toppers featured slower tempos and intensities than were appropriate for workouts. (Not coincidentally, pop remixes flourished over the past decade.) But don't take our word for it: both Rolling Stone and The Daily Mail examined the trend in articles published August 2017, which dated this musical downshift back to at least 2012.

As this tumultuous year draws to a close, we salute the 8 pop stars below, who've made outstanding music with an appreciated boost in energy and optimism. The complex reasons Pop is Perking Up eclipse the scope of this article, but we suspect at least one of these is that musicians instinctively delivered an escapist counterbalance to the many downers of 2020.
DaBaby — Credit this highly energetic, prolific rapper with awakening hip hop from its deep, AutoTune/codeine-heavy slumbers. In the midst of the druggy, increasingly detached trap style that swallowed rap whole over the past 5 years—producing lots of outstanding music—DaBaby's clearly articulated, aggressive flow stood out immediately. By collaborating with many of these SoundCloud rappers and recording over trap productions while maintaining his distinctive voice, he's won respect from diverse peers ranging from Lil Baby to Dua Lipa and become a Top 40 crossover star. Though it was released in September 2019, "BOP" exemplifies the uptempo rap style DaBaby introduced to hip hop.

Dua Lipa — Contrast Lady Gaga's full-frontal attack of 2020 (see below) with Dua Lipa's slow-growing dominance. Alongside virtually every critic, we've concluded that Lipa's 2nd album Future Nostalgia is a near pitch-perfect pop album. Uptempo, disco-heavy lead single "Don't Start Now" actually launched in October 2019. The song accrued power with the release of INXS-referencing 3rd single "Break My Heart," and once we heard these and other effervescent pop bangers in the context of her fully realized, perfectly titled album.

Lady Gaga — Lady Gaga is the musician most responsible for kicking pop into higher gear this year, with her deservedly acclaimed Chromatica album. While February 2020's lead single "Stupid Love" originally struck us as too derivative of an earlier era, in retrospect it was a brilliant opening shot. Fresh off the success of A Star is Born, Gaga had capital to spend and she leveraged the hell out of it. Chromatica simultaneously represented a peak return to form (her powerhouse voice radiates confidence) while cementing this year's retro obsession with disco-leaning dance pop. Just weeks after the album's release, all 13 (!) of its songs set up shop on Billboard's Top 50 Hot Dance/Electronic Songs for a summer-defining hot streak.

The Weeknd — The Weeknd is synonymous with languid sensuality. Even his 2016 hit "Starboy" with house/electronic/disco legends Daft Punk wasn't something to make your heart race. It came as a surprise, then, to hear the amount of energy and general revelry on his March 2020 album After Hours. Although it explores trademark Weeknd lyrical material of late nights and debauchery, it does so through a much more upbeat 80s Synth Wave lens. All of which is exemplified by the fast-paced, 4-on-the-floor "Blinding Lights," which just notched #1 on Billboard's Year-End Hot 100 Songs list.

Drake — The last few releases by Drake highlighted the dark place popular music had gone to, with his 2018 album Scorpion and the follow-ups evoking a moody, combative feeling. The music video for April 2020's "Toosie Slide" presents Drake at home clad in a balaclava. The ever-adaptive Drake washed away all of that darkness for his July "Popstar" collaboration with DJ Khaled, accompanied by a polar-opposite music video with Justin Bieber leading a vibrant mansion tour.

BTS — K-pop phenom BTS have been purveyors of upbeat, high stakes pop for some time now, but U.S. listeners and the general pop landscape is finally starting to catch on. Their August 2020 chart-topper "Dynamite" is the kind of pop mega-anthem that rocketed Katy Perry to the world stage early in her career. Taking inspiration from such dance pop masters as Michael Jackson and Whitney Houston, the song goes from "10 to 11" with the classic modulation during the ending's double chorus. Even the more downtempo tunes (such as "Blue & Grey") in their recent release Be seem to be imbued with a certain amount of sunshine.

Megan Thee Stallion — If DaBaby set the wheels in motion for dismantling trap's near-total dominance of hip hop, Megan Thee Stallion also deserves major props. Since percolating from the underground to the mainstream with August 2019's "Hot Girl Summer," Megan Thee Stallion has quickly distinguished herself as an MC with significant chops and wit. She's yielded her staccato, in-the-pocket flow successfully in a large variety and quantity of guest features. All of which culminated in August 2020's headline-hogging "WAP," which she readily tag-teamed with hip hop heavyweight Cardi B, and the release of her debut album Good News. Make no mistake: Megan Thee Stallion's "real hot girl shit" is here to stay and her impact on hip hop has just begun.

Miley Cyrus — With a career as varied as that of Miley Cyrus, it can be helpful to use her catalog as a bellwether for where pop music is headed. A great example is the shift from the dark dance pop of her (outstanding) 2018 Mark Ronson collaboration "'Nothing Breaks Like a Heart" to the disco energy of last month's "Heart of Glass" cover. Both songs tread the same thematic ground. But while the former is emotionally fraught, the latter floats and bops above any heavy emotions. While Cyrus hasn't yet delivered the classic pop album she has inside her, the highly energetic new release Plastic Hearts is a terrific progression.

As for what's next, it's anyone's guess. We're betting pop music will continue its upbeat trajectory for at least the coming year, and we remain ever-excited about what 2021 has in store for our ears.