Reggaeton's Origin Story: How The Hero of Today's Popular Music Got Started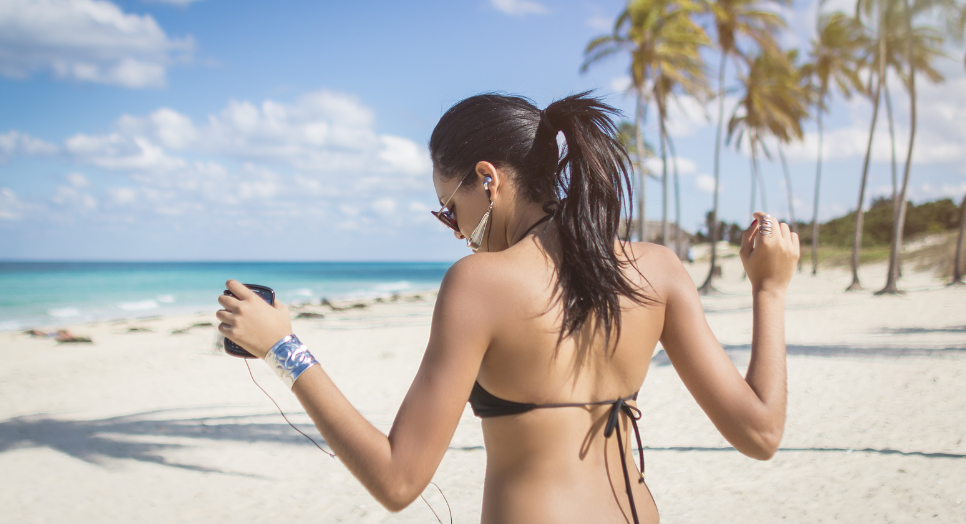 When I was younger, I would spend my summers in Puerto Rico with my family. Along with visiting relatives, some of my best memories are of sharing stories and cultural experiences with my cousins. In those conversations, we would always talk about music; the summer of 1995 was a particularly memorable summer because it was when my cousins introduced me to The Noise – a music collective that can only be described as the reggaeton Wu-Tang. Channel 12 was like a Puerto Rican version of MTV on the island, and The Noise was on heavy rotation. Watching these videos with my cousins would be the catalyst for my fascination with the reggaeton music genre. From the frenetic vocal performances to the trance-inducing beat, reggaeton music stood at the crux of my experience as a Puerto Rican living in the United States.


Where Did Reggaeton Originate?
The reggaeton beat, by nature, is pollinated by different cultures, and while the question "where did reggaeton originate?" is wildly disputed, most signs point to the international commerce hub of the Panama Canal. In the 1970s, West Indian migrants moving to Panama to work on the canal brought their culture and music. At the time, the canal was owned and operated by the United States, and the language spoken in the canal was English. Panamanian reggaeton artists like Shabba Ranks, Nando Boom, Renato, and El General were pioneers with old-school reggaeton songs like "Dem Bow'' and "Tu Pun Pun.'' Their fusion of Spanish mixed with reggae music led the charge for the emerging new genre of reggaeton.
| | |
| --- | --- |
| Shabba Ranks - Dem Bow | El General - Tu Pun Pun |
Traveling Through Reggaeton History
These early reggaeton beats took their influence from roots reggae, ska, and traditional Jamaican riddims—the patois pronunciation of the word "rhythm" refers to the rhythmic groove of a song. A riddim, if popular enough, could be used across dozens of songs and thus has sparked off countless genres of its own. Dancehall music is one of them; a youthful and riddim-focused style that would become popular in the underground party culture of Latin America through the late 80s.
Riddims traveled throughout the Caribbean, and when they hit the Dominican Republic in the early 90s via Ranks' "Dem Bow" (some would say this track provided the rhythmic structure for reggaeton), it didn't take long for a new subgenre to form in its wake. For the first time, Jamaican riddim and dancehall were met with Spanish-language lyrics, repetitive rhythm, and faster BPM to create Dembow, and the sound quickly captivated the Caribbean.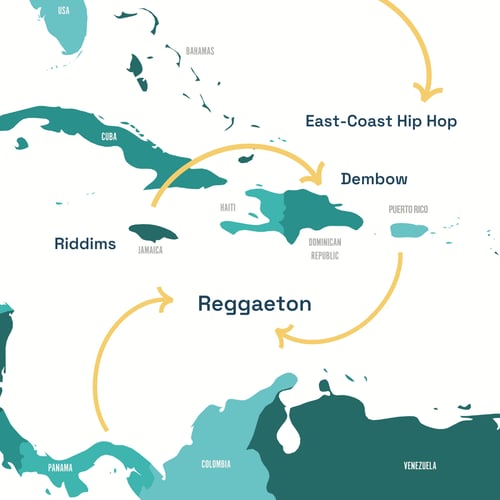 At the same time Carribean-American immigrants were discovering east-coast hip hop and, very much like my cousins and I, would share the music with their families. This feedback loop became a critical component of reggaeton history.
Who Created Reggaeton?
It seems fitting that Puerto Rico reggaeton artists would be the first to cross over into the American market with popular reggaeton songs. As a United States commonwealth, Puerto Rico is directly tied to US culture and the music industry.

The Noise was truly groundbreaking—not only were they bridging the gap with Latinos in the US, but they were also changing the face of culture in Puerto Rico. This was one of the first times since the salsa explosion of the record label Famia (Willie Colon, Hector Lavoe) that Latin American music was penetrating the competitive markets of New York City and the East coast of the US. Although this era didn't create any long-lasting hits, this group of Puerto Rican artists set the stage for reggaeton singers, including Karol G, Rosalia, Bad Bunny, Don Omar, Daddy Yankee, Ozuna, Plan B, and more, to become some of today's biggest superstars.

Shortly after The Noise broke up, a Latin explosion took over American airwaves, with artists like Ricky Martin, Jennifer Lopez, Shakira, Enrique Iglesias, and Marc Anthony topping the pop charts. Meanwhile, reggaeton music maintained its underground status. Still, it grew in popularity with the second wave (2003-2012) of reggaetoneros—Don Omar, Daddy Yankee, Tego Calderon, Calle 13 — expanding into wider, more hip-hop-centric markets.
When Did Reggaeton Become Popular?
That approach led to a pivotal moment in reggaeton history with the genre's first real breakout hit. Daddy Yankee's "Gasolina,"––with its smooth tone and call-and-response chorus, became an immediate club favorite worldwide and remains a staple in reggaeton clubs. Its success undoubtedly laid the path for Cuban-American rapper Pitbull to have his runaway reggaeton-inspired hit in "Culo," a 2004 anthem produced alongside crunk-rap pioneer Lil Jon, which then paved the way for a top reggaeton song like "Despacito" to break world records in 2016.
Luis Fonsi - Despacito ft. Daddy Yankee
One of the reasons for its massive success was its visibility on YouTube — a website widely used for music discovery in Latin America — and it quickly became one of the most popular reggaeton songs ever. After "Despacito"'s release, the remix with Justin Bieber went on to shatter even more records, creating a clearer path for future reggaeton artists to make it in American pop culture.

In the late aughts, hip-hop artists started to find inspiration in the melodic vocal nature of reggaeton. A prominent champion was Drake — so much so, he coined himself "champagne papi" –– who helped usher in a new wave of Latin-pop reggaetoneros. The first of this newest breed was Bad Bunny — an underground reggaetonero from Vega Baja, Puerto Rico, whose vocals resembled the phonetic Soundcloud-rap style but sung. This slight variation in vocal delivery allowed Bad Bunny to break out and become one of the world's largest pop artists.
Listen To Our Reggaeton Origins Mixtape
Reggaeton Music Today
What was once music shared in the canals of Panama that then migrated through the Caribbean to be distilled in Puerto Rico and sent to the United States…has now become one of the biggest pop genres in the world. You don't have to go far to find people listening to the latest reggaeton mix, dancing to reggaeton, singing along in Spanish to reggaeton lyrics, sweating to reggaeton workout music, or watching the latest Bad Bunny video on YouTube. Reggaeton's history is a story of perseverance, community, and of sheer love for the benefits of what music gives. Reggaeton brings people from all walks of life together, from every part of the world.

If I could go back to 1995 and tell myself this would be where reggaeton was today, I wouldn't believe it. Being Puerto Rican, there are so many artists who never make it off the island, so to see all of these Latin artists contributing to popular music in such a massive way is the true underdog story. Reggaeton has superseded itself as a strictly-Latin genre into something that is considered popular music, and I couldn't be happier.