Relaxing Music for Businesses: Chill Tunes with an Impact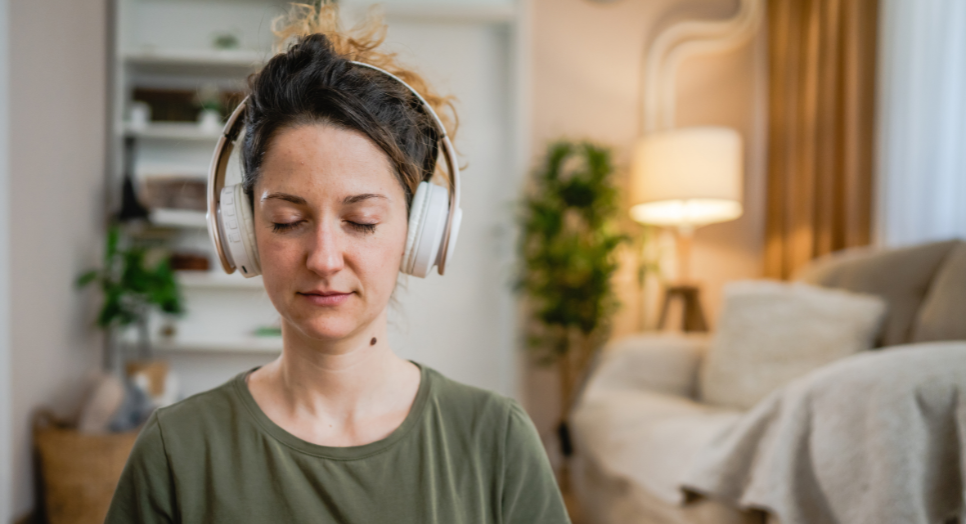 There are a lot of stresses in our lives today, and it's important to take a step back and make time to relax and recenter. Relaxing music can be a cue that it's OK to take some deep breaths, stretch our muscles, and take a mini-vacation from the demands of the day. Apps incorporating relaxing music give users a quick and easy way to access that inner sense of calm and emerge refreshed and rejuvenated. Integrating relaxing music for businesses into your app adds life-enhancing value for the user, and the health and wellness benefits of relaxing music will keep your users coming back to it again and again.


Relaxation Music for Apps
App users have come to appreciate—and expect—music on many different kinds of apps, especially those that strive to provide an immersive experience. Relaxing music for businesses isn't only for those with apps that focus on relaxation specifically; there are a great many other types of apps that also benefit from integrating relaxing music into their UX. The goal is to enhance your user's time in your app and provide a soundtrack for more of their day.

Here are some prime use cases for relaxation music for apps and examples of companies that can boost user engagement by integrating relaxing music into their apps:
Relaxing Music for Fitness
Fitness apps know that amped-up workout tunes are a must, but what about after the exercise session? Soothing music can help calm the mind and body after an intense workout.
Relaxation music signals to fitness enthusiasts that your company cares about the whole person, including stress reduction and relaxation.
Relaxing Music for Meditation
Relaxing music or soundscapes often form the backdrop for meditation instruction or guided meditation. Sound baths and sound healing, sometimes featuring singing bowls, are often used in meditation, yoga classes, or for deep relaxation.
Yoga
Music for relaxation, ambient music, soundscapes, and healing sound baths can all be used on yoga apps, either in the background of instructed yoga classes or as a focus during the meditation or deep relaxation portion of the class.
Relaxing Music for Sleep
Sleep apps make extensive use of relaxing music to help users wind down and fall asleep. In addition to music for sleep induction and sleep maintenance, sleep apps incorporate bedtime stories, ASMR, nature sounds, soundscapes, and white noise to give users a wide variety of sleep sounds to choose from.
Relaxing Music for Digital Healthcare
By making relaxing music available within their apps, healthcare companies are contributing to the overall health and wellness of users. Listening to relaxing music has been shown to lower cortisol levels and reduce anxiety. There are many opportunities to provide relaxing music to healthcare clients: for example, while waiting for telehealth appointments to begin, or in an on-demand music library for relaxation and sleep. App users who are able to successfully manage their stress may enjoy improved health outcomes.
Relaxing Music for Physical Therapy
Physical therapy apps are a relatively new addition to the virtual healthcare space. They can effectively support patients in their home exercise protocols (HEPs) and keep physical therapists in the loop about how things are going. Integrating relaxing music into the app can help users relax before or after a session, and may act as a helpful distraction during challenging exercises so that they complete their prescribed routine.
Relaxing Music for Caregiving
Many people struggle with caregiving duties for family and friends, and caregiving apps have made these tasks easier to manage and coordinate. Access to relaxing music right on the app can help ease stress for both the caregiver and the person being cared for.
Relaxing Music for Hospitality
Hotels, spas, and resorts can incorporate relaxing music and other soothing sounds to enhance user experience on their website, in an app, or via a connected device. Carefully selected relaxation music can also support the company brand and image—for example, sounds of the sea and the calls of seagulls for an oceanside resort. Selections of relaxing music, meditation music, and sleep music will upgrade the experience of those using an in-house app at a hotel or spa.
Relaxing Music for Retail and E-commerce
For retail brands, especially those in the sphere of fitness, yoga, meditation, and wellness, having relaxing music on their online shopping site and in their app helps carry their brand image through to the customer.
Relaxing Hold Music
Relaxing music is extremely valuable for any business whose customers must deal with extended hold times while waiting for customer service representatives. Soothing music makes the wait less stressful and annoying, and improves the customer service experience for both employees and customers.
Relaxing Music for Extended Reality (XR)
For companies in the Virtual Reality (VR) and Augmented Reality (AR) world, music is a powerful component of the experience. Music for relaxation can help users connect more deeply with the immersive experience.
Making the Most of Relaxation Music for Apps
When you're ready to add relaxation music for apps, it's great to have a partner experienced in music streaming for businesses. Feed.fm has helped many companies successfully integrate relaxing music into their customer experience. The only true end-to-end solution for music licensing, curation, and streaming music API integration, Feed.fm takes care of all the details so that your business can focus on what you do best.

Reach out to a Feed.fm representative to learn more about how music for relaxation can help forge a stronger connection between your business and your customers.