The 10 Best Relaxation Apps for Relaxing Music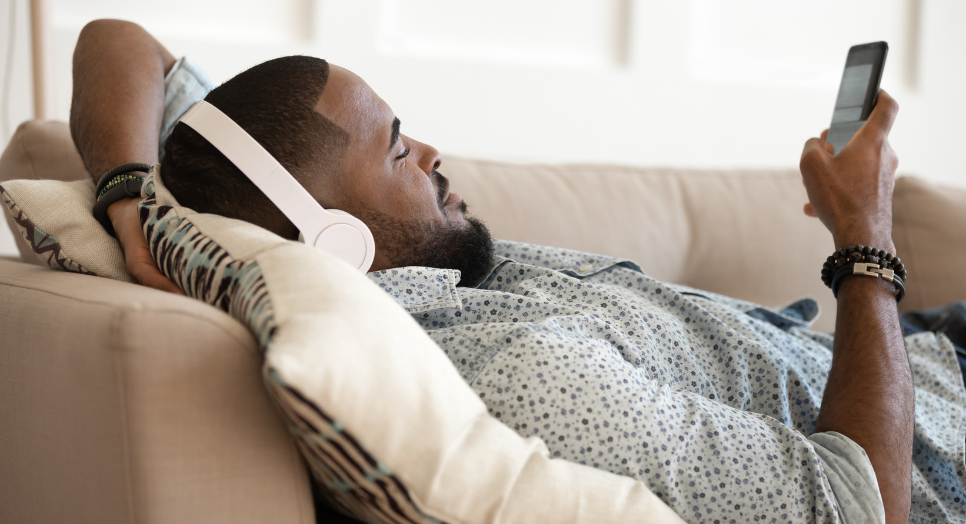 When you're feeling stressed and overwhelmed, relaxing music can be just what you need to help regulate your emotions and give your mind and body a "reset." There are some amazing relaxation apps out there that provide relaxing music and soundscapes to bring you back into balance. Read on for more info about what relaxation music can do for you, and the best relaxation apps to check out.


Relaxing Music: An Easy Way to Get Back to Yourself
The best relaxing music is designed to cue your brain and body that it's OK to calm down and let go. Certain qualities of music, such as rhythm and tone, bring about particular responses in the brain, which in turn affect how we feel. Music that is slower in tempo, lower in pitch, and has a gentle rhythm is more likely to help us feel relaxed. Some people enjoy listening to nature sounds or ambient soundscapes. Relaxing music can be helpful in reducing anxiety or stress, and for winding down so you can go to sleep.
Relaxation Apps: Carry Your Stress Remedy in Your Pocket
It's comforting to know that no matter how stressed you may feel, there is probably a relaxation app out there that can offer you some relief. If you explore the best relaxation apps you'll find they have a variety of features, such as relaxing music, calming soundscapes, nature sounds, guided meditations, breathing exercises, stretching, and bedtime stories. The best relaxation apps are like having a secret superpower with you all the time on your phone. Managing stress is easier when you have a little help and encouragement!
Aaptiv provides guided meditations, breathwork, body scans, and yoga nidra to help you improve your relaxation skills. The relaxing music and sleep sounds are selected by professional music curators to maximize their effectiveness. The Aaptiv app also includes personalized fitness instruction and audio-based workouts.
iOS and Android
On the Alo Moves app you can access relaxing sound baths, including the Healing Sound Bath, Chakra Sound Bath, Sleep Kit, Sound Bath for the Bath, and Sound Bath for Sleep. The Healing Sound Bath series, for example, features crystal singing bowls tuned to different chakras for full-body healing and restorative relaxation. All of the sound baths focus on releasing tension and promoting relaxation and wellness. You'll also find a variety of fitness, yoga classes, and mindfulness meditations with relaxing music in the background.
iOS and Android
In addition to fitness and nutrition resources, BODi features wellness offerings that include on-demand sound meditations with musician and sound meditation facilitator Scarlett de la Torre. Using a variety of musical instruments, de la Torre helps bring you into a relaxed state in as little as ten minutes. Unlike traditional meditation training that can take a long time to master, the sound meditations on the BODi app can provide wellness benefits to anyone, quickly and easily. Specific sound meditations focus on sleep, anxiety and stress relief, focus and productivity, and self-care.
iOS and Android
Formerly known as Relax Melodies, the BetterSleep app features an impressive variety of sleep sounds and audio, including bedtime stories, meditation music, nature sounds, and content that features binaural beats, ASMR, isochronic brainwaves, and solfeggio frequencies. The app also has options for breathing exercises, physical stretching, and winding down.
iOS and Android
With guided meditations, sleep stories recorded by well-known actors, breathing exercises, stretching videos, and mindfulness masterclasses, the Calm app is a powerful antidote to stress. The relaxing music on the app spans from uplifting classical to indie artists to soothing instrumental and ambient. There are numerous imaginative and atmospheric soundscapes to choose from as well, including "The BFG: Inside the Cave," "Angkor's Hidden Temple," and "Purring Cat." A thorough and detailed review on Forbes praises the Calm app's "vast ambient sound selection."
iOS and Android
Calm Radio, not associated with Calm, is a Canadian app dedicated to providing music and sounds that will calm and relax you. It features relaxing music from all genres, wellness and sleep music, sleep stories, podcasts, audiobooks, nature sounds, white noise, and guided binaural meditations. There are both paid and free versions of the app.
iOS and Android
Headspace offers numerous features to help quiet your mind and bring your life into balance. In fact, the New York Post has declared it the best meditation app, because it provides so much more than meditation. There are mindfulness practices, breathing exercises, and soundscapes featuring instrumental music and ambient nature sounds. If you're a currently enrolled college student, check out the discounted student rate.
iOS and Android
Using the principles of psychoacoustics, Pzizz provides audioscapes that are designed to help its users throughout the day and night. Pzizz has three themes to choose from: Sleep, Nap, and Focus. The audio consists of dreamscapes and "focuscapes," combining music, narration, and sounds to help you achieve the desired state. The app learns your preferences so the audio becomes more personalized over time. You can preset the length of time you'd like the audio to run, and set a time for the app's alarm to awaken you in the morning.
iOS and Android
Simply Noise is a free app that provides white, pink, and brown noise, as well as soundscapes that mix in nature sounds like thunder. It's not music exactly, but if you're looking for background sound to help you relax while neutralizing any intrusive noise in your environment, Simply Noise has got you covered.
iOS and Android
Another free relaxing noise app, White Noise Lite has white, pink, brown, gray, blue, and violet noise, as well as 50 pre-programmed sounds, such as rain and birds. You have the ability to customize a soundscape for yourself by layering these sounds together, and you can even record your own sounds to use. You can choose to have the sounds in the background while you use other apps, and you can set the sounds to fade out after a certain amount of time. The app's dark interface is perfect if you're using the sounds to fall asleep at night.
iOS and Android
Relax and Let Go
The best relaxation apps can help bring ease and tranquility into your life. Knowing you have a plethora of soothing sounds on your phone will help to buffer the stresses of the day. Staying relatively relaxed and even-keeled throughout the day will also help you to sleep better at night. The most relaxing apps that really help you chill out will be the ones you want to keep on your home screen to use every day and every night.

Learn more about music for relaxation and other wellness outcomes with Feed.fm.