Top 10 Best P!nk Workout Songs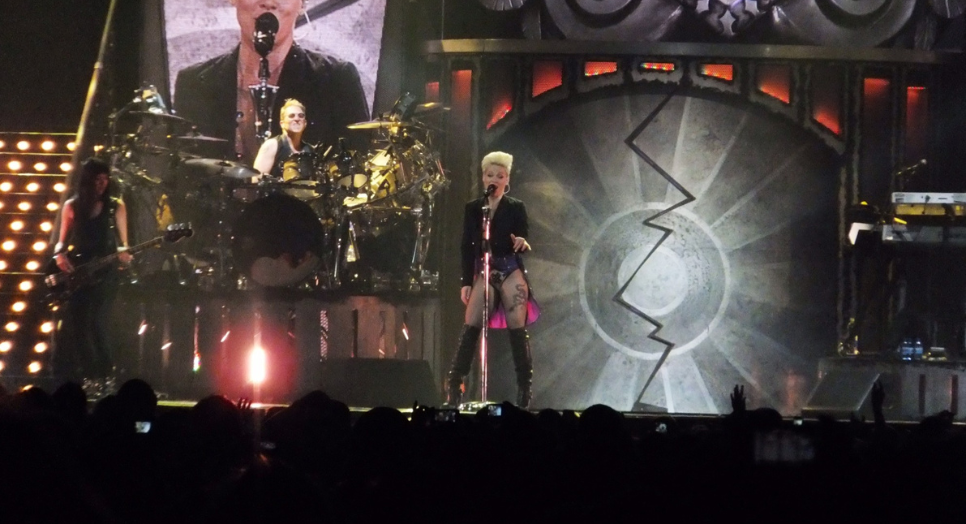 P!nk is set to release her 9th studio album TRUSTFALL, and when it comes to choosing the best P!nk workout music, you don't have to look far to find empowering messages delivered with a punk-rock swagger that will motivate and inspire any workout. Growing up as a competitive gymnast and then incorporating extensive acrobatics into her live performances, P!nk knows a thing or two about working out.
She's also a vocal advocate for wellness and recognizes the important connection between physical and mental health telling Women's Health magazine, "I like feeling strong. It keeps my mental floor higher." Breaking onto the scene in 2000, she has become well-known for her don't give a f*** attitude, soaring vocals, and high-flying world tours. Her extensive catalog has something for every workout and fitness modality and we're excited to celebrate her 23-year-long career-making smash hits.
Here are the best P!nk workout songs:
"God Is A DJ"
Best for Warmup
This feel-good track sits at an ideal 112 BPM for starting to get your heart rate up and move into more difficult parts of your workout. If life is a dancefloor there's no reason you can't make your home gym one too.
"Blow Me (One Last Kiss)"
Best for HIIT
The chorus on this song speeds up for added intensity to give you a 35-second music motivator to get through the toughest of intervals. Even your heart-rate monitor will be impressed.
"Walk Me Home"
Best for Walking
A little on the nose lyrically, but this song sits at 88 BPM for a comfortable walking pace whether you're outside or on a treadmill. Your feet will easily fall into the rhythm.
"Never Gonna Not Dance"
Best for Dance Cardio
The lead-off single from her upcoming album TRUSTFALL sets a celebratory and fun mood and if the horn section doesn't motivate you to move - the music video and P!nk's roller skating antics will have you ready to hit the dance floor.
"Just Like Fire"
Best for Bodyweight
This track appears on the soundtrack for Alice Through the Looking Glass, but it still packs an energetic punch. With a few different sonic sections, it's an ideal song to mix it up with burpees, squats, push-ups, and crunches.
"So What"
Best for Boxing
The best way to get in the zone when you've got boxing gloves on and a punching bag in front of you is to turn this song all the way up. Imagine P!nk by your side and "jab, cross" all your frustrations out.
"Raise Your Glass"
Best for Running
Your feet will happily pound the pavement to this 2010 banger. Steady and percussive this 3:22 section of your run will fly. Cheers!
"Cover Me in Sunshine"
Best for Stretching & Cooldown
This heartwarming duet with her daughter Willow has a relaxing acoustic melody and is just so gosh-darn sweet and sunshiney it will relax your body and mind into recovery.
"Get the Party Started"
Best for Cycling
An iconic track from her sophomore album "M!ssundaztood," the quick pacing of the chorus is perfect for sprint intervals out of the saddle. And by queuing up this track, your instructor won't be lying when they say "my class is a party on a bike!"
"Lady Marmalade"
Best for Weight Training
Pounding out tough weight training sets means you get to reward yourself with breaks, or maybe in the case of this song, karaoke breaks. Rap along with Lil' Kim or belt along with P!nk to this fan-favorite throwback track while you get your swole on.
P!nk's music is a natural fit to motivate and inspire while breaking a sweat. We all know music can make or break a workout, and her albums always deliver fitness-ready tracks for every imaginable activity.
Pictured at top: P!nk, Photo Credit: Erin McCorkmick, CC BY 2.0, via Flickr
---
Feed Media Group is for businesses that need licensed popular music to create the most engaging customer experiences. FMG's comprehensive Music as a Service (MaaS) solutions include music APIs and SDKs to stream pre-cleared commercial music—compiled by the industry's best curators—complete with user analytics, payments to rights holders, and legal indemnification for our customers.
The music curation team here at Feed Media Group (FMG) is experienced at selecting music for businesses. While technology and analytics play a critical role throughout the curation process, it's the expertise, inquisitiveness, and ability of our music curators to put the world around us into perspective that make our music stations so effective. Staying connected to pop culture trends, and understanding the broader context of songs in society is key to putting together a great music station. It's this connection, context, and care that most distinguishes our stations from those the best algorithms of major streaming platforms might generate.