Wellness and Workout Music Trends 2022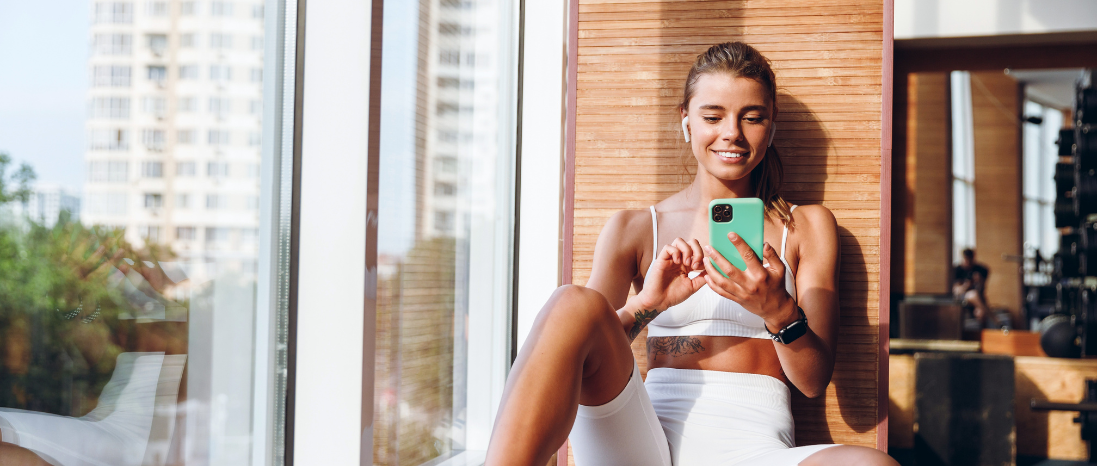 Feed.fm streamed over 730 million workout songs to 7.6 million unique digital fitness app users over the last year, and we're excited to share all the things we've learned about current music trends in fitness and wellness along the way.
Music is a well-known provider of workout motivation, but its ability to modulate your mood throughout the day can be the secret to unlocking your best life and fulfilling your all-around wellness goals. Let's look at the best workout songs, top genres, and 2022 workout music trends as well as how to optimize music for your fitness routines in 2023.
Feed.fm 2022 Workout Music Infographic - Part 1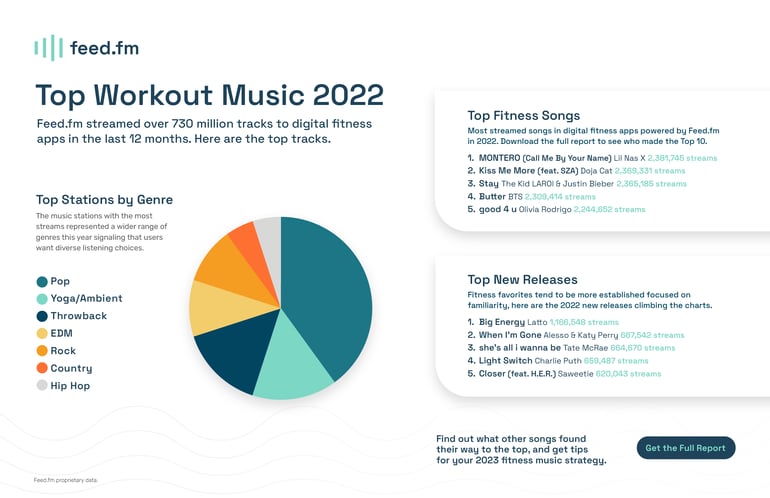 Music genre trends across workout music
Pop is getting a little more hip hop
We've noticed a particular trend this year with the best workout songs of 2022 leaning towards the hip hop side of pop, led by artists including Lil Nas X, Doja Cat, and The Kid Laroi. These songs share a few elements of musical DNA, most noticeably they all fall under the umbrella of post-genre pop borrowing sonic themes from other popular music genres. Hip hop, R&B, and even punk musical stylings are threaded through these tracks to make them simultaneously both new and familiar.
Pop music is popular for a reason—those earworms bury deep into the subconscious of popular culture and tend to stick around for a while. As a music genre it's meant to have broad appeal, which makes it a natural choice as a default station to play during your workout. Plus, it's easy to find uptempo pop songs to help you fuel workout motivation and avoid potential lulls.
Personalizing workout music
While popular music continues to be a leading choice, in comparing our most-played stations across digital fitness clients from 2021 to 2022, we saw an interesting shift. In our 2022 review, more of the top-played stations included Throwback, Hip Hop, Rock, EDM, and Country.
The takeaway for fitness brands?

Exercisers want choices and to be able to diversify and personalize the music they are listening to during their workouts.

Offering more exercise music options provides a better user experience and gives your business valuable insights and data to help fine-tune your music strategy.
Feed.fm 2022 Workout Music Infographic - Part 2
Breaking down the workout music lifecycle
Any fitness enthusiast knows that all well-planned workouts follow a similar format: the warmup, the main set or circuit, followed by a cool down and stretching. This progression applies to everything from cycling and boxing classes to yoga and barre. In examining our partners' workout music playback data, we can map out optimal BPM (beats per minute) for each stage of the class to deliver the best workout music mix.
The best warm-up music
The best warm-up songs fall into one of two categories (or even better, both!): songs with a BPM under 100 with mid-intensity energy and motivational songs with inspirational lyrics. Most days, the hardest part of your workout is just showing up and setting aside the time for yourself!
Warm-up songs should make you excited to be there while also pumping you up and allowing your muscles to get ready for the rest of the workout. In our 2022 white paper "The ABC of Music in Exercise: Affect, Behavior, and Cognition" we partnered with Professor Costas I. Karageorghis to examine the effect of music during a workout; he found that "pre-task music serves a 'psych-up' or 'psych-down' function, which means that it can alter an exerciser's affective or emotional state. It can thus be used to mentally prepare an exerciser or induce an optimal level of activation for what is to come" (Karageorghis et al., 2018b; Smirmaul, 2017). Preparation is key for your mind and body to get the most from your fitness activities.
Soundtracks for mid- to high-intensity workouts
Now comes the main event of the workout. It's time to push yourself and that means an increase in intensity. For most activities, whether it's boxing, cycling, or circuit training, there will be a mixture of mid-intensity and high-intensity segments over the course of your workout. The best workout songs for a steady mid-intensity pace groove to a BPM between 110 and 125.
When you really want to amp up the pace, try fast songs with a BPM above 120. The most popular songs from our partners' high-intensity music stations consistently fall into the dance pop subgenre—high energy songs with beat-forward production to keep you moving at an accelerated pace. Plus, the lyrics are catchy which can be a welcome distraction during the most difficult part of your workout (we're looking at you, burpees!).
Cooldown music and songs to maximize recovery
You came, you worked out, you conquered. Now it's time to pat yourself on the back and be proud of what your body can do. The cooldown and recovery portion of a workout is meant to celebrate what you've accomplished and allow your muscles to recover after being pushed to the limit. So what's the best soundtrack for letting your heart rate come down? A mix of acoustic hits, relaxing soundscapes, and downtempo beats allow you to realign your breathing and provide a calming effect during stretching or a few yoga poses. And if your instructor has put savasana at the end of your cooldown, you don't want anything getting in the way of a sanctioned mini-nap before you rejoin the world and tackle what's next on your to-do list.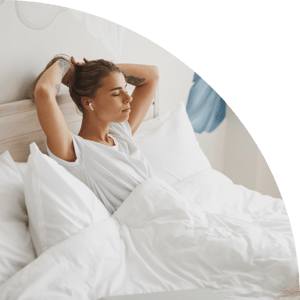 Beyond the workout: wellness music
Using wellness music in apps for relaxation and sleep, and even pain management
In addition to pumping you up and aiding in workout recovery, music is proven to reduce stress, help you focus, relax, improve sleep, and provide drug-free pain management. As the evidence grows that music as medicine is a powerful medium for healing, many digital apps and content companies are integrating music-driven wellness offerings into their app experience.
Whether you have an early morning workout planned, or simply need to catch some much needed rest, we've found the best sleep music blends glacial synth-generated soundscapes, soft acoustic pieces, nature sounds, and Eastern influences under the broader umbrella of "relaxing ambient." Apps interested in incorporating sleep or relaxation content can combine these sounds into a relaxing wellness music mix, or offer separate music stations for users to choose from.
Similar to our findings in digital fitness this year, a study just published in August 2022 found that the relief from acute pain provided by music was enhanced when the subjects were given the impression that they had control over the choice of music. For digital fitness and health apps alike, a curated music menu is an important step to a more personalized and effective experience.

Looking ahead to 2023 workout music trends
As fitness brands prepare for the year 2023, now is the perfect time to be thinking about your workout music strategy. Thoughtfully curated workout music that is integrated into digital fitness apps is proven to increase user retention, and incorporating more wellness content can lead users to spend more time in your app.
See the full music charts and get more expert insights from the Feed.fm curators.

Download the full report today!