Why Music Now? Top Reasons Your Fit Tech Company Cannot Afford to Wait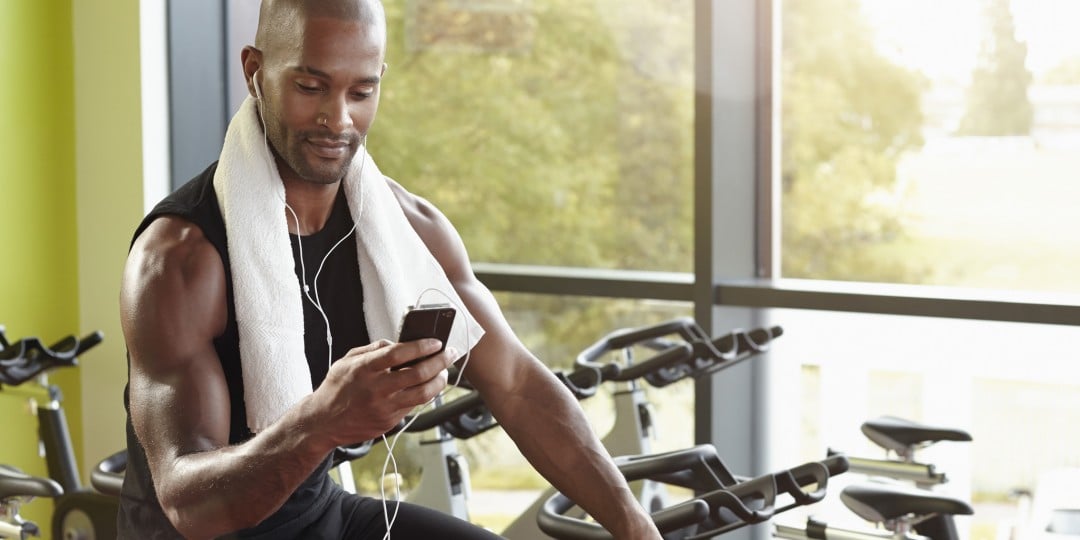 Feed.fm works with the world's leading fitness companies to provide legal, curated music integration in their apps and digital settings. While each brand has unique considerations (development bandwidth, customer acquisition challenges, competitive pressures), we consistently hear from customers that "I wish we'd done this sooner."

From our vantage point of working across the fit tech sector, we can see there is a clear opportunity cost to waiting on music integration. So we tallied the Top Reasons for "Why Music Now?"

REASON #1 — Exerciser Impact

The world's leading authority on fitness and music, Dr. Costas Karageorghis, has proven that music can improve running performance by 15%; it can be a sedative or a stimulant; a nerve calmer or focus inducer; a pre-workout entryway into flow state; a mood enhancer; and an agent that reduces perceived effort by up to 10%.
His conclusion from 20+ years of studying music's role in fitness? "[Music] can be thought of as a type of legal performance-enhancing drug."

Additionally, studies have shown that a lack of music is demotivating for many would-be exercisers. In a recent consumer survey of 1,000 people conducted by Feed.fm, 2/3 of respondents said that they'd skip a workout altogether if they couldn't listen to music.

REASON #2 — Improved Session Time & Engagement
In a test of 400,000 weekly users of a suite of anonymized fitness apps, those that listened to music had

70% more sessions

.
Controlled tests across a suite of leading fitness apps resulted in

4.5x average time spent in app

per month (with each session lasting an average of 2.6x longer).
On average, our customers see retention improvement above 2.5x when music is properly integrated for 6 months or more.
REASON #3 — Delivers Significant ROI

This 2.5x increased retention rate quickly translates into additional revenues. For a company with 2k subscribers, 30% current retention rate, and $30 (3-mo.) customer value, Feed.fm's services would deliver 2.5x retention improvement (75% retention rate), resulting in 900 incremental subscribers retained = $27k incremental (3-mo.) value.

Illustrated another way, here are the results that one Feed.fm Fitness Customer achieved during the first half of 2019: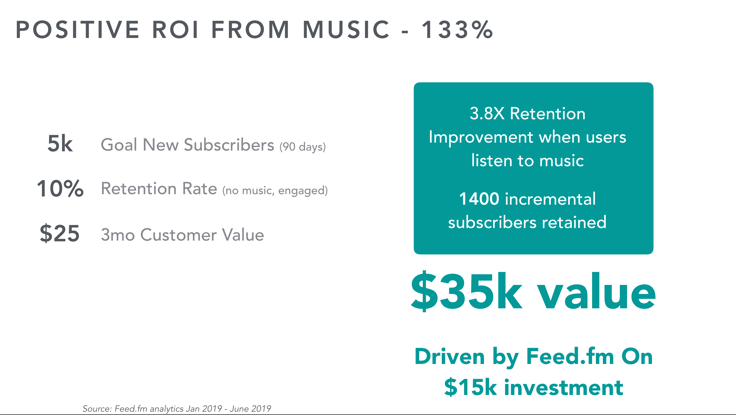 Prospective partners often find it helpful to estimate their own ROI.
REASON #4 — Easy, Speedy Implementation

Feed.fm has developed a highly efficient onboarding process, with music up and running for new customers in under a month. Technical integration typically takes 2-4 weeks, with customers able to customize UX as much or as little as they want. Curation typically takes 2 weeks to deliver stations (which can happen simultaneously with technical integration), once we've agreed on what type of music will motivate each company's users.

REASON #5 — Legal Solution & Indemnification

It is illegal for any company or individual to play music in a commercial context (whether brick-and-mortar or digital) without proper licensing. For example: a legal breach can be as simple as a spin instructor playing unlicensed music from Spotify during class. Music licensing is famously complicated. There are four Performing Rights Organizations that actively track down businesses that don't have proper licenses (so songwriters get paid). Additionally, record companies require their own licensing (so recording artists get paid).

In terms of music licensing, it's better to ask permission than forgiveness, as companies without proper authorization(s) can be held liable for costly damages. Just this year, a group of publishers filed a highly publicized $300 million lawsuit against Peloton over the use of unlicensed music. This suit has resulted in unexpected—and ongoing—financial, time and brand costs for the fitness company.

Feed.fm directly handles all music licensing and payments for our business partners.

REASON #6 — Keeps Your Customers Happy

"Whoever the DJ is for this class is on point!" — FightCamp user, following a workout that consisted of warm-up, main, and cool-down, with all music segments cross-faded together

"Our workouts are highly personalized and dynamic and we need soundtracks to match. With a limitless catalogue, real human curation, and algorithmic personalization, Feed.fm helps keep our users motivated and our content fresh." — Ryan Vance, Chief Content Officer of Tonal

Instead of postponing music integration, why not take a surefire step to retain more of your users now...before they find a different workout with a better soundtrack? In the super competitive fit tech sector, music is a critical differentiator that can be performance-enhancing to your bottom line. Within just one month, Feed.fm can have custom-curated music stations in place that will transform your retention and ROI for the New Year.
Start using the power of music in your fitness apps.
Image Credits: AskMen.com