Your Guide to Fitness Tech and Music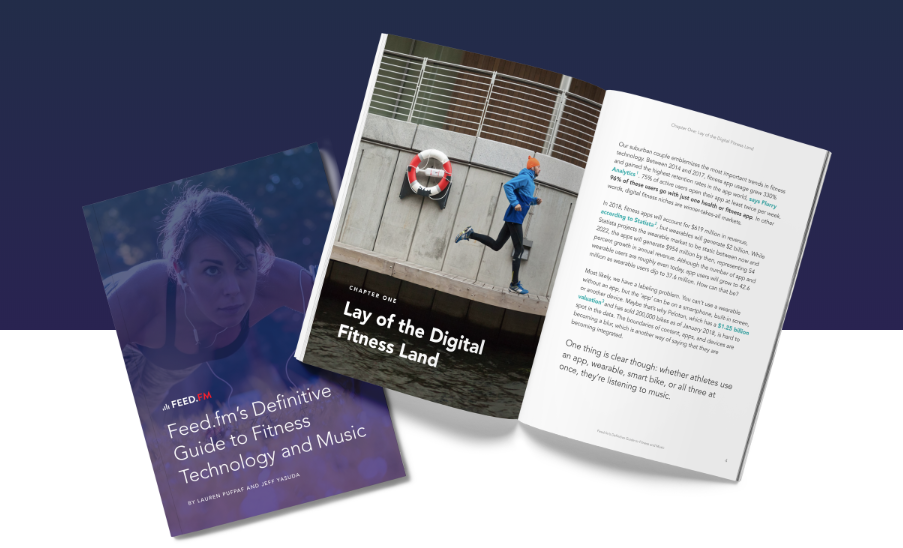 We're excited to announce our latest publication :

We have a unique vantage point, as we work with fitness technology companies of all shapes and sizes. Given how competitive the field is getting, everyone we talk to is looking for an edge. We look deeper into ways you can get ahead of the pack and tap into our partners for insights.

We asked CEO Jeff Yasuda for some personal thoughts on the space for additional context. See below!

1) What connected fitness trends are you personally excited about?
There are thousands of fitness apps to choose from depending upon your interests and physical needs. Moreover, with the increase of body-weight exercises, there's no need to hit the gym to fit in a great (and quick) workout. Finally, with the improvements in the Wearables and other tracking devices, it's now super easy to track progress, or lack thereof, by having real-time monitoring of heart rate and movement. There's really no excuse to just sit on the couch, so get out there and find your ideal workout app!
2) Do you see any trends in fitness music across partners?
We are seeing many of hardware partners begin to explore recurring revenue models. Many hardware partners have begun to experiment or even launching their own content strategy around fitness workouts that can be done in conjunction with the hardware device. Hardware companies face the fundamental challenge that once they sell a device or piece of equipment, it's often years before the consumer or gym buys another piece of hardware. By creating their own content, hardware companies can provide updated fitness exercises and, of course music, that users can subscribe to on a monthly or yearly basis.
3) What do you like to workout to?
I typically use my workouts to discover new music. I've been working on writing a funk album, so I've been exploring new and old albums from great funk bands like the New Mastersounds, Greyboy, and Soulive. In addition, my kids have started to play in bands so I need to keep current with the songs that their bands are playing. Jamming is a blast no matter what the genre or age group with whom you are playing, but playing is about listening first to get ideas and better understand the craft.
4) Why is there suddenly more urgency around dialing user experience for fitness tech?
Fitness, like music, is extremely personal. With the myriad of fitness apps out there, sometimes it is difficult to find the right one for you. As a result, fitness companies are working hard to differentiate themselves and provide a unique experience. Sometimes, it's the workout style. Sometimes, it's the objective of the exercise. Sometimes, it's the music. Some companies use hardware and others use a combination of software and workout equipment. There are thousands of choices and more fitness companies appear everyday. So, for these companies, getting the user experience just right for their target audience is of critical importance.