A Pandemic Year in Musical Review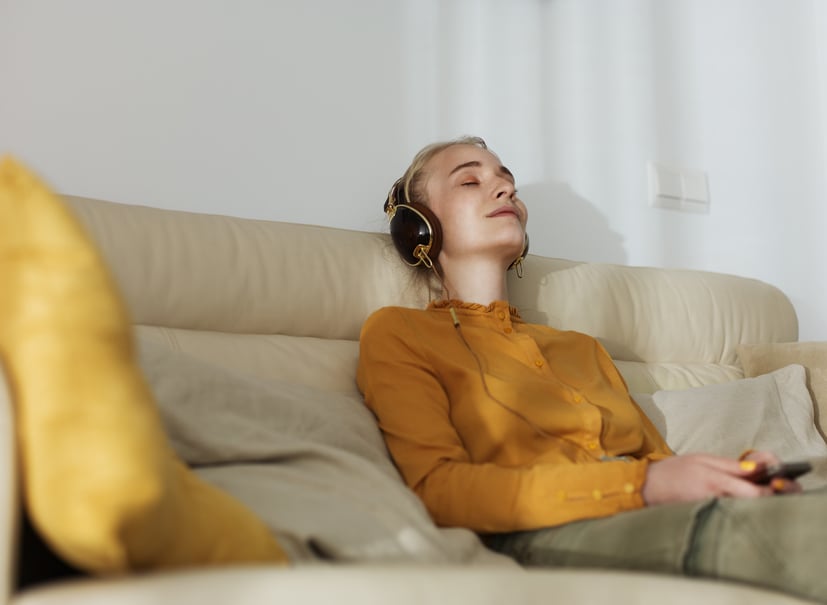 Now that we're seeing some light at the end of this long tunnel, people are starting to reflect on the last year. There were plenty of personal growth opportunities and so many turbulent emotions. The business/work aspect of life has also been a somewhat conflicted experience, with some businesses thriving while others were knocked down hard.
Countless artists and venues have had their lives and livelihoods turned upside down due to canceled performances and social distancing measures. But on the other hand, the same pandemic-related factors have helped music streaming reach new highs and motivated digital innovation across commerce, fitness, music, and many more segments.
At Feed Media Group, we've been riding those same highs and lows and have had a front-row seat to innovation in both music and fitness. We've seen traditional businesses and brick-and-mortar gyms pivot swiftly into digital programs their members can access at home, and digital fitness brands driving record growth. Similarly, we saw streaming usage among our own customers rise a whopping 1600% year over year.
Through it all, music has been the glue holding us together and the fuel motivating us to push forward into the post-pandemic frontier. Music has provided relief from the stress of adapting to a new way of life and given us a place to seek solace as needed. Upbeat pop songs like Lady Gaga & Ariana Grande's "Rain On Me," and hip hop songs like "Fly" by D Smoke added fun and humor to a not so fun or humorous era, and more melancholy tracks like Mac Miller's "Everybody" related to the anxiety, isolation, and sadness all too many of us felt during lockdowns and periods of civil unrest. All the while emotional and heartfelt tracks like Chris Stapleton's "Starting Over" captured the long-awaited moment of receiving the first round of vaccines or reuniting with long-unseen friends and family members.
So to capture the mood of this wild roller coaster of a year, we put our music curation skills to the test to assemble the playlist, divided by quarters, below which we believe represents an accurate soundtrack to the "experience of COVID-19."



1st Quarter: The Lockdown
Christine and the Queens - People, I've been sad
Justin Bieber & benny blanco - Lonely
Bee Gees - Stayin' Alive
The Police - Don't Stand So Close To Me
The Rolling Stones - Living In A Ghost Town
Benjamin Gibbard - Life in Quarantine
R.E.M. - It's The End Of The World
Mustafa - Stay Alive
Cheap Trick - Ghost Town
H.E.R. - Sometimes
2nd Quarter: Political Unrest
Bob Dylan - The Times They Are A-Changin'
Rage Against The Machine - Killing In the Name
Beyoncé - Freedom
The Beatles - Revolution
Gil Scott-Heron - The Revolution Will Not Be Televised
Public Enemy - Fight The Power
Lil Baby - The Bigger Picture
Anderson .Paak - Lockdown Remix feat. JID, Noname & Jay Rock
Bob Marley & The Wailers - Get Up, Stand Up
The Last Poets - When The Revolution Comes
3rd Quarter: COVID Burnout
The National - Afraid of Everyone
Lady Gaga, Ariana Grande - Rain On Me
Lauv - Modern Loneliness
The Weeknd - Blinding Lights
Nine Inch Nails - Every Day Is Exactly The Same
Demi Lovato - Anyone
Billie Eilish - No Time To Die
Isaac Hayes - Going In Circles
Mac Miller - Everybody
Haim - 3 AM
4th Quarter (and 1st Quarter 2021): Vaccines
Justin Timberlake - CAN'T STOP THE FEELING!
Katrina & The Waves - Walking On Sunshine
Supergrass - Alright
Gloria Gaynor - I Will Survive
Bill Withers - Lovely Day
Kool & The Gang - Celebration
Bob Marley & The Wailers - Three Little Birds
Chris Stapleton - Starting Over
Hiatus Kaiyote - Get Sun (feat. Arthur Verocai)
D Smoke - Fly