How Can I Live Stream Fitness Classes with Music?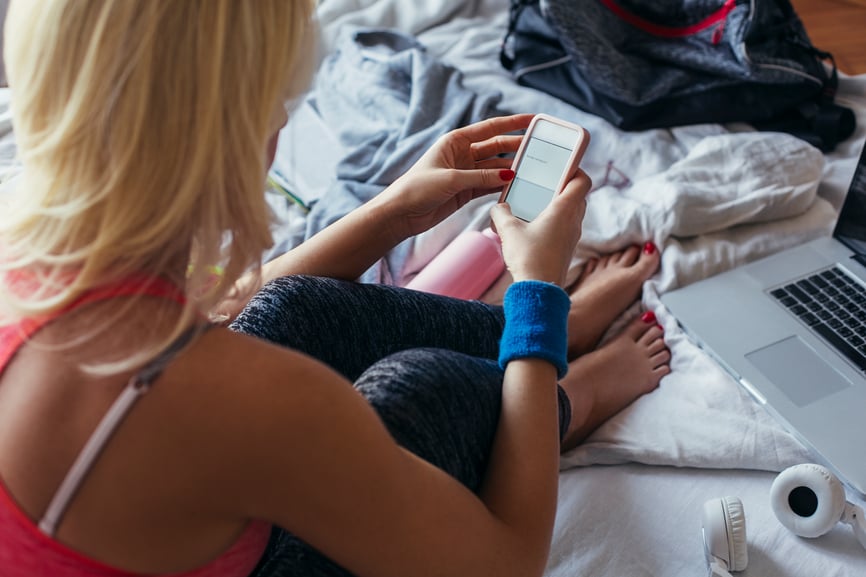 Fitness has permanently changed. Since COVID-19's arrival there's been an explosion of online content, with brick-and-mortar gyms pivoting swiftly into digital programs their members can access at home, and digital fitness brands driving record growth. As coronavirus spikes across the country, the fitness industry continues transforming...even as gyms and studios consider safety precautions that will eventually allow users to return in greater numbers.
Over the past few months, we've often heard variations on the same question: "How can I legally live stream fitness classes with hit music?"

First, let's get an ugly fact out of the way. Music licensing is famously complicated, with downloadable content, live streaming, public performances, and video sync all requiring different licenses from multiple rights holders. Our Music Licensing 101 webpage may be a helpful starting point for understanding these different use cases.
How to Live Stream Fitness Classes with Music
If you have been paying to use music for in-person group fitness, some of the required licensor names for live streaming with music may already be familiar.
There are 4 U.S. performing rights organizations (PROs) that require licensing so songwriters, composers, and publishers get paid for their work.
3 of these PROs

—

BMI (Broadcast Music, Inc.), ASCAP (American Society of Composers, Authors and Publishers), and SESAC (originally Society of European Stage Authors and Composers)

—

were established decades ago, and most companies that play music in public spaces are accustomed to paying for annual licenses.
The last of these

—

Global Music Rights (GMR)

—

is a newcomer to the PRO space, founded in 2013. We're specifically mentioning GMR because businesses may not realize that this 4th license is also required to play music in public spaces. GMR's catalog includes some of today's biggest songwriters like Drake, Travis Scott, and Pharrell Williams, plus established artists including Bruce Springsteen, Bon Jovi, and Guns N' Roses.
Bottom line: Each PRO represents a portion of commercial music so it's important to acquire licenses from all 4 PROs.
In addition to acquiring these 4 licenses, your company needs to comply with Section 114 of the Copyright Act. Section 114 covers public performances of music from four classes within digital music service: eligible non-subscription services, pre-existing subscription services, new subscription services, and pre-existing satellite digital radio services. An example of this type of digital service in practice? An in-app fitness program in which the user has limited control (choice of playlist, limited track skips, etc.) over the accompanying, randomized music. As well, all song plays will need to be reported to SoundExchange.
FAQs
My company spoke with [BMI or ASCAP or SESAC] and I got a digital extension. So we are covered for Live Stream fitness classes with music, right?

Unfortunately not. Music licensing is like a jigsaw puzzle. By getting a digital extension from one of the PROs, you've got one of the puzzle pieces to legally Live Stream fitness classes with music. But your company still needs all the other pieces to complete the puzzle. In the instance described above, the company needs to also:
Get digital extensions for the 3 other PROs, plus
Report song plays and make payments to SoundExchange, while
Complying with Section 114 of the Copyright Act.
Hopefully your PRO representative shared this information with you, but we've heard instances where this was not the case.

Okay, I managed to get all the appropriate licenses to Live Stream Fitness Classes with music. Can my company also archive these classes as Video on Demand content for users?

The fly in the ointment here is Section 114 of the Copyright Act. While all the

licenses

for Live Stream are the same as VoD, Section 114 does not permit music synced to video. Translation: your VoD will only comply with music licensing if a different music soundtrack plays every time a given user plays the video. The best way to scale this challenge is by carefully thinking through the workout audio before you record your video. Check out our Tips for Recording Workout Audio.

Given how complicated music licensing is, do publishers and record labels expect 100% compliance? What if my company makes a good-faith effort to comply with these requirements?

The short answer here is yes, they do expect compliance. The onus is on your company to fulfill these requirements

before

using the hit music your customers expect during their workouts. If your company does not have the proper authorization, it can be held liable for damages of $750 to $150,000 per song played. And the PROs we've been talking about actively track down those that don't have proper licenses. Needless to say, we strongly recommend that fitness companies are fully licensed for music, both in-studio and online.

Can I just work through music licensing on my own, crowdsourcing the information from pieces like this one to make sure I'm in the clear legally?

Unless your core business is streaming, there are a lot of possibilities for missteps with licensing. Again, the music industry is a highly complex environment where copyright holders aggressively go after parties they believe have infringed upon those rights.

There are certainly many fitness companies that have decided to directly manage their music licensing. This has sometimes cost them, as was the case with Peloton's recent $49 million music publishers settlement.

Dozens of other brands have enlisted Feed.fm as their full-service music partner, to directly handle all licensing, tech, and curation. Through our partnerships with the fast-changing fitness sector, we've developed turnkey solutions that work for a large variety of platforms and modalities. And in terms of ROI, our partners: retain more customers, lower customer acquisition costs, and free up resources to build world-class fitness products.

We hope this clarifies some of your questions about live streaming fitness classes with music. And please let us know if we can help with this transition to a digital-first fitness economy. Click the button below to connect with us or if you have any additional questions about music licensing.

This is not intended as legal advice and should be used purely for informational purposes.