Licensing focus music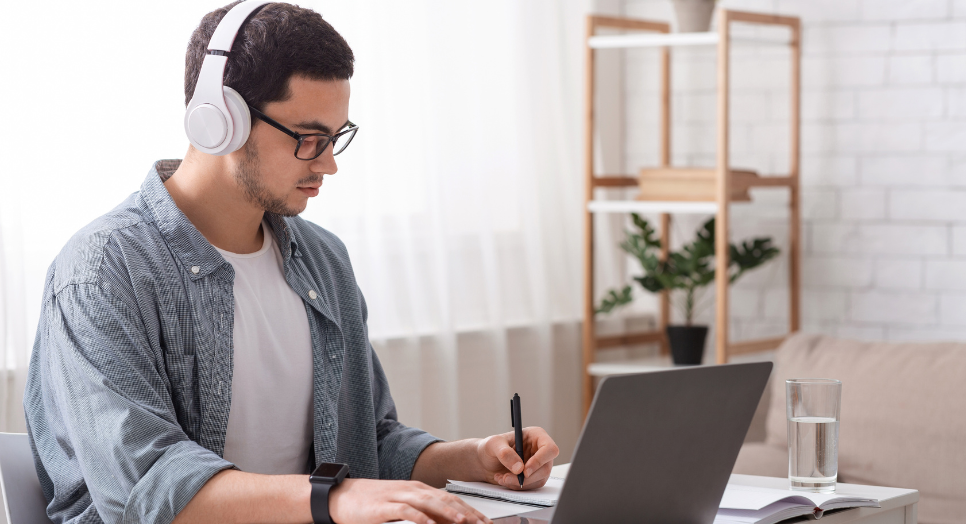 In a world with too much noise, too many screens, and too much going on 24/7, the one thing we could all use more of is focus: a moment of clarity, an opportunity to set our attention on what needs our attention, and the motivation to follow through on a task. Research at the University of California, Irvine has shown that our attention spans have been growing ever shorter, and the ability to maintain focus and concentration has diminished dramatically over the past 20 years.

Ironically, perhaps, the very screens that distract us night and day can be the unlikely heroes in this scenario: focus music, accessed through an app, has the potential to help settle our wandering minds.
Focus music streaming for business apps
Many types of apps can integrate focus music successfully to help users battle their tendencies toward procrastination and dilly-dallying. Whatever brings them to your app, users will benefit from the support of focus music to get the task done.

Scientific research on music's effects on the brain has shown that the best music for focus serves a few important functions:
The steady rhythm in the best focus music increases arousal and keeps the user "in the groove."
The combination of being in the groove and the inherent pleasure in listening to music improves mood.
Focus music covers intrusive and distracting noises in the environment.
All three of these functions of effective focusing music increase the likelihood of the user staying at their task (and in your app) for longer and deriving more pleasure from it.

To help sustain my own attention while writing, I often listen to a variety of different types of focus music, including instrumental film soundtracks, solo harp and cello music, and lo-fi hip hop. I find that the best deep focus music will keep me on a task for longer as I get into the zone.
What you need to know about licensing focus music
Commercial music licensing isn't known for being a walk in the park—it can be complicated, time-consuming, expensive, and confusing.

Nearly all music is copyrighted, which comes along with a set of rules, including getting permission to use the music for your specific business needs and making sure the rightsholders are compensated appropriately.

The use of classical, major-label, and indie music for focus must be negotiated, licensed, and paid for through a number of different parties. Most often, discussions start with the music label associated with the artist or album and then expand to include publishers, songwriters, and other rightsholders. The process of licensing copyrighted music can be lengthy and costly, and generally, the usage must be carefully tracked and recorded so that royalties can be paid as required.
Royalty-free focus music for apps
Royalty-free music is also copyrighted, but the process of licensing royalty-free focus music for commercial use is greatly simplified, can be managed through a single entity, and may be paid for on a one-time basis or by subscription.

When licensing focus music, royalty-free focus music may, in fact, be an ideal way to go, since one of the hallmarks of the best music for concentration and focus is that it has no distracting qualities. While pop hits may have great rhythms, the recognizable tunes and lyrics might not be the best choice for focus music for studying or working.

The best royalty-free background music for studying and focusing might include ambient musical soundscapes, lo-fi hip-hop, or classical music for studying—the key is that the focus music does not call attention to itself, and allows the user to remain fully immersed in the project.

When considering which types of music and licensing models work best for you, you will also want to take into account the streaming method you will use. Whether you go the commercial music route or opt for royalty-free tracks, you'll need to have an integration plan. It's never too early to start planning how music plays into your app's user experience, and what tech you'll need to support it.
Focus music licensing for businesses made easy
To get music for focusing onto your app quickly, legally, and affordably, you'll most likely need a partner to help you navigate both the intricacies of music licensing and systems that make it possible to stream music in apps. Feed.fm has been helping businesses license and integrate music into their apps for nearly a decade, serving as a one-stop shop that handles every aspect of the process from beginning to end.

Feed.fm makes licensing focus music as easy as possible, with a comprehensive, turnkey solution that includes pre-cleared music—both commercial hits and science-backed, royalty-free soundscapes. Our team of experts work as an extension of your team, making sure that you're selecting the right music for your app.

We handle all aspects of licensing music for focus so that you don't have to, and your company is fully indemnified, so you can focus your attention on your company's core mission. Best of all, the Feed.fm streaming music API and plug-and-play SDKs (iOS, Android, Javascript, React Native, and Unity) make it easy to stream and track usage while automating all compliance and reporting.

Compliance isn't the only reason to pay close attention to your users' listening habits. Using play-back analytics to optimize your in-app music can drive real business results.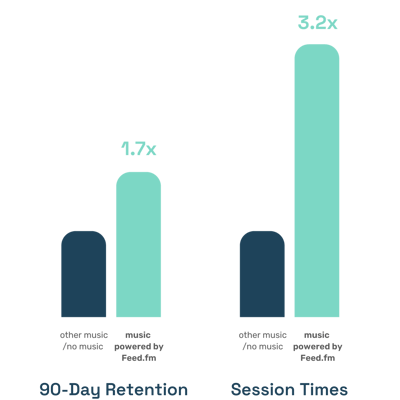 A member of the expert team at Feed.fm would be happy to talk with you about how incorporating focus music or music for wellness and optimal performance can take your app to the next level.