Music Streaming for Businesses: A Music API Comparison Guide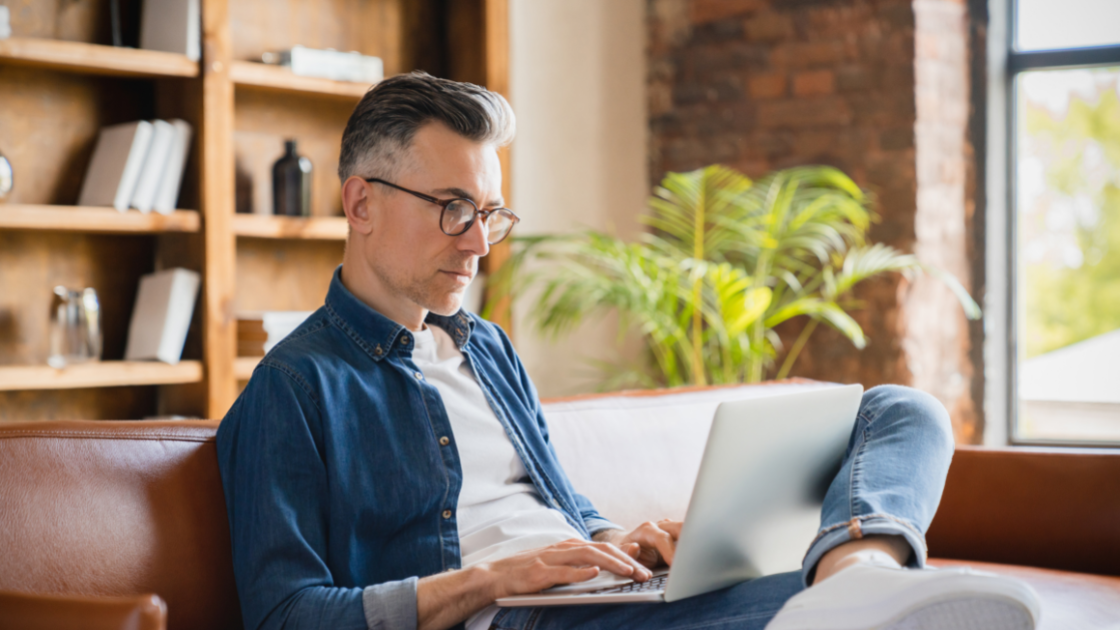 Music has been proven to elevate the quality of your app and supercharge engagement.

With the number of digital apps growing daily - especially for fitness, health, and wellness - the demand for in-app music licensing has skyrocketed.
Traditionally, businesses looking to incorporate music into their apps had three less-than-great options:
License music on their own

This option can be expensive and time consuming.

Use popular music illegally
Purchase royalty-free music

Limited to unrecognizable songs that are often generic or low quality.
So, a better solution was created. One that streamlines costs and simplifies the music licensing and technical challenges involved in integrating and streaming popular music in apps and digital experiences. That's where Music as a Service (MaaS) comes in.


Music Streaming APIs for Businesses
Modern B2B MaaS platforms are developing music streaming APIs to solve the complexities of the music industry's copyright regulations while ensuring artists receive proper credit and rightsholders get paid.

There are various music streaming APIs available, each with different capabilities and strengths, so which should you pick?

To answer that, we've compiled a comprehensive comparison chart to determine the best music solution for you.

When assessing the differences between B2B music streaming solutions, consider the music catalog, integration, licensing, and expertise.

Note: When choosing a music API for your business, the Spotify API or Apple Music API may come to mind, but it's important to realize the models of their APIs aren't meant for apps looking to commercialize the use of music, and they require users to have a third party account often taking them out of your app experience for music. Instead, you need a white-label music API that's built for businesses.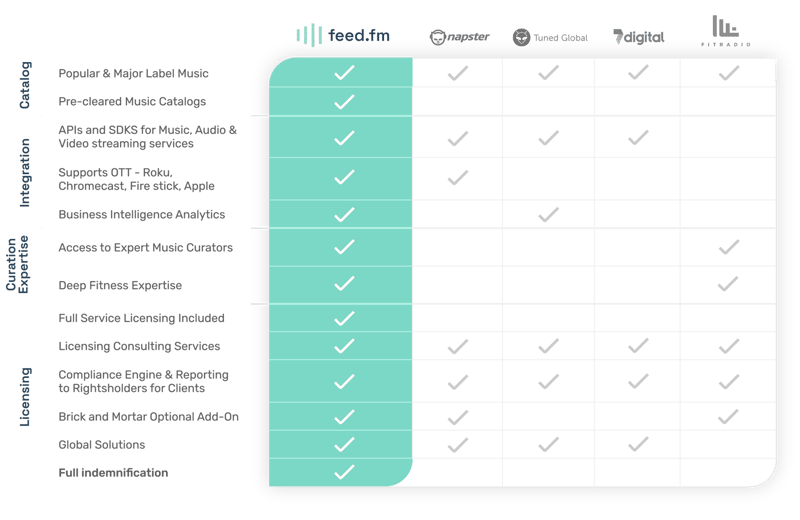 Feed.fm's Music API
The Most Comprehensive Music Catalog for Commercial Use
While all of these music companies offer popular & major label music, only Feed.fm offers a fully pre-cleared catalog of songs, meaning that all music in our catalog is ready to stream in your app the second our product integration is complete.

With many 3rd party music providers, their customers will typically either need to hold their own license to stream commercial music or work with the provider to get additional approvals before going live.
Music API Integration
Feed.fm's music API & SDKs are designed for businesses. They provide an end-to-end solution from ingesting to streaming to compensating rightsholders, and can be integrated into your app with minimal coding.

Our music streaming API also integrates on any device. You can stream music in native apps, desktop browsers, and cast OTT to devices like Chromecast, Apple AirPlay, Amazon Fire TV, & Roku.

With Feed.fm you'll have access to real-time analytics that help you understand trends based on song plays, skips, and session times. This adds another layer to your user demographics and better informs music selection for more powerful experiences.
Music Industry Expertise
Feed.fm has a diverse curation team that includes musicians, DJs, and ethnomusicologists from record labels, tech companies, radio, and the classical music world.

When Feed.fm curators work with a new client, they learn everything they can about the company and its mission. Understanding customer preferences allows for hyper-personalized music stations.

These music specialists take a hands-on approach to optimization, spending a substantial amount of time on each client's app to understand each unique user experience.

It's common for our curators to put on sneakers and go for a run to test a running station or sit down and meditate to evaluate the ambient music in a meditation station!

Music is performance-enhancing when paired with workouts. Our curation team's deep fitness expertise allows them to match the right song to the right fitness modality through a song's BPM, tempo, and intensity.

Music Licensing for Businesses
Feed.fm has a streamlined licensing model; no negotiations are necessary.

With each label and publisher delivering songs differently, with different metadata, and requiring various reporting and payment methods, our music streaming API neatly packages it all for easy streaming, gives artists proper credit, and tracks payments for artists and other rightsholders.

Offering full indemnification to our customers sets Feed.fm apart, meaning we'll fully compensate you for any harm or loss resulting from tracks streamed via our music SDKs, giving you peace of mind so you can focus on growing your business! No other B2B music streaming service provides that.
Which B2B Music Streaming Service is Right For You?
If getting music into your app quickly is a priority, then a service with a pre-cleared music catalog is necessary.

For a team with limited time and resources, Feed.fm's expert curators offer a "hands-off" experience, curating and optimizing stations frequently, so you can focus on growing your business.

Want to worry less about music licensing? Feed.fm is the only service that protects its partners by providing full indemnification for music usage, eliminating the fear of copyright infringement.

While there are several B2B music streaming services to choose from, many solve only a specific set of problems. But Feed.fm checks all the boxes, offering the complete Music as a service (MaaS) solution for businesses.

Ready to start streaming popular music in your digital app?
Feed Media Group is for businesses that need licensed popular music to create the most engaging customer experiences. Unlike navigating complex, time-consuming negotiations with music labels and publishers, Feed Media Group's proprietary streaming platform and SDKs deliver pre-cleared music—compiled by the industry's best curators—complete with user analytics, payments to rightsholders, and legal indemnification for our customers.
Feed.fm powers music for the world's leading brands including American Eagle Outfitters, Mayo Clinic, Mirror, Nautilus, and Tonal; and up-and-coming startups use Adaptr to create unique music-based experiences. Our music partners include Warner, BMG, and Merlin.
https://info.feed.fm/engagement-retention-and-roi-for-mobile-apps1