Top 12 Best Sleep Apps in 2023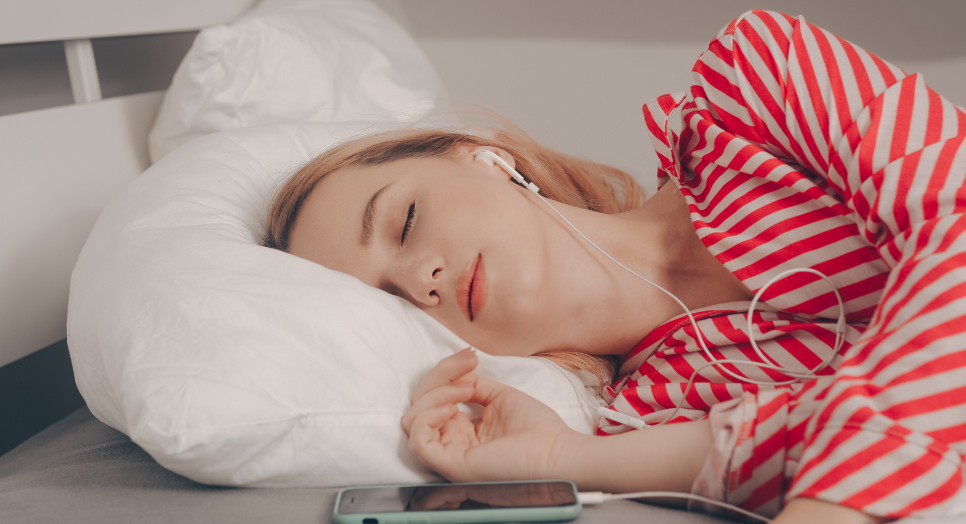 When life is stressful, it can take an emotional and physical toll, and can interfere with falling asleep at night. The current stresses in the world have propelled many people to turn to apps for help. Sleep apps can be the perfect place to find relaxing sleep music and sleep sounds, but they can do more than that. The best sleep apps may also have guided meditations, relaxation exercises, bedtime stories, and sleep tracking functionality. Here we'll explore the top 12 best sleep apps and some of their unique features.

Meditation Apps That Are Also Sleep Apps
Some of the most popular bedtime apps are known as meditation apps, but have evolved to include a focus on sleep as well. With these apps, you have guidance for your meditation and mindfulness practice as well as resources to encourage you to stretch, get energized, and stay focused throughout the day. Then, at bedtime, you have access to a variety of content for relaxation and sleep.
Known for its clean, colorful graphics and beginner-friendly format, Headspace is a great place to start for newbies to meditation and mindfulness practice. Headspace has a wide variety of content for stretching and getting your body moving during the day. Sleep offerings include Sleepcasts, Wind Downs, Soundscapes, Sleep Music, Sleep Radio, and Nighttime SOS, which is designed to help you fall back asleep after being awakened or having a nightmare.
Bonus: Headspace has a greatly reduced annual rate for currently enrolled college students.
iOS and Android
One of Calm's most popular features is Sleep Stories, with bedtime stories told by over 50 narrators, including Matthew McConaughey, LeVar Burton, and Harry Styles; some of the audio stories on the app are designed to induce ASMR (Autonomous Sensory Meridian Response). To help you fall asleep, there is sleep music as well as a truly creative collection of soundscapes, including Gothic Graveyard, Spaceship Engine Room, and soundscapes from the film Dune.
Bonus: A nice touch is that Calm's meditation and relaxation content, stories, and music all come in "nap-sized" formats as well.
iOS and Android
Fitness Apps That Are Also Sleep Apps
Relaxation and good sleep are vital components of a healthy lifestyle, and fitness apps are stepping up to the challenge by integrating relaxation and sleep content into their offerings. When people are well rested, they're able to work out more efficiently and get better, faster results. Prioritizing sleep is an investment in your overall fitness and well-being.
The Sworkit app has recently added a mindfulness, meditation, and sleep category, providing its users with a holistic approach to health and wellness. It includes guided meditations for daily use, as well as those geared towards promoting calm in moments of anxiety, and others specifically to help you relax and wind down for sleep. Sworkit's app provides training in popular breathing techniques as well.
Bonus: Kids can get in on the action, too, with content to help them relax and fall asleep.
iOS and Android
Aaptiv aims to inspire its fitness users to take sleep seriously with the motto "Work hard. Sleep hard." Over 25 sleep classes combine guided meditations, breathwork, body scans, and yoga nidra to help you improve your relaxation and sleep skills. Specialized sleep music and sleep sounds are selected by professional music curators to maximize effectiveness.
Bonus: Aaptiv has created Sleep Better, a 7-session podcast series led by a meditation and mindfulness expert.
iOS and Android
Sleep Tracking Apps
Sleep tracking apps use data gathered while you're in bed to determine how much sleep you're getting, how long you spend in different phases of sleep, and whether your sleep is continuous or interrupted. Some offer additional content to help you fall asleep, while others do not.
SleepScore uses your iPhone to collect data on your movement and rate of breathing and calculates a sleep score based on those measurements. The SleepScore app uses patented sonar technology that relies on your iPhone's speakers and microphone, without necessitating that you wear anything or requiring the phone to be in the bed with you. If you want to know if you're snoring or grinding your teeth at night, the app can identify those sounds and record them for you. SleepScore also provides relaxing sleep sounds to help you fall asleep.
Bonus: The Smart Alarm can provide your morning wake-up call when you're in the lightest sleep phase.
iOS, limited Android
The Pillow app is flexible in that it can be used with either an Apple Watch or an iPhone that is placed on the mattress next to your pillow, but it is not available for Android. It provides detailed data about the phases of your sleep, has a Smart Alarm to wake you during your lightest sleep phase, and provides sleep tips in the Snooze Lab feature.
Bonus: Pillow requests and records your mood when you awaken, and adds that information into its analysis of your sleep needs.
iOS
Free Sleep Tracking
Most of the best sleep apps have a free trial period or some free content, but require a paid subscription for longer use or optimal functionality. Many people prefer to use free sleep apps—here are two that advertise themselves as free.
PrimeNap is a free app that offers sleep tracking as well as a smart alarm, sleep sounds, snoring detection, sleep stats, and a dream journal. Despite the name, it's not just for naps!
Bonus: This app is designed specifically for Android smartphones.
Android
Sleep++ is a free sleep app that works with the data collected by your Apple Watch; using that data it can estimate the amount of time spent sleeping. Users can view trends to see their bedtimes, total sleep time, and wake times over a period of time.
Bonus: Sleep++ also tracks respiratory rate data.
iOS
Apps Featuring Sleep Music and Sleep Sounds
Sleep sound apps may incorporate sleep music, nature sounds, narrated stories, meditations, or other audio to help adjust your mood and get you relaxed for bed. They may or may not include sleep tracking functions.
Using the principles of psychoacoustics, Pzizz provides audioscapes that are designed to help its users throughout the day and night. Pzizz has three themes to choose from: Sleep, Nap, and Focus. The audio consists of dreamscapes and "focuscapes," combining music, narration, and sounds to help you achieve the desired state. The app learns your preferences so the audio becomes more personalized over time. You can preset the length of time you'd like the audio to run, and set a time for the app's alarm to awaken you in the morning.
Bonus: The narrations in the audioscapes are based on techniques used in clinical sleep interventions, such as progressive muscle relaxation and autogenic training.
iOS and Android
Formerly known as Relax Melodies, the BetterSleep app tracks sleep through your phone's microphone, which can be on a nightstand and does not need to be in the bed with you. The app features a variety of sleep sounds and audio, including bedtime stories, meditation music, nature sounds, and content that makes use of binaural beats, ASMR, isochronic brainwaves, and solfeggio frequencies. BetterSleep also has options for breathing exercises, physical stretching, and winding down.
Bonus: The app has an optional Sleep Recorder that can be activated to record sounds made during the night, such as snoring.
iOS and Android
Best Sleep Apps for Kids
Does your child have trouble settling down and relaxing at bedtime? Lots of kids do. Sleep apps for children can be helpful by giving them something relaxing to focus on as they drift off to sleep.
With bedtime stories, guided meditations, sleep music, and sleep sounds, Moshi is an ideal nighttime companion for little ones. New stories are added weekly.
Bonus: The app is primarily audio so that kids are not distracted by images when they're supposed to be sleeping.
iOS and Android
The Sleepiest app is not exclusively for children, but its content is appropriate for older kids. The visually beautiful interface is inviting, and the app is known for its soothing bedtime stories, including classics and Sleepiest Originals. Sleep tracking, sleep sounds, and guided meditations round out the options.
Bonus: The Composer feature allows users to create their own custom sleep audio by layering sounds together.
iOS
A Proactive Approach to Getting a Good Night's Sleep
When people are having trouble falling asleep, they often feel a mixture of helplessness and frustration. The best sleep apps can potentially help you feel more in control of your sleep schedule and provide you with useful resources to help you relax and get in the zone. Depending on what you are looking for, there's likely to be a sleep app that's just right for you.
If you're curious to learn more about how music can help you sleep, check out our Guide to Sleep Music.