The Fitness App Ecosystem in 2019: Specializing in Specialization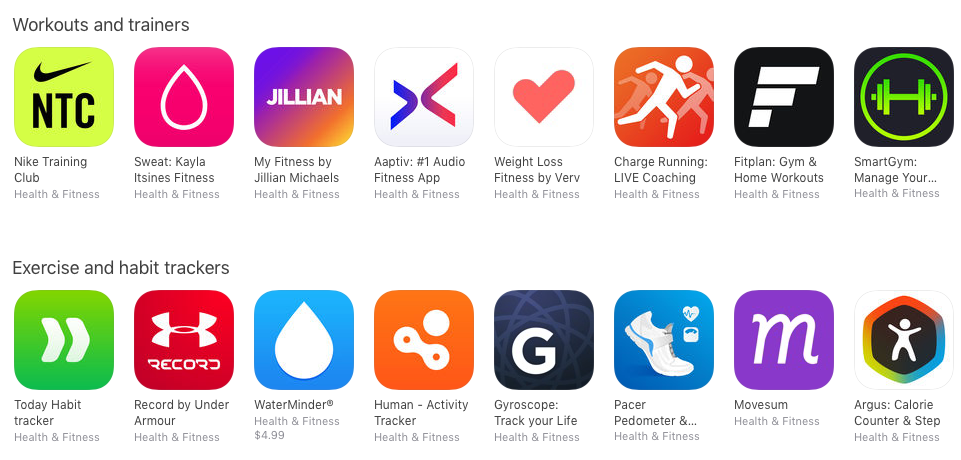 Note: Check out our updated version of this blog. The Fitness App Ecosystem in 2022: Flexibility and Options
---
The Fitness App Ecosystem
Since the iPhone's launch in 2007, the world of fitness apps has steadily grown, with nearly 320,000 health and fitness apps in the app stores in 2018.
While the quantity of apps has swelled steadily, we have also seen massive growth in variety. While the original apps were lower touch (think MyFitnessPal) and only required engagement for a minute or two at a time, the normalization of extended screen time for video and audio on mobile devices combined with sophisticated user research has given way to a significant diversification in the offerings available within the fitness app universe.
Consumers have also become comfortable with the idea of optimizing their health through data as opposed to a one-size-fits-all "hit the treadmill" ideology. The proliferation of bespoke training regimens, measurement of biomarkers and the neatly packaged convenience of tracking ALL of this information on a device you already own has up leveled the status of an app. Health apps are now more akin to a daily partner in the pursuit of health.

As the level of trust from consumers has grown, app publishers have responded in kind, offering a level of value add and specialization within the universe of health and fitness apps that would have been hard to predict 10 years ago.
The result is a segmented user populace that has very specific needs, is willing to pay for it, and is fiercely loyal to an app once a solution is found (see our study on Fitness App Metrics & Retention for more). In the current app landscape, 96% of paid subscribers use only one health & fitness app. That kind of loyalty requires precise value propositions on the part of app publishers. A generic product isn't going to birth a passionate user base in most cases, which has led to the ecosystem we see today.
Here are just a few apps representative of the major categories that exist in the fitness app marketplace:
Tracking
MyFitnessPal - Dominant nutrition tracking app with exercise tracking functions and more than 500 million users
Strava - Top tracking and training app for runners and cyclists. Start Strava before an activity and you can track your favorite performance stats, and afterwards, dive deep into your data.
Fitbit - Hardware tracker with an open-source community and a wide range of integrations; possible to integrate Fitbit-generated data with many of the other apps discussed here.
Audio-Only Workouts
Aaptiv - Audio-based workouts running from 15 to 60 minutes. Top player in the space.
MoveWith - Another audio-based app, focused on HIIT and Yoga.
ClassPass Go - Also audio based, with 1000+ different workouts, from the pioneers of the "sample a fitness studio" workout model.
Bespoke Experiences
Future.fit - One on one personal training app featuring world-class trainers that work with Olympians, NBA players, Hollywood actors, and college athletes.
Pear Sports - delivers dynamic and interactive workout sessions to you in real-time
Apps Bundled with Equipment
Mirror - When off, it's a full-length mirror. When on, see yourself, your instructor and your classmates in a sleek, interactive display, complete with embedded camera and speakers.
Tonal - Tonal is the first home fitness system to offer the kind of personalized, science-based training that's typically reserved for professional athletes.
Myx Fitness - Stationary Bike Trainer also comes with dumbbells and kettlebells to create a full home studio.
Races/Branded Events
Los Angeles, NYC and Chicago Marathons all have mobile apps, as do most major cities hosting competitive distance races.
Tough Mudder and Spartan Race have apps for their wide ranging obstacle-focused competitions.
There are, of course, thousands of other apps, including offerings addressing even more specific user desires (for example, Couch to 5K, which is designed for people "new to fitness" who just want to be able to run a few miles and may be happy with a daily treadmill routine; or Sweat from Kayla Itsines, the female-focused fitness phenomenon which offers specific programs like a Bikini Body Guide, Yoga and even a postpartum fitness programs for new moms.)
The main takeaway? Specialization is the name of the game in the fitness app ecosystem today, and the branching out doesn't appear to be slowing down. The more specific the value proposition an app can offer, the more time and money the eventual "power users" will spend - which is the source of a sustainable business model.
The importance of these power users can't be understated - as we discussed earlier, virtually all consumers who spend on fitness apps spend on only one. There is no division of attention or loyalty in almost all cases. So driving up the rates of conversion to paid from trials, and retaining those paying power users for longer, is the most important use of time and resources.