The Fitness App Ecosystem in 2022: Flexibility & Options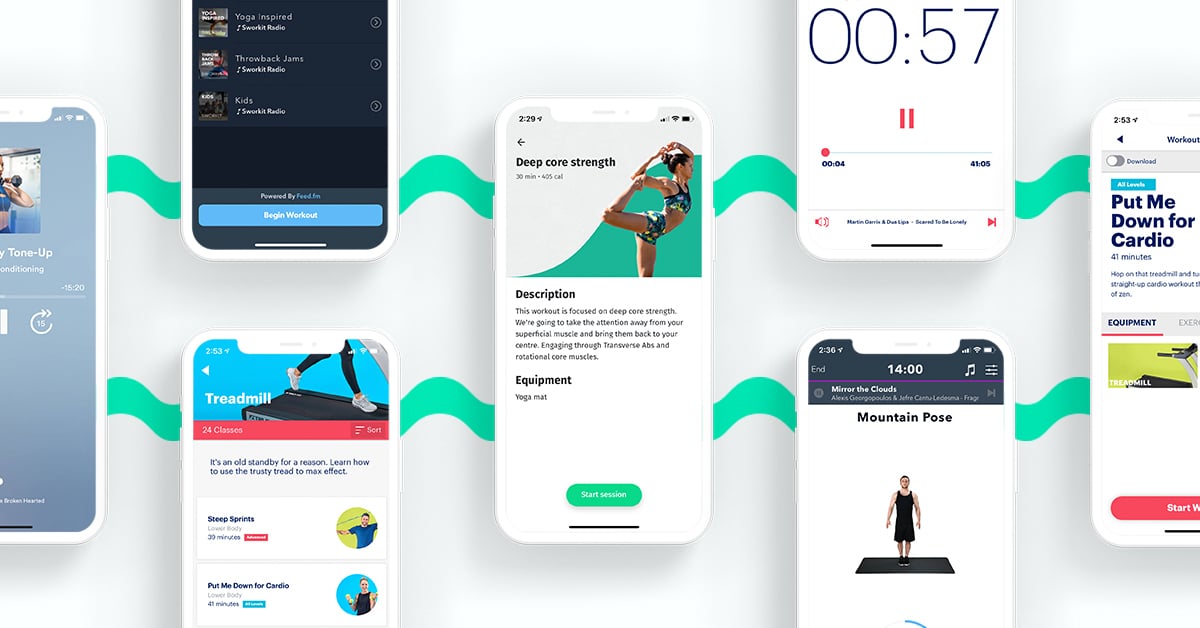 Since we last reported on the fitness app ecosystem, there's been tremendous change as the pandemic has accelerated adoption of digital tech. Consider the following stats:
The global market for fitness apps has ballooned to $1.1 billion, on pace to grow to $4.7 billion by 2030, according to the analysis firm Grand View Research.

The connectivity of fitness technology has come a long way in recent years, and the proliferation of customized training regimens plus biometrics has prompted many to rely on these apps as their daily health partners.
Since COVID-19's arrival, there has also been significant growth in terms of digital fitness video integration, with 60% of the top Health & Fitness apps offering video workouts or video-guided exercises.
Health and fitness apps continue to show the highest retention rates across all categories, with 96% of users using just one of these apps. That kind of fierce loyalty requires precise value propositions on the part of app publishers.
Here's an overview with a few representative apps for today's major health and digital fitness categories:
Tracking
MyFitnessPal - Dominant nutrition tracking app with exercise tracking functions and more than 19.1 million users.
Noom – Through a combination of psychology, technology, and human coaching, Noom helps millions of users meet their personal health and wellness goals.
Apps with Connected Fitness Hardware
iFit - Hundreds of live and on-demand classes to suit a variety of fitness levels, with users streaming to an iFit-compatible exercise machine or directly accessing on smartphone.
Mirror - When off, it's a full-length mirror. When on, see yourself, your instructor and your classmates in a sleek, interactive display, complete with embedded camera and speakers.
Myx Fitness - Stationary bike trainer also comes with dumbbells and kettlebells to create a full home studio.
Tonal - The first home fitness system to offer the kind of personalized training that's typically reserved for professional athletes.
Live and On Demand Classes for Mobile or Desktop
Alo Moves - Thousands of classes for body, mind, and spirit, specializing in yoga workouts but also encompassing fitness modalities like strength, HIIT, core, plus mindfulness.
Beachbody on Demand - Live and on-demand classes across a variety of fitness modalities, and nutrition content.
FitOn - Free classes spanning everything from cardio to strength training to meditation, many of which are taught by celebrity trainers.
OTT Fitness Streaming Platforms
Vimeo OTT – A streaming service platform that allows companies to launch a video subscription channel, with all the tools and tech needed to grow a subscription audience.
VPlayed - A self-hosted OTT streaming solution that enables fitness content owners to launch video/audio streaming platform to broadcast video over the web, mobile and smart TV.
Dacast – Dacast delivers a professional broadcasting experience for both video on demand or live fitness workouts.
Audio-Only Workouts
Aaptiv - Audio workouts running from 15 to 60 minutes; top player in the space, with more than 200,000 members.
ClassPass Go - 1000+ audio workouts, from the pioneers of the "sample a fitness studio" workout model.
Personal Training Apps
Future - One-on-one personal training app featuring world-class trainers that work with Olympians, NBA players, and college athletes, keeping in regular contact with members via text message.
99 Walks – Expert coaches offer guidance through walking classes, each one designed to get members going with easy instructions and simple exercises.
There are thousands of other apps, including offerings which address even more specific user desires. As just two examples, there is Brrrn, the world's only cool temperature fitness experience that uses a specialized "Brrrn Board" to power workouts; and the Les Mills BODYCOMBAT VR app, which combines a boxing workout with gaming on the Quest platform.
The main takeaway? People want flexibility and options, to be met where they are in their wellness journeys and increasingly porous work-life schedules. Even juggernauts like Peloton that started out offering just one fitness modality such as cycling are broadening strategically to include other options, in an effort to earn the winner-takes-all distinction as their users' app of choice. Finding the elusive sweet spot where apps a) provide individuals with desired flexibility and options plus b) retain their specific value proposition is critical to sustainability.
"Finding the elusive sweet spot where apps a) provide individuals with desired flexibility and options plus b) retain their specific value proposition is critical to sustainability."
A great, sometimes overlooked, way to deliver options and personalization for digital fitness users is through in-app music. 93% of people say that music makes or breaks a workout, and the right song at the right time is proven to help both mood and performance. As music provider for the world's leading fitness brands, Feed Media Group's data shows time and time again that music integration can significantly increase customer "stickiness."
While the health and fitness app ecosystem has nowhere near peaked, many large digital fitness companies are engaged in M&A discussions or have been recently acquired. Those that continue to retain and attract users face a crowded, highly competitive marketplace, but there has never been a bigger demand for savvy health and fitness apps.
Find out how Feed.fm helps digital fitness apps personalize their music experience to drive retention.
Feed Media Group is for businesses that need licensed popular music to create the most engaging customer experiences. Unlike navigating complex, time-consuming negotiations with music labels and publishers, Feed Media Group's proprietary streaming platform and SDKs deliver pre-cleared music—compiled by the industry's best curators—complete with user analytics, payments to rightsholders, and legal indemnification for our customers.
Feed.fm powers music for the world's leading brands including American Eagle Outfitters, Mayo Clinic, Mirror, Nautilus, and Tonal; and up-and-coming startups use Adaptr to create unique music-based experiences. Our music partners include Warner, BMG, and Merlin.