Licensing Music for Relaxation Apps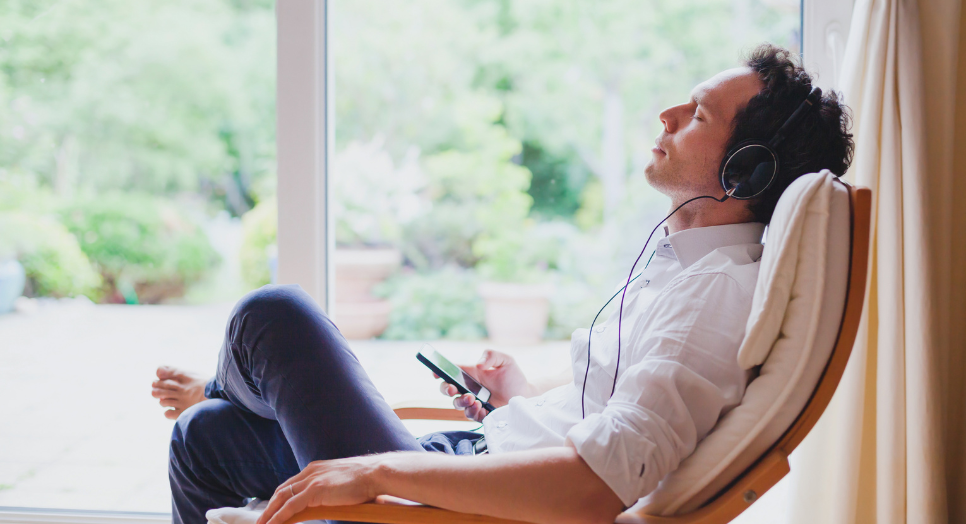 As people seek out ways to relax and reduce stress in the midst of their busy lives, they're discovering that playing relaxing music is a great way to create a peaceful soundtrack for the day. They're also realizing the value of easily accessible and well-curated relaxing music and the importance of having a convenient way to find some calm in the moment without stressing about song selection.

With so many new apps emerging each day, businesses rightly want to help their app to stand out in the crowd. From travel and hospitality apps to fitness and wellness apps and digital health services, savvy brands are recognizing that adding high-quality, relaxing music to apps gives users what they're looking for while driving app engagement and building loyalty.

So how do you get relaxing music into your app? Who do you call if you want to stream a Bon Iver or James Blake track? And where can businesses turn to learn more about music licensing? Read on for more about licensing music for relaxation apps.
Sourcing the Best Relaxing Music for Your App
There are many different situations in which people want to play relaxing music, and as a result, there are potentially many different types of music that may fit their needs. For apps, it pays to take the time to plan your music strategy, as the right music can lead to longer session times and increased retention.

Relaxation music could range from chill beats to accompany studying or driving, to classical music or downtempo jazz to play while cooking, to ambient soundscapes for relaxing before going to bed. It's possible to find both royalty-free and popular commercial music that could fit the bill. The art is in putting the available options together in a way that meets your audience's needs and your brand's budget. Selecting the best relaxation music is an art, and it's only the first step when it comes to integrating music into your app or digital experience.
Music Licensing for Apps
Nearly all music is copyrighted, which comes along with a set of rules, including getting permission to use the music for your specific business needs and making sure the rightsholders are compensated appropriately.

Use of classical, major-label, and indie music must be negotiated, licensed, and paid for through a number of different parties. Most often, discussions start with the music label associated with the artist or album and then expand to include publishers, songwriters, and other rightsholders. The process of licensing copyrighted music can be time-consuming and expensive, and generally, the usage must be carefully tracked and recorded so that royalties can be paid as required.

Royalty-free music is also copyrighted, but the process of licensing music for commercial use is greatly simplified, managed through a single entity, and may be paid for on a one-time basis or by subscription.
Music licensing is a notoriously complicated business, and the stakes are high in terms of avoiding copyright infringement and the resulting legal problems and expenses. To avoid running into difficulties, it's of great advantage to have a knowledgeable partner to show you the ropes.

Feed.fm has been helping businesses license and integrate music into their apps legally, quickly, and affordably for nearly a decade. The Feed.fm team acts as a one-stop-shop offering both royalty-free music and pre-cleared popular music. We handle all aspects of licensing music for relaxation so that you don't have to, and your company is fully indemnified, so you can relax along with your customers.
Integrating Relaxing Music Into Your App
Licensing music for relaxation apps is just part of the journey—it's also necessary to have a good strategy for integrating and streaming. Depending on your site's content, you may want music to play automatically or give your users control via a simple music player or music menu. When designing your music interface, keep in mind that commercial music generally requires a robust system for accurately tracking plays and determining royalties to be paid.

Feed.fm's streaming music API and turnkey SDKs automate these steps, making it possible to have music up and running in your apps very quickly while taking care of all the backend administration. Through Feed.fm's portal, you gain access to comprehensive, real-time analytics. It's easy to see how your users are engaging with the music and to show your team how music is increasing session times, frequency, and other core KPIs.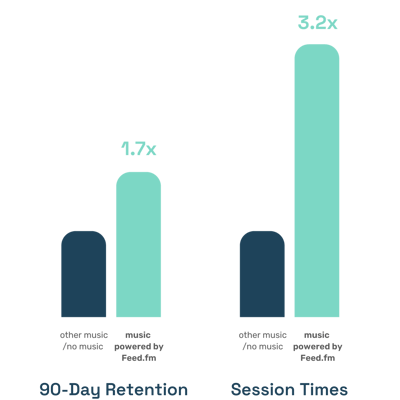 Explore the Possibilities of Music for Relaxation
If you're looking to help your customers relax while meeting business goals like increasing session times and retention in your app or digital experience, please get in touch with the Feed.fm team. We'd like to help take the stress out of licensing music for relaxation so that your business and your customers can start benefiting from the power of music.